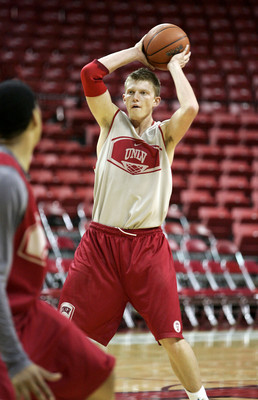 A pure shooter since the first day he picked up a basketball, UNLV junior Joe Darger is taking a crash course on playing the center position.
In the past year, Darger has turned his game inside-out. Instead of spending most of his time roaming around the 3-point line, he is fixing his feet in the paint and brushing up on how to get more physical.
"For the most part, it's fun to bang in there," he said. "Until I catch an elbow to the face, then it's not fun."
At 6 feet 7 inches and 225 pounds, Darger in no way resembles a true center. But with the Rebels shorthanded in the middle, he must play that role this season, and he's about to face one of his biggest challenges.
Brigham Young's 6-11 Trent Plaisted, the Mountain West Conference's most skilled center, awaits Darger tonight.
The Rebels (12-4, 1-1) host the Cougars (12-4, 1-0) at 8 p.m. at the Thomas & Mack Center. BYU was the preseason favorite to win the conference, with UNLV picked second.
In October when those predictions were made, the Rebels planned on being a taller team. But 7-foot freshman Beas Hamga was forced to redshirt this season by the NCAA, and 6-10 junior Emmanuel Adeife was dismissed after one game.
That left Darger and 6-8 sophomore forward Matt Shaw as UNLV's interior options, and Darger made the move without complaint.
"Joe has really worked hard in the interior," coach Lon Kruger said. "He's more of a perimeter guy, but because of our needs, he's got a great attitude and he'll do whatever he can to help the team.
"It has made him a better all-around player because he's expanded his role. He's more committed to rebounding. He's always been a hard-nosed, tough competitor; that's not a shortcoming."
Darger learned some post moves in high school in Riverton, Utah. But he never had to defend a player like Plaisted, who averages 16.6 points and 9.3 rebounds.
Plaisted scored 25 points Saturday in the Cougars' 92-73 victory over Colorado State. He was most impressive in a 24-point, 17-rebound effort against No. 1 North Carolina on Nov. 24 in Las Vegas.
The last time UNLV faced a dominant big man, the results were not positive. Arizona's Jordan Hill pounded the Rebels inside for 16 points and 19 rebounds in the Wildcats' 52-49 win on Dec. 19.
"I've just got to get in there, work for early position and not let Plaisted get in position," Darger said. "If he gets the catch down low, it's going to be hard to stop him. It should be a battle."
Darger will get help trading elbows with Plaisted. Kruger said UNLV will double-team Plaisted and mix up defensive coverages, also using Shaw and 6-6 Rene Rougeau to guard the interior.
But BYU has several long-range shooters to defend, including Lee Cummard, Sam Burgess and Jonathan Tavernari, a sophomore from Bishop Gorman High School.
"Plaisted is a huge target and a very, very good player inside," Kruger said. "But if you cheat too much on him, that frees up perimeter shooters who are all very good as well."
Shifting his focus to defense and rebounding has contributed to a decline in Darger's shooting accuracy.
As a sophomore, Darger shot 41.7 percent from the field, including 44 percent on 3-pointers. Of his 151 field-goal attempts, 107 were 3-pointers.
This season, while his scoring average has doubled from 6.0 to 12.0 points, Darger is shooting 35.4 percent (56-for-158) overall and 34.5 percent (30-for-87) on 3-pointers.
"Banging and working hard down low, sometimes it makes you tired on the offensive end. It can take away from your shot," said Darger, who leads the team in rebounding at 5.4 per game.
"I've definitely had to sacrifice. But I bought into Coach's system and realized that whatever he needs me to do, I've got to do. Defense and rebounding should win us the most games."
Rebels junior Wink Adams said the change in Darger's game is appreciated by his teammates.
"Joe has gotten a lot more physical. Our freshman year, he didn't want to put the ball on the floor and he didn't really want to go to the basket. He was just a spot-up shooter," Adams said.
"He does a great job guarding the big guys, and he loves to play physical now. Since we're lacking a real center, he's the best we've got, and we know he'll battle Plaisted."
Contact reporter Matt Youmans at myoumans@reviewjournal.com or (702) 387-2907.
GAME DAY
BRIGHAM YOUNG VS. UNLV
WHEN: 8 p.m. today
WHERE: Thomas & Mack Center
TV/RADIO: The mtn. (334); KBAD-AM (920)
LINE: UNLV -1 1/2; total: 137 1/2