Dayton's Archie Miller might be too elusive for UNLV coaching job
February 18, 2016 - 11:51 pm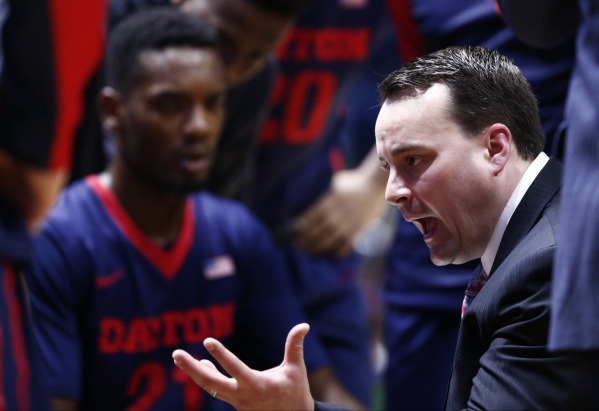 UNLV is interested in Dayton's Archie Miller as its next basketball coach, but the feeling doesn't appear to be mutual, sources said Thursday.
Miller, who took the Flyers to the Elite Eight two years ago, probably will hold out for a school in a power-five conference, the sources said.
He had that chance last year but turned down Florida. The Gators reportedly didn't offer the more than $3 million it would have taken to lure Miller.
The Flyers are 21-4 this season and ranked 13th in the USA Today coaches' poll, and they are 111-51 in five seasons under Miller.
Those at UNLV aren't giving up on Miller, who coached under his brother, Sean, from 2009 to 2011 at Arizona. UNLV president Len Jessup was the dean at Arizona's Eller College of Management from 2011 to 2014.
Jessup is expected to make the final decision on the next coach based on a list of names submitted by athletic director Tina Kunzer-Murphy. But who will have input in making that decision is the question. Will boosters have a say? How much of Kunzer-Murphy's opinion will sway Jessup?
Jessup told a private meeting recently many impressive names have applied for the job, but he didn't identify the candidates.
Louisville's Rick Pitino is the biggest name linked to the job, and hope remains at UNLV of being able to land him. Pitino's season ends March 5 because Louisville has penalized itself from participating in the postseason because of a sex scandal.
One source said he expected UNLV to have a decision soon on the next coach, and if that is indeed the case, it would bode well for luring Pitino because he would be available sooner than most candidates.
But UNLV also isn't in the planning stages for a news conference to introduce Pitino as its next coach. Pitino figures to come with a lot of demands that would have to be met, but he also would change the complexion of the program overnight.
Names that also have been linked to the UNLV job include New Mexico State's Marvin Menzies, Long Beach State's Dan Monson and Grand Canyon's Dan Majerle. Jessup also is interested in Arizona associate head coach Joe Pasternack, and Rebels assistant Stacey Augmon has been vocal in his interest in the position.
Interim coach Todd Simon also figures to be a candidate, but the Rebels' 6-5 record since he replaced the fired Dave Rice has hurt his argument.
UNLV next plays UNR at 7 p.m. Saturday at the Thomas & Mack Center.
• HIGH PRAISE — Top-20 recruit Rawle Alkins, a 6-foot 5-inch senior guard from New York, wrote in his USA Today blog that he enjoyed his visit to UNLV last week.
"The facilities are amazing; this is where they do USA Basketball, and I see why," he wrote.
"I'm being recruited by Coach (Ryan) Miller and Coach Simon, and those are two cool guys! I feel like people may see UNLV on my list and automatically think that I'm not really considering them, but that's far from true. I definitely am.
"If you think about it, every top 20 recruit they've had went one-and-done or they're in the league right now; Anthony Bennett, Rashad Vaughn and then you've got Stephen Zimmerman and Derrick Jones this year. Then they've got a guy named Ike Nwamu on the team now, and I'm telling you he's a beast. I think he's a pro, too.
"I love their style of play, and I love that their whole program is built around success from the trainers on up; that's what I want to be built around.
"Everything about the visit was great!"
• NO WAR OF WORDS — Air Force coach Dave Pilipovich didn't hold back after the Falcons' 79-74 victory over visiting UNLV on Tuesday. The Falcons lost 100-64 a month earlier in Las Vegas.
"I didn't forget," Pilipovich said. "Our team didn't forget.
"That's why we won the game today. We outfought them. Our execution at times wasn't great, but if you watched the game, which team was tougher? Which team had more heart."
Simon was asked to respond to those comments, but he didn't escalate the situation.
"I certainly understand using the (36-point) loss as a rally cry for his team," Simon said. "That's what he should do, and obviously Air Force is a tough team. Thank goodness they are. Air Force, Navy, Army, I hope they all are mentally tough and ready to go."
Contact Mark Anderson at manderson@reviewjournal.com or 702-387-2914. Follow him on Twitter: @markanderson65