Deep, experienced Lady Rebels tip off vs. Wright State
November 8, 2018 - 11:52 am
Updated November 8, 2018 - 1:17 pm
The UNLV women's basketball season ended in disappointment in March.
After winning a share of the Mountain West regular-season title, the Lady Rebels lost to state rival UNR in their first game in the conference tournament.
But the Lady Rebels, who begin their season against Wright State at 6 p.m. Friday at Cox Pavilion, return much of that team, including four starters, and are confident entering the season.
"I think we're one of the best teams in the conference," senior Katie Powell said. "Obviously we proved that (last) year."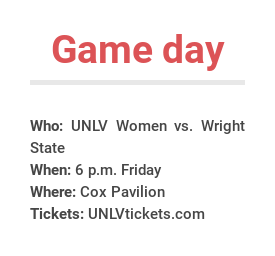 Powell, recently named to the Mountain West preseason all-conference team, will be relied upon heavily in the Lady Rebels' offense.
In her breakout junior season, Powell led the team with 15.7 points and 9.4 rebounds per game and was an All-Mountain West selection.
With Brooke Johnson, the team's top 3-point threat and the Mountain West defensive player of the year, graduating, it's no secret that the Lady Rebels will run a lot of their offense through the inside with Powell and Paris Strawther.
"It's very clear that we have good size inside, and we're not being smart if we don't get the ball inside," coach Kathy Olivier said. "We also have some good shooters."
Powell, Strawther, Nikki Wheatley and Jordyn Bell started last season. The Lady Rebels have several options to fill the fifth spot — from Alyssa Anderson to transfers Bailey Thomas or LaTecia Smith to Kavi Brown, a redshirt freshman who tore her ACL last season, and Justice Ethridge, a freshman from Centennial and one of the top recruits in the Las Vegas Valley.
"With her gone, people are going to have to pick up all different aspects of the game," Wheatley said. "We're going to have to pick it up on defense, we're going to have to pick it up on offense, and we're going to have to be outside threats to replace her. It's a collective effort of trying to pick up what got left behind with her leaving."
Despite Johnson's departure, Olivier is touting the team's depth and experience. Coming off a regular-season title, Olivier said her team will have a target on its back.
"We're deeper than we've ever been this year. We know our system," Olivier said. "Defensively, we get after it. Offensively, we need to do a good job of taking care of the ball and getting good shots."
The Lady Rebels were ranked No. 2 in the Mountain West preseason poll behind Boise State.
"I absolutely think people should look at us as a team to beat," Wheatley said. "We have a lot of threats and so many seniors who have played."
More Rebels: Follow all of our UNLV coverage online at reviewjournal.com/Rebels and @RJ_Sports on Twitter.
Contact Betsy Helfand at bhelfand@reviewjournal.com. Follow @BetsyHelfand on Twitter.