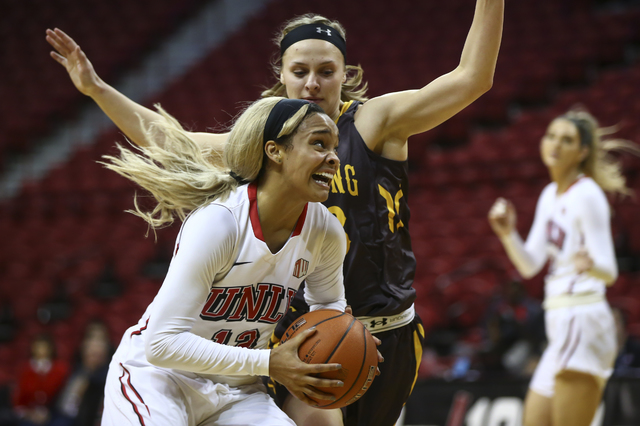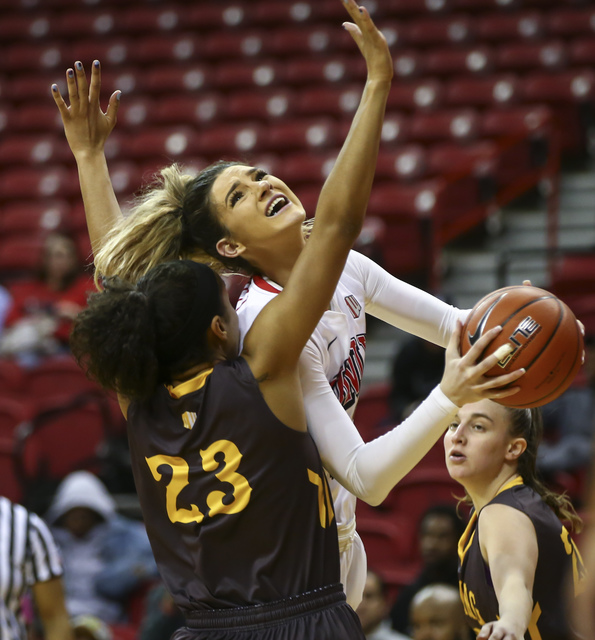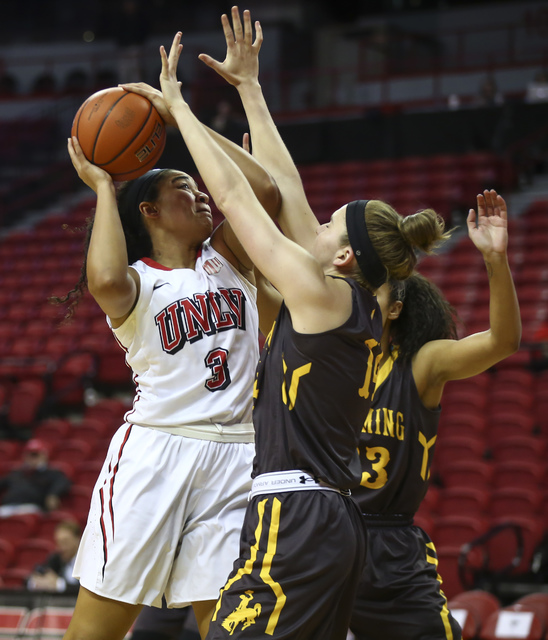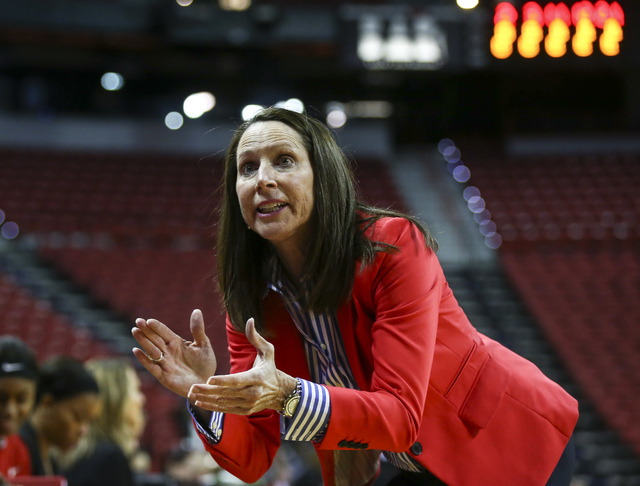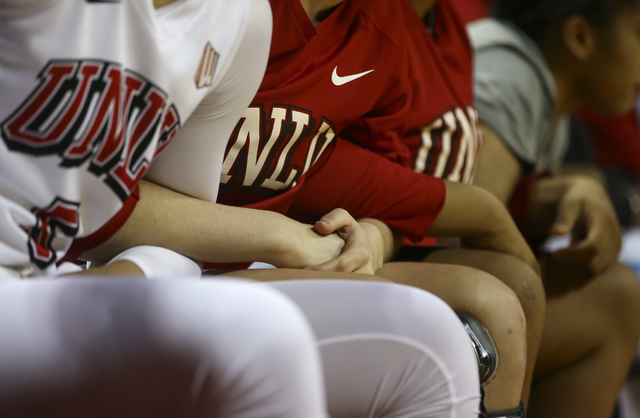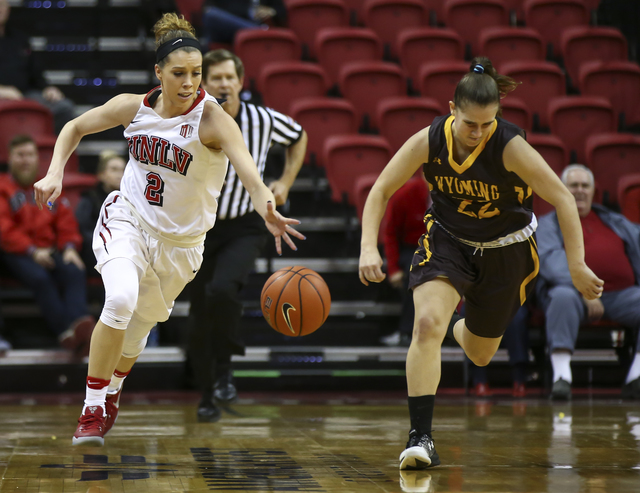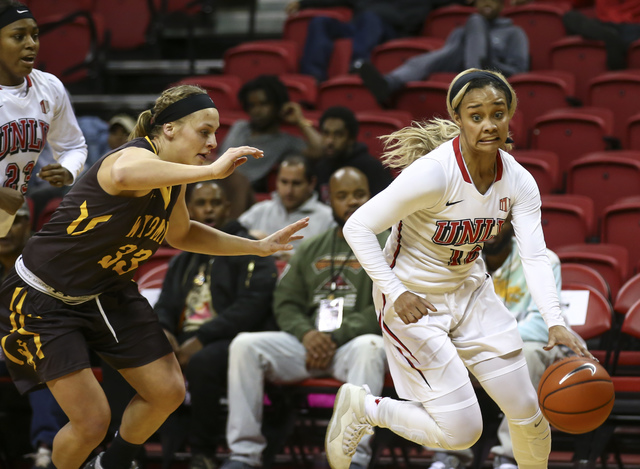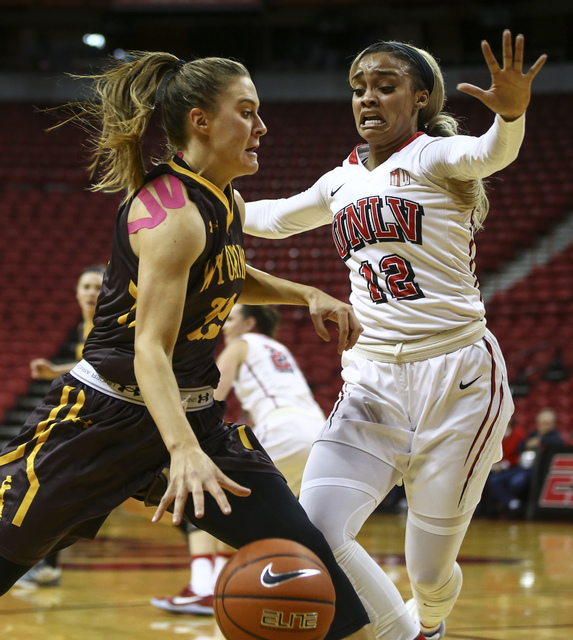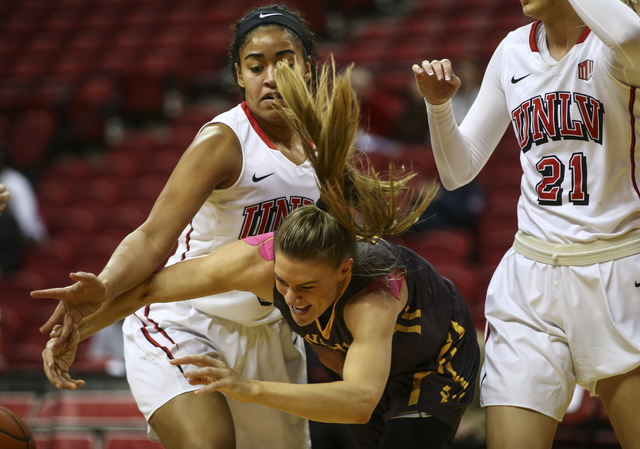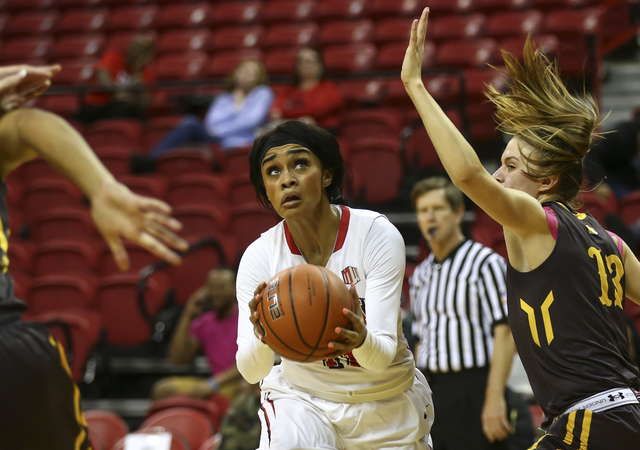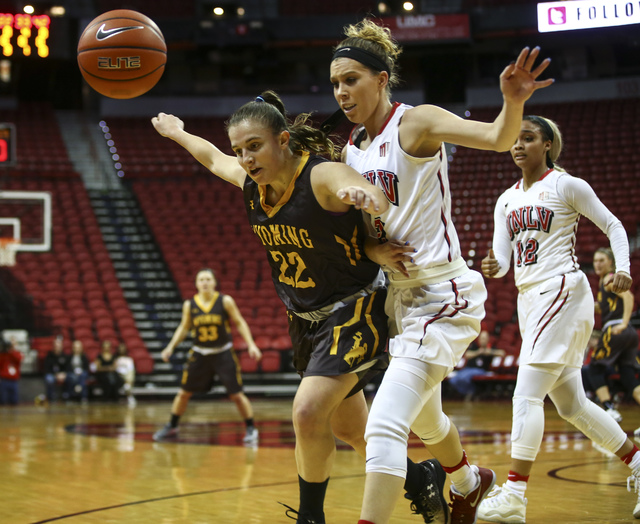 Shortly after setting a career high with 20 points, Dylan Gonzalez didn't want to talk about her offensive performance.
She wanted to talk about the team's defense after the UNLV women upset Mountain West leader Wyoming 51-46 on Wednesday night at the Thomas & Mack Center.
"That's just all we work on in practice," Gonzalez said, "so when we execute defensively, it's even better than executing offensively because it's so much more intense on defense just because sometimes you can't control things on offense, but defense you can always control what you're doing."
The defense drew rave reviews by Lady Rebels coach Kathy Olivier, too.
"Everyone really bought in to what we were doing defensively," Olivier said. "We were in the passing lanes. We made their lives miserable on the offensive end. That's a very good offensive team. If they have clean looks, they're going to make them. They had no clean looks. Our team was up in their face and was very active defensively, and that's what won the game."
Gonzalez scored the first eight points for the Lady Rebels (14-6, 5-3 MW), who limited the Cowgirls (15-4, 7-1) to eight points in the first quarter.
"We came out in that first quarter really good defensively," Olivier said. "I thought we missed some easy offensive shots, but for the most part, our defense definitely carried us, and Dylan was on fire. That really helped. She did so many positive things in that first quarter offensively."
The Gonzalez twins — Dylan and Dakota — carried the Lady Rebels offensively, scoring 24 of the team's 26 first-half points and 36 of its 51.
But in the third quarter, the Cowgirls went on a 17-2 run to take the lead, countering a poor shooting first half by the conference's top shooting team.
"They're an amazing team, so they're going to get their run. They didn't come in here 7-0 for no reason," Dylan Gonzalez said. "They can make their shots. They execute very, very well. That being a part of it, we didn't play quite as aggressively coming out in that third quarter."
Gonzalez said the Lady Rebels weren't as tenacious defensively as they had been and weren't pressuring in the lanes as much, so they needed to regroup. The result was a defensive effort that yielded just nine fourth-quarter points as UNLV avenged a 77-57 road loss to Wyoming on Dec. 31.
The Lady Rebels got plenty of contributions. Center Katie Powell grabbed a game-high 14 rebounds, guard Brooke Johnson had four steals, and forward Paris Strawther had two blocked shots. Dylan Gonzalez finished with three steals.
"I thought tonight no one cared who scored," Olivier said. "They were very, very dialed in defensively. Offensively we kind of just went with the flow. We were trying to do a really good job of getting the ball inside. We did that a couple times. This team really wanted to get the 'W,' and they said, 'Whatever it takes,' and it was definitely on the defensive end."
Contact Betsy Helfand at bhelfand@reviewjournal.com. Follow @BetsyHelfand on Twitter.