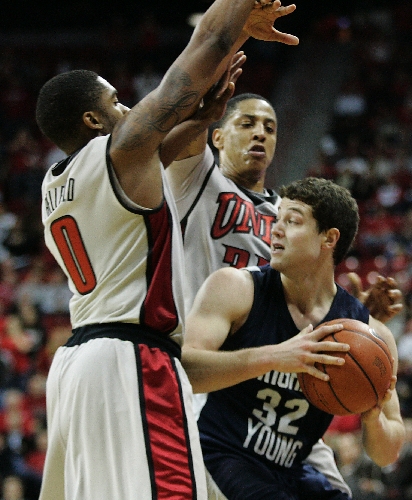 PROVO, Utah — Burying big shots and embarrassing opponents has become routine for Jimmer Fredette, who is exploding into a national media sensation as a Brigham Young senior.
Part of his reputation was built at UNLV's expense, and Rebels senior Tre'Von Willis is seeking payback.
"As a group, we want it bad," Willis said after Friday's practice. "We don't like the way they did us at home. We're all juiced around here. The intensity is going to be there."
UNLV was relegated to second-class status in the Mountain West Conference after the teams' previous meeting, so Willis has targeted this day on the calendar for a month.
The Rebels (17-5, 5-3) get another shot at the eighth-ranked Cougars (21-2, 7-1) at 1 p.m. today at the Marriott Center.
The first act in the rivalry was more of a one-sided slaughter than the score indicated. Fredette made seven 3-pointers and totaled 39 points in BYU's 89-77 victory in Las Vegas on Jan. 5.
The Cougars blew open a 21-point lead in the second half and ran the Rebels off the floor.
Despite a slow start, Fredette shot 12-for-25 from the field and 8-for-10 on free throws. After the game, Willis expressed disgust in UNLV's defensive performance.
This time, the 6-foot-4-inch Willis, one of the league's top defensive guards, plans to stick to the 6-2 Fredette and frustrate the shooting star.
"I want to be on him as much as possible," Willis said. "What people don't realize is he don't want to pass the ball. He don't want to get no assists. He wants to shoot the ball every single time.
"If you think he wants to pass it, then you're wrong."
The Rebels let their guard down the last time, Willis said, by not keeping a hand in Fredette's face as he dribbled around the perimeter looking for an opportunity to launch, even from 30 feet. Fredette needs only a sliver of space because of his quick trigger.
Willis said UNLV's defense will still "switch all small screens," which is coach Lon Kruger's philosophy. But Willis wants to stay with Fredette off more screens and "try to give him a shorter window" to shoot.
"It will be a case of everyone will have their turns on him," Kruger said. "Tre will probably be on him more than anyone else.
"We hope to make him take as tough a shots as possible. We realize he's going to make some tough shots. We just can't give him the easy ones, and we can't foul him unnecessarily."
Fredette leads the nation in scoring at 27.6 points per game and is shooting 41.8 percent from 3-point range. He has been even better in conference games, averaging 34.0 points while shooting 48.6 percent on 3s and 88.5 percent on free throws.
Kruger said Fredette deserves to be recognized as the nation's top player.
"I think he should be the leading candidate at this point," Kruger said. "No one else I've seen, not only this year but for several years, has played at consistently as high a level as long as he has."
Fredette was not the only BYU senior to burn the Rebels. His backcourt partner, Jackson Emery, drilled six 3-pointers and totaled 22 points as the Cougars stopped an eight-game road losing streak in the series.
"They played a hell of a game. They made shots," Willis said. "But we want them to prove to us they're the better team for the second time in a row."
The loss still burns with UNLV's players, even sophomore forward Quintrell Thomas, who played only five minutes as a reserve.
"We should never lose a game at home, in my opinion," Thomas said after posting career highs of 15 points and 16 rebounds in the Rebels' 67-54 win over Utah on Wednesday. "If you lose at home, you've got to go make up for it on the road."
In early January, Willis referred to Fredette as "supposedly the best player in the conference." As BYU's team prepared to take the floor at the Thomas & Mack Center, Fredette got the attention of a Utah writer and said, "Willis is about to learn something tonight."
Told of Fredette's remark Friday, Willis smiled, bit his lip and started to walk away.
"I love going up there and playing. Their crowd is always into it," Willis said. "We're just prepared to go in and fight and bring the fight to them."
Contact reporter Matt Youmans at myoumans@reviewjournal.com or 702-387-2907.
UNLV VS. BRIGHAM YOUNG
WHEN: 1 p.m. today
WHERE: Marriott Center, Provo, Utah
TV/RADIO: Versus (38), KWWN (1100 AM, 98.9 FM)
LINE: BYU -7½; total 146