Doolin delivers as Rebels win in overtime, 75-73
December 17, 2014 - 11:52 pm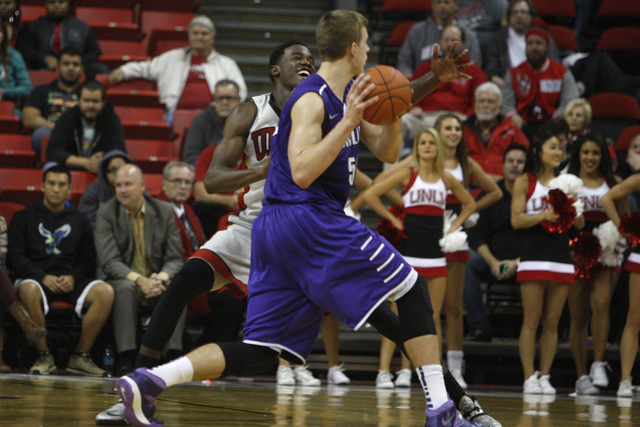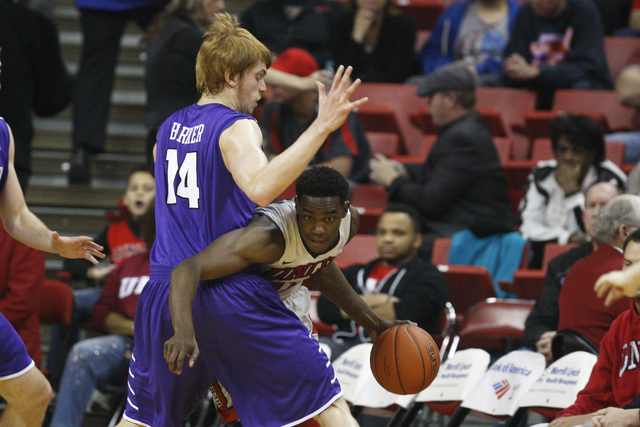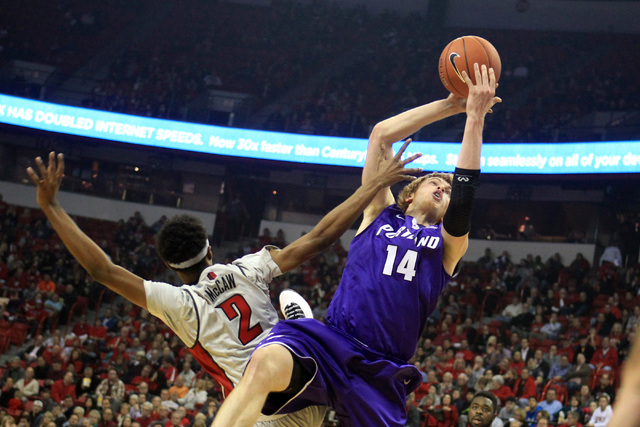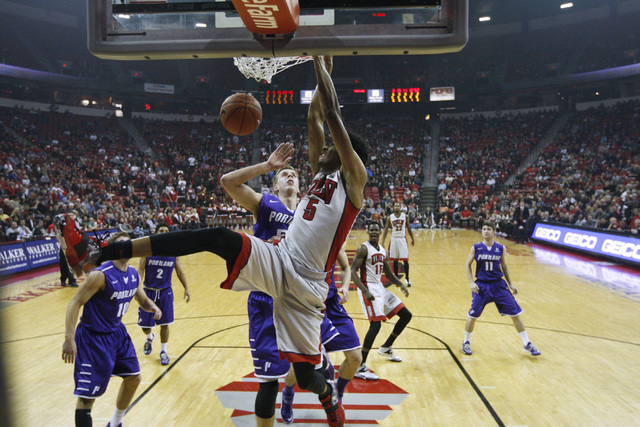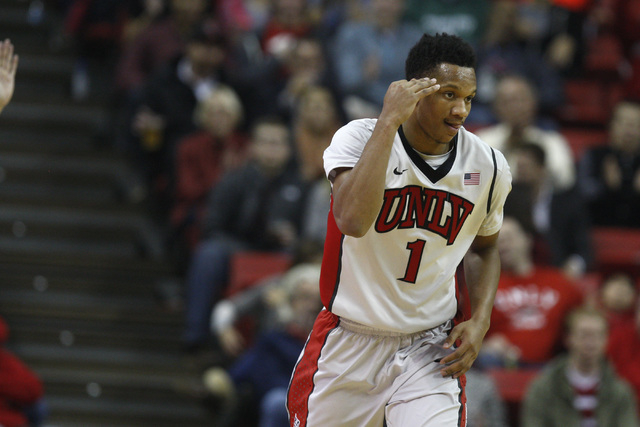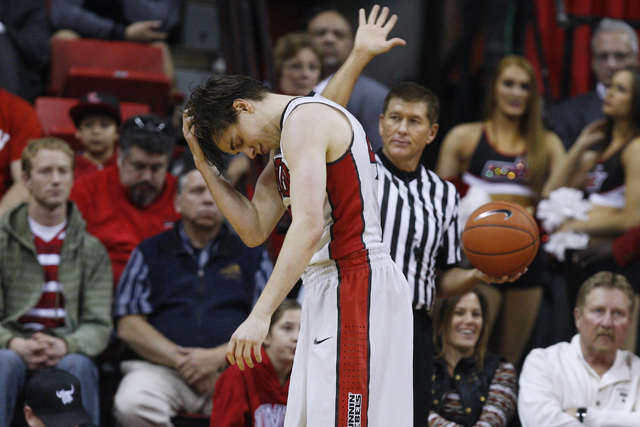 Up against the clock and under pressure from the defense, Cody Doolin did his best work.
The senior point guard had a hand in two big plays, one that forced overtime and another that finished the job, as UNLV narrowly avoided an upset Wednesday night.
Doolin drove through the lane and spun for a layup with 0.4 seconds remaining, and the Rebels escaped with a 75-73 victory over Portland at the Thomas & Mack Center.
"By any means necessary, I was just trying to get to the basket," said Doolin, who finished with 15 points and three assists.
His biggest assist went to freshman forward Dwayne Morgan, who dropped in a layup in the last second of regulation to knot the score at 62.
Freshman guard Rashad Vaughn totaled 25 points and seven rebounds for the Rebels (7-2). Vaughn and Doolin combined to score nine of 13 points for UNLV in overtime.
"I have played in a lot of college basketball games, and that's a position I'm comfortable in and Rashad is comfortable in going down the stretch," Doolin said. "It was a lot fun."
Alec Wintering, a 5-foot-11-inch point guard, poured in 24 points to put the Pilots (7-3) in position to win. Wintering tied the score on a layup with 45 seconds to go in overtime.
Morgan made a fadeaway 15-foot jumper with 28 seconds on the clock, and Vaughn fouled 6-11 Volodymyr Gerun under the basket with 10 seconds to play. With the crowd of 12,536 roaring, Gerun sank both free throws.
Doolin raced up the court, dribbled through traffic across the lane and banked in a last-second layup to win it for the Rebels.
"Cody is just absolutely a winner," UNLV coach Dave Rice. "He just would not let us lose."
It appeared the Rebels, trailing by eight points with 3½ minutes remaining, were headed for a lost night.
Riley Barker hit a jumper in the lane to put Portland on top 59-51 with 3:45 remaining. UNLV sliced its deficit to 61-57 on Doolin's steal and layup with 1:51 to go. Doolin found a path to the basket and scored again to narrow the gap to two at the 1:07 mark.
Wintering tripped and lost the ball with 41 seconds left, but a foul was called on the Rebels' Patrick McCaw. Wintering made the first free throw and missed the second. Vaughn was fouled and made one free throw with 17.8 seconds left.
Barker threw away the inbounds pass for the Pilots, presenting UNLV with a shot to win or tie. Doolin took an inbounds pass with 4.4 seconds left, dribbled into traffic, spun and dumped a pass to Morgan, who banked in a layup that beat the buzzer.
"I don't really remember it. Maybe I blacked out or something," said Doolin, who had no turnovers in 38 minutes. "Dwayne did a great job on that play. If he tried to dunk it, I think time would have run out. His awareness was great.
"With five minutes remaining, it was put up or shut up. We stuck together and willed our way to overtime."
Barker finished with 14 points for for Portland, and Gerun added 11 points and eight rebounds.
The Rebels repeatedly misfired from 3-point range (4 of 18) and got pounded in the paint, losing the rebounding battle 38-30. But their weakness all season – free-throw shooting – was a positive in a tight game as they hit 13 of 15 at the line.
Sophomore forward Chris Wood had 17 points for UNLV, which started sluggishly and fell behind 29-28 at halftime.
"We need to come out with more intensity and come out hard," said Vaughn, who shot 9-for-17 from the field, including 2-for-6 on 3-pointers, and 5-for-6 on free throws.
Vaughn scored the first basket of overtime, Doolin followed by hitting a 3-pointer, and Vaughn made a tiebreaking jumper with 1:47 left.
"It certainly was a difficult situation down the stretch," Rice said. "Rashad made huge plays for us. Cody looked at me and said, 'Coach, I want the ball. I'm going to make a play.'"
Contact reporter Matt Youmans at myoumans@reviewjournal.com or 702-387-2907. Follow him on Twitter: @mattyoumans247.