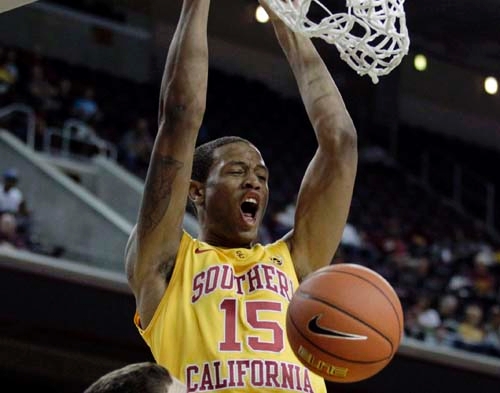 In January, Bryce Jones left the Southern California basketball team after his playing time decreased and amid reports of off-court problems. He was in search of a second chance.
Jones said Saturday he orally committed to UNLV, and in doing so the 6-foot-5-inch shooting guard became the first recruit for coach Dave Rice.
"I feel confident with my decision," he said. "Coming out of the situation I was in, I wanted to make sure it was the right fit for me. I know a lot of the guys on the team. I really like the coaches, and I want to be a part of the program."
Jones and Rebels guard Justin Hawkins, who will be a junior next season, were teammates for one year at Woodland Hills (Calif.) Taft High. Jones also knows UNLV players Oscar Bellfield and Chace Stanback from Los Angeles.
Rice and Jones have a relationship from Rice's time as a Brigham Young assistant coach. Rebels assistant Justin Hutson attempted to recruit Jones to San Diego State before Hutson joined Rice's staff April 11.
Jones chose UNLV over Mountain West Conference rivals San Diego State and New Mexico. He also was drawing recruiting interest from Gonzaga, Kansas and Texas-El Paso. After redshirting, Jones will have three years of eligibility left beginning with the 2012-13 season.
According to a Los Angeles Times story, Jones allegedly punched fellow freshman Garrett Jackson in the USC locker room and fractured his nose. Jones also had a confrontation with a resident adviser in his dormitory. The Times reported Trojans coach Kevin O'Neill told Jones to transfer or face dismissal from the team.
Asked why he left USC, Jones said, "I wasn't comfortable with the way certain things were going around the program. It just wasn't a good environment for me."
Jones started the Trojans' first 10 games and averaged 11.2 points and 28.1 minutes. As a reserve in his final eight games, Jones averaged 11.1 minutes.
Rivals.com ranked Jones a top 100 prospect in the class of 2010. He was the City Section's John R. Wooden High School Player of the Year Award winner as a senior at Taft.
Jones took an official visit to UNLV in late March before former coach Lon Kruger left for Oklahoma.
Lincoln County High senior point guard Dantley Walker, a Kruger recruit, remained committed to the Rebels after Rice's hiring. Walker leaves on a two-year Mormon mission in August.
UNLV is in the running for one more transfer, J.J. O'Brien, a 6-7 swingman. O'Brien, who left Utah after his freshman year, also is weighing an offer from San Diego State.
Contact reporter Matt Youmans at myoumans@reviewjournal.com or 702-387-2907.