Former walk-on sets aside emotions on Senior Night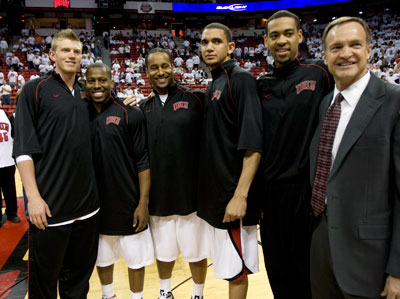 Expect no tears from Rene Rougeau when he is honored with UNLV's other four seniors tonight.
"There's no time to be emotional," he said. "I'm just trying to get wins. I can be emotional after it's all said and done and we complete our journey."
Rougeau is the Rebels' inspirational leader, and the story behind the former walk-on's journey to Senior Night might inspire some watery eyes. Just not his own.
The way he sees it, the crying and hugging can wait until later in the month.
UNLV (20-8, 8-6 Mountain West Conference) hosts last-place Air Force (9-18, 0-14) at 7 p.m. at the Thomas & Mack Center. Rougeau and seniors Wink Adams, Joe Darger, Mareceo Rutledge and Rob Ketchum will be recognized in a ceremony at 6:45.
The Rebels' final regular-season home game represents their last breather before the season's defining moments — Saturday's game at San Diego State, the MWC tournament and whatever postseason fate awaits.
Since the start of the 2006-07 season, UNLV has a 77-23 record. The senior class has been a major part of two conference tournament titles and three NCAA Tournament wins the past two years.
But how the Rebels' season ends will be a factor in how the seniors are remembered, and Rougeau wants to protect that legacy from any hint of disappointment.
"I probably think about that every second of the day, whether I'm in class or just walking around," he said. "That's all I've been thinking about is these next few weeks, and how is it going to go down?
"Hopefully it can turn out the best for us. We want to go out with a bang like the last two senior classes."
UNLV coach Lon Kruger credits his seniors for winning on and off the court. Rougeau earned his degree in December, and the other seniors are on schedule to graduate in the spring and summer.
"All are very positive ambassadors for the university and the program," Kruger said. "Not a headline away from the floor in a negative way. You can go down the list a long way in appreciation for what they have meant and what they have done.
"This group will be remembered as a key group that's won a lot of games but, maybe most importantly, re-established a foundation from which to continue building."
Rougeau, a 6-foot-6-inch guard, has developed into the Rebels' most versatile player, an unlikely scenario five years ago.
He was not even a starter on a star-filled team at Etiwanda High School in Rancho Cucamonga, Calif. But in the summer of 2004, when many people doubted his ability to be a Division I basketball player, Rougeau talked his way onto UNLV's roster as a walk-on.
He paid his way through college, became a starter as a junior and finally earned a scholarship last summer. He has started 55 consecutive games for the Rebels.
"I always liked Rene's passion, his energy and his instincts," Kruger said. "But to say that we were going to expect him to do what he's done, I don't know that anyone could have projected that."
Adams is not surprised, but he represents a small group.
"When I first got here, Rene told me he was a walk-on and he was paying for school, and I just couldn't believe it, because the guy was out here dunking and doing everything," Adams said.
"I would always say, 'He's got to be one of the best walk-ons in the country.' Every time he practiced, he played hard and he stayed smiling. Most guys kind of pout a little bit. But he just kept playing like he was on scholarship."
Rougeau, a major in criminal justice with a minor in sociology, is the first from his family to earn a college degree.
He is UNLV's third-leading scorer at 11.3 points per game and ranks in the Mountain West's top five in field-goal percentage, steals and rebounds.
"Coach Kruger has definitely made me even more of a winner since I've been here, on and off the court," Rougeau said.
"Whether it's being on time to class or being polite to people, he's made me become a better man, for sure."
Contact reporter Matt Youmans at myoumans@reviewjournal.com or 702-387-2907.
AIR FORCE VS. UNLV
WHEN: 7 p.m. today
WHERE: Thomas & Mack Center
TV/RADIO: CBS-C (333); KWWN-AM (1100)
LINE: UNLV -181/2; total 120