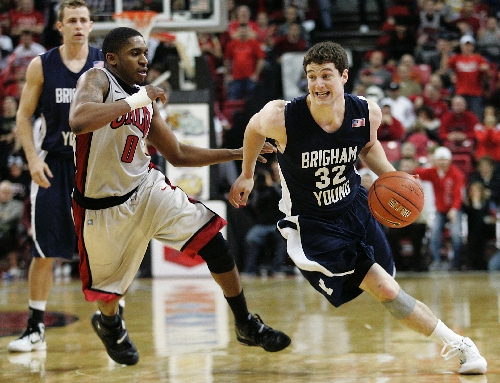 By the time he knocked down his seventh 3-pointer, Brigham Young shooting star Jimmer Fredette had already proven his point. He delivered it emphatically, too, in an embarrassing beatdown.
Fredette had the quickest trigger in a Mountain West Conference shootout, and it was not even close.
"He's a great player, and he had an All-American performance," UNLV sophomore Anthony Marshall said.
Fredette poured in a season-high 39 points and Jackson Emery joined him in a dazzling shooting display as the 15th-ranked Cougars blasted the 25th-ranked Rebels 89-77 in Wednesday's conference opener for both teams at the Thomas & Mack Center.
BYU (15-1) blew it open in the second half — building a 21-point lead — to snap its eight-game road losing streak in the rivalry.
"I made some tough shots," said Fredette, a senior preseason All-American. "It was a great all-around effort by us. We haven't won down here for a long time. It was really exciting to play this game."
Fredette shot 12-for-25 from the field, including 7-for-13 from 3-point range, and 8-for-10 on free throws. And he did it after overcoming a slow start.
Emery, also a senior guard, made six 3-pointers and added 22 points, 16 after halftime.
"A loss like this is extremely disappointing and it's a little embarrassing. They kicked our tails," UNLV coach Lon Kruger said. "It's one thing when Fredette is doing what he does, but Emery made some big shots for them."
Marshall scored a career-high 26 points for the Rebels (12-3). Tre'Von Willis had 14 points, and Oscar Bellfield and Brice Massamba added 10 apiece.
It was Willis who early in the week called Fredette "supposedly the best player in the conference." Fredette said he read the comment, and if he felt slighted he certainly played as if he had something to prove.
Fredette and Willis exchanged words a few times in the second half.
"I just told him to score on me," said Willis, who shot 4-for-16. "That's all I told him."
Fredette missed six of his first seven shots while defended mostly by Willis. UNLV switched defenders and double-teamed Fredette, who heated up late in the first half.
The Rebels surged ahead with a 13-0 run, capped by Willis' 15-foot jumper that stretched their lead to 25-15 with 6:56 remaining. But Fredette fired in a pair of long-range 3s to pull the Cougars within 32-30.
Noah Hartsock's 3 from the top put BYU up 35-34 with 1:20 to go, and Fredette finished the half by sinking another 3. Fredette's four 3s and 17 points carried the Cougars to a 38-35 halftime lead.
BYU opened the second half with a 14-3 run as Emery scored six points and Fredette five.
"We kind of lost momentum and it got out of control a little bit," Willis said. "I'm very disappointed. I don't think I can put it into words right now."
Fredette sank a 30-foot jumper to extend the Cougars' lead to 71-53 with 8:54 remaining.
"I don't think it's amazing. It wasn't that far," Willis said, when asked about Fredette's long-range marksmanship. "He's a preseason All-American. You expect him to hit that shot. I expect him to shoot every time. I'm just frustrated with us as a group putting our hands down and allowing him to shoot the ball."
UNLV made a late rush and closed the gap to 80-70 on Willis' 3. Fredette answered with a 3-pointer 17 seconds later to silence what was left of a crowd of 17,942. His 39 points were the most by a UNLV opponent since 1999.
In the midst of BYU's big second-half run, the Rebels lost their composure.
Quintrell Thomas was assessed a technical for swinging an elbow under the basket, and the UNLV bench was hit with another technical. Kruger said he was "not sure" who on the bench was whistled for the tech.
"We take pride in our ballclub. We're supposed to defend our home court," Marshall said. "When they made their run, we've got to stick together as a team. It's little stuff that played into a big loss."
Contact reporter Matt Youmans at myoumans@reviewjournal.com or 702-387-2907.
BRIGHAM YOUNG — 89
UNLV — 77
KEY: Jimmer Fredette scored a season-high 39 points and Jackson Emery added 22 for the Cougars.
NEXT: UNLV vs. Texas Christian, 7 p.m. Saturday, Thomas & Mack Center, The Mtn. (334), KWWN (1100 AM, 98.9 FM)