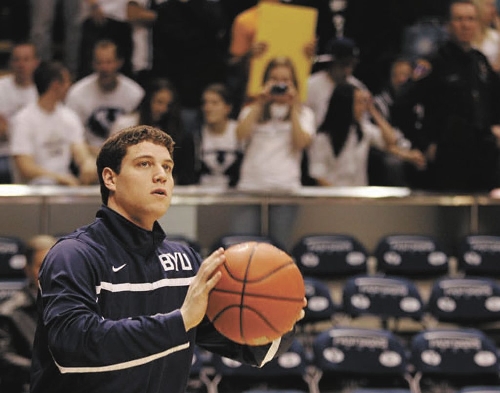 PROVO, Utah — Out of his shoot­ing rhythm and bothered by a cold, Jimmer Fredette was unable to stage his usual highlight show.
But it didn' t matter one bit. A mundane effort by Fredette, who did most of his damage with free throws, was more than enough to help No. 8 Brigham Young make easy work of UNL V on Saturday.
Fredette scored 29 points, hit­ting all 16 of his free throws, and the Cougars led the Rebels by double digits most of the way in a 78-64 victory before a loud crowd of 22,700 at the Marriott Center.
"I just tried to stay aggressive the whole entire game," said Fredette, the nation's scoring leader.
Fredette played 39 minutes and made them all count. With less than a minute remaining, and the opponent in the coffin, the senior guard clapped his hands, demand­ed the ball and looked to pound in the final nails for emphasis.
He drove past UNL V's Tre'Von Willis and scored on an acrobatic layup. Willis made comments be­littling Fredette before both of the teams' meetings this season, and the BYU star got the last word. "We needed another basket. I wanted to score another basket to really put them away, and that's what happened," said Fredette, who had seven assists and five turnovers. "Whatever (Willis) says doesn' t matter to me. All that mat­ters to me is us going out and getting victories."
Jackson Emery added 15 points and four steals as the Cougars (22-2, 8-1) remained tied atop the Mountain West Conference with San Diego State.
Anthony Marshall had 16 points, 12 re­bounds and four steals to lead the Rebels (17-6, 5-4). Willis shot 3-for-11 from the field and scored 15, and Chace Stanback compiled 14 points and 10 rebounds.
UNLV, down 38-27 at halftime, stayed within striking distance and trailed 56-47 after Stanback's jumper with 10:10 left.
Emery answered by hitting a pair of 3s, the second with 7:58 to go, to extend the Cougars' lead to 66-51.
"It's pretty frustrating when you're trying to rally and get some momentum and then he comes down and hits two big shots like that," Marshall said.
Most of the Rebels' troubles were caused by poor field-goal shooting — 25.8 percent in the first half and 30 percent overall (18-for-60).
"The fight was good. We need a couple guys to step up and make some shots," coach Lon Kruger said. "There were too many possessions in the first half, espe­cially, that we turned it over and they converted in transition. Those were big plays in the ballgame."
Willis and Stanback each shot 2-for-7 from 3-point range as the Rebels con­tinued their cold-shooting theme by connecting on only 6-for-23 from the arc. Oscar Bellfield shot 1-for-11, including 1-for-5 on 3s.
"In the first half, I felt we kind of rushed some shots," Marshall said.
Emotions sidetracked UNLV in the first half, when forwards Carlos Lopez and Quintrell Thomas were assessed technical fouls — Lopez for swinging elbows while wrestling on the floor for a loose ball, and Thomas for reacting an­grily to a foul under the basket.
The game was tied at 8 before the Lopez technical. The Cougars responded with a 10-0 run, capped by Fredette' s la­yup with 11:21 to go. With 42 seconds left before halftime, Willis fouled Fredette as he released a 3-point attempt. Fredette made all three free throws.
"Fredette is a guy who obviously can score, but he also makes a lot of other good things happen for BYU," Kruger said. "We battled him, but they won the battle, and there's no question about that."
Fredette, averaging 27.6 points, be­came the league's all-time leading scorer late in the game. He shot 2-for-6 from the field in the first half and finished 6-for-14. He made only 1 of 5 3-pointers, one month after hitting seven 3s and scoring 39 points in the Cougars' 89-77 victory over the Rebels in Las Vegas.
"It wasn't good enough," Willis said of UNLV's defensive effort on Fredette. "It's very frustrating because we know we can play way better than this. We've just got to prove it on the court, though." Asked if he' s hoping for another shot at BYU in the MWC tournament in March, Willis said, "That would be great. We lost two, so it would be great to get a third one to get another chance."
Contact reporter Matt Youmans at myoumans@reviewjo urnal.com or 702-387-2907.
BRIGHAM YOUNG 78
UNLV 64
KEY: Cougars guard Jimmer Fredette scored 29 points, going 16 of 16 at the free-throw line, and had seven assists.
NEXT: UNLV at Texas Christian, 5 p.m. Wednesday, The Mtn. (334) tape delay, KWWN (1100 AM, 98.9 FM)