Freshmen stepping up for Rebels
February 23, 2015 - 11:33 pm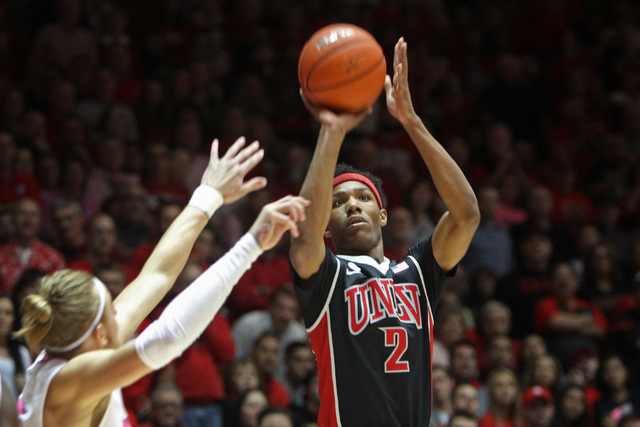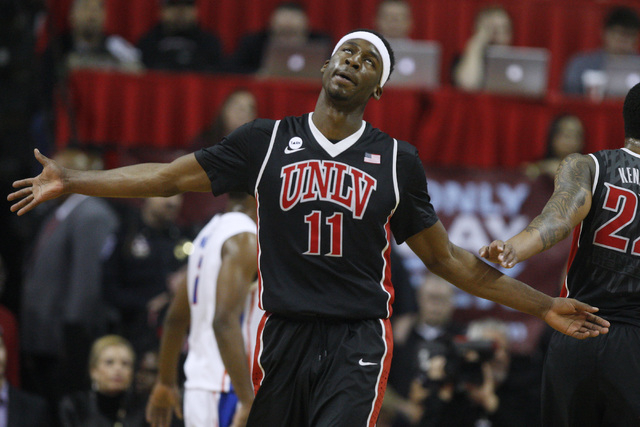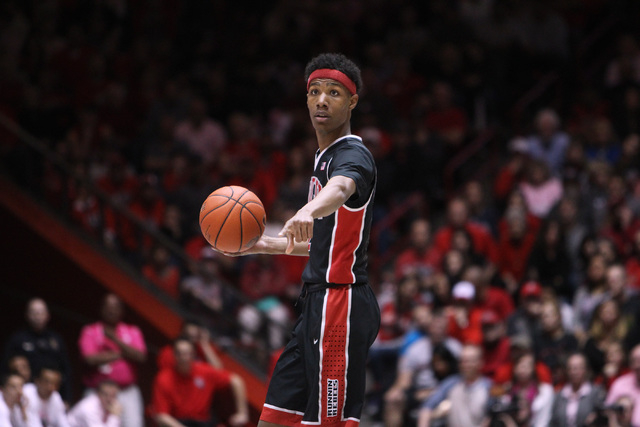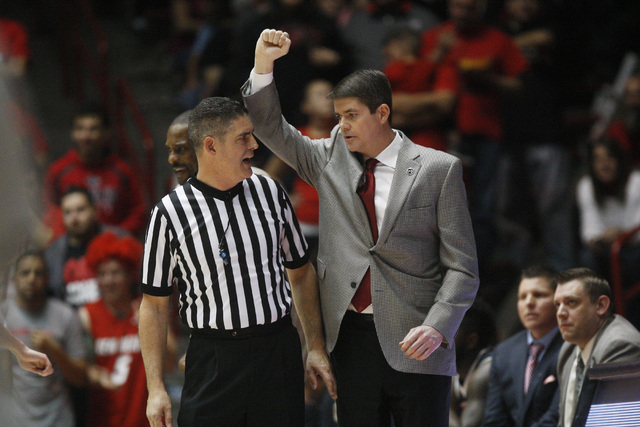 LOGAN, Utah — By pulling in one of the nation's top recruiting classes, UNLV coach Dave Rice won half of the battle. Recruiting has been the easy part for Rice and his staff.
The other half — winning with those highly touted players — has been a constant struggle this season.
Rice had to develop and play five freshmen while aiming to contend for a conference title. But the Rebels were out of contention in January, making their main objective an abject failure. Still, if there is a sign of hope, it's the development of the freshmen.
The stars emerging in February are shooting guard Patrick McCaw and 6-foot-10-inch forward Goodluck Okonoboh.
"Patrick continues to step up. He has become one of our primary options," Rice said. "Goodluck is playing his best basketball of the year right now."
McCaw and Okonoboh will be counted on again when UNLV (15-12, 6-8 Mountain West) faces Utah State (16-10, 9-5) at 6:30 p.m. today at the Smith Spectrum, where the Aggies are 3-point favorites and out for revenge.
The Rebels were fortunate in the teams' meeting Jan. 24, when McCaw made a running 12-footer to force overtime and UNLV escaped with an improbable 79-77 win.
"Patrick made a very tough shot to get us to overtime," Rice said. "It was a great win for us, and it was difficult for them. They had a great chance to beat us, and we found a way to win the game."
Finding ways to win without Rashad Vaughn, the star of the freshman class and the team's leading scorer, is the Rebels' latest challenge. Vaughn is recovering from knee surgery and is questionable to return for the league tournament in mid-March.
He scored 31 points against Utah State last month. McCaw and Okonoboh played minor roles in that game, but their roles are changing.
In a 76-68 win Saturday at New Mexico, McCaw scored 22 points and Okonoboh finished with 12 points and five blocks. McCaw has been handling more point guard duties, and Okonoboh, always a solid defender in the low post, has started to look for his shots and score more.
"My confidence is the same as the first game of the year," said Okonoboh, who attributed his recent increase in production simply to "getting more opportunities."
McCaw has made 10 straight starts, and in his past 11 games he has averaged 12.9 points while shooting 46.7 percent (50 of 107) from the field. He made a total of 10 3-pointers in the Rebels' past two road games.
"Very good players sense that their team needs them on the road," Rice said. "Patrick just continues to get better, and his role has changed throughout the season."
McCaw is filling Vaughn's role and joining sophomore forward Chris Wood as the team's top offensive options. Okonoboh made it clear he wants more touches, too.
But Okonoboh's main responsibility against Utah State will be to defend 6-8 freshman David Collette, who torched UNLV for 24 points in January. The Aggies, shooting 44 percent from 3-point range in conference games, can play through Collette inside or burn defenses from the outside.
"Collette is a difficult matchup one on one," Rice said, "but we've got to make sure we get to shooters."
Jordan Cornish has developed into one of the Rebels' best perimeter shooters as a freshman. But he and reserve forward Dwayne Morgan have battled the inconsistency that plagues most freshmen and is a trait of the entire UNLV team.
At seventh place in the Mountain West standings, the Rebels are in pursuit of a higher seed in the conference tournament, where the top six teams earn a first-round bye.
"Our guys are well aware of every game being extremely important," Rice said. "But I think right now, if we even look forward to the conference tournament, we lose our focus.
"I think we're making progress. I just like the fact our guys have continued to play hard, and we keep getting better. I think momentum is probably synonymous with confidence, and you want to be playing your best basketball of the year in February and March."
■ NOTES — Stew Morrill won his 400th game as Aggies coach Saturday against Fresno State. … The Rebels, who won 73-62 in Logan last year, lead the all-time series 30-3.
Contact reporter Matt Youmans at myoumans@reviewjournal.com or 702-387-2907. Follow him on Twitter: @mattyoumans247.
UNLV vs. UTAH STATE
■ WHEN: 6:30 p.m. today
■ WHERE: Smith Spectrum, Logan, Utah
■ TV/RADIO: CBSSN (333), KWWN (1100 AM, 100.9 FM)
■ LINE: Utah State -3