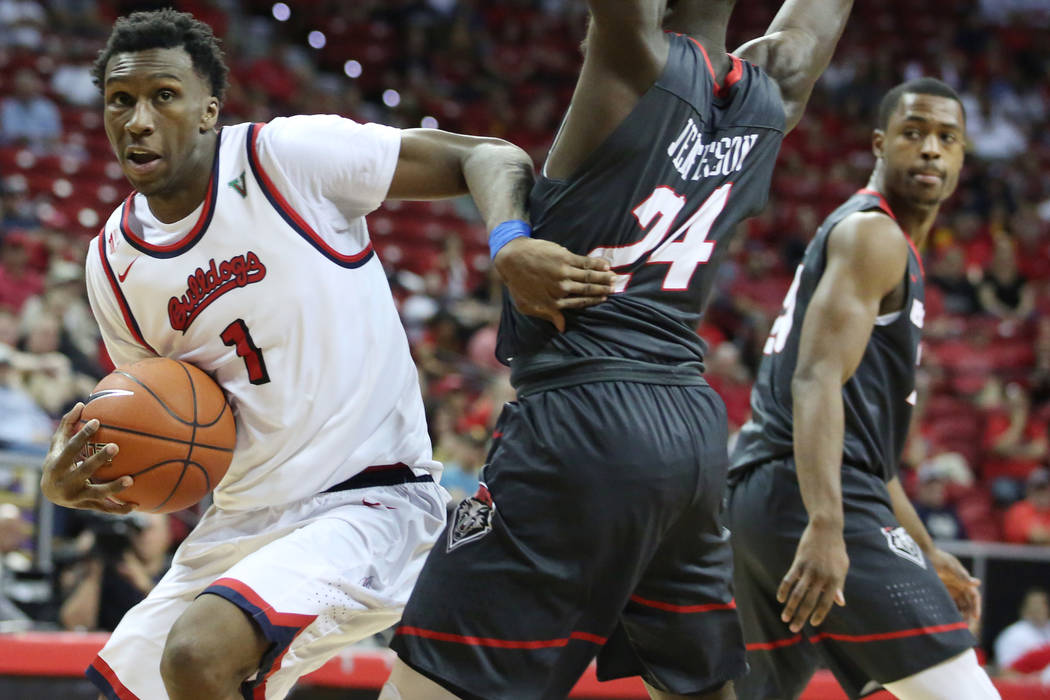 Note: This is the fourth in a series of 10 season previews of Mountain West basketball teams.
Fresno State is coming off consecutive postseason appearances for the first time since 2000 and 2001, and the Bulldogs won the Mountain West tournament two seasons ago.
But even though they return four starters from last season, Fresno State coach Rodney Terry said this team hasn't proven anything.
"You still have to establish an identity," he said. "Who are you going to be every night? How are you going to play? You have to earn everything you get in life. No one's going to give you anything."
Two of the returning starters are 6-foot-6-inch senior guard Jaron Hopkins and 6-2 junior guard Deshon Taylor. Hopkins led Fresno State last season in scoring (13.2 points average), rebounds (5.5) and assists (3.6). Taylor was second in scoring at 12.5 points per game.
Fresno State has played its best at the end of the past two seasons. Two years ago, the Bulldogs won nine games in a row that culminated with a 68-63 victory over San Diego State in the conference tournament final. Last season, they won six consecutive games before losing 83-72 to UNR in the tournament semifinals.
So don't be surprised if late February rolls around and the Bulldogs are the Mountain West's hottest team.
"I think this team has a very high level for growth," Terry said. "I think you want to play your best basketball in February and March. Right now … things are not going to be really pretty. You're going to have a lot of things you've got to work on and get better and instill in your team to be really be good when it really counts."
Contact Mark Anderson at manderson@reviewjournal.com. Follow @markanderson65 on Twitter.
Fresno State
— Predicted finish in MW: Fourth
— Last season: 20-13, 11-7 MW
— Coach: Rodney Terry, seventh season (105-97)
— Returning starters/lettermen: 4/8
— Top returning scorer: Guard Jaron Hopkins (13.2)
— Top returning rebounder: Hopkins (5.5)
— Notable nonconference games: at Arkansas, Nov. 17; vs. Evansville in Cancun, Mexico, Nov. 21; vs. Oregon, Dec. 16