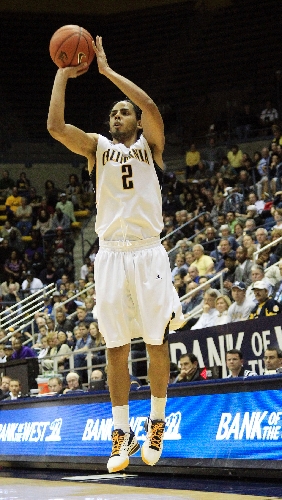 It's not a revenge game for Jorge Gutierrez, although he once hoped to play basketball for UNLV and never got the chance. A trip to Las Vegas for him is simply a return game.
"It's always nice to come back home," he said. "It's not home, but I lived here for a year."
Gutierrez spent his senior year at Findlay Prep and distinguished himself as one of the nation's top point guard prospects. He wanted to stay for more than a year and expressed his desire to run with the Rebels.
When a scholarship offer finally came in May 2008, it was from California coach Mike Montgomery. Gutierrez was the first recruit Montgomery signed when he took over the Golden Bears' program, and their relationship has been rewarding.
Gutierrez leads Cal (10-2) against No. 21 UNLV (12-2) at 2 p.m. today at the Thomas & Mack Center, but he's not carrying a grudge or motivated by getting some sort of revenge.
"I don't feel that way," he said.
Oscar Bellfield will be directing the Rebels, as he has for four seasons and 102 career starts. Bellfield's commitment was the main reason former UNLV coach Lon Kruger backed off Gutierrez.
"It didn't happen. They didn't need a player like me at that time, and I understand the situation," said Gutierrez, whose real home is Chihuahua, Mexico. "I don't regret what I did coming to Cal."
Findlay Prep coach Michael Peck, who watched the Bears and Rebels practice Thursday, said four years ago that Gutierrez would be an "unbelievable steal" for some college. Peck was proven right.
Gutierrez was an all-Pacific-10 Conference first-team selection last season, and he's running a Cal team that might be the Pac-12's best this season.
"We all watched him at Findlay Prep, and we've seen his progression as a player," Rebels coach Dave Rice said. "The first thing that comes to mind is toughness. He's a complete player. He's a versatile guy who makes them go."
The 6-foot-3-inch Gutierrez can play every guard and wing position. He is averaging 13.9 points and 5.0 rebounds while shooting 51.4 percent from the field and 89.5 percent from the foul line. He does not shoot many 3-pointers, but he has hit 9 of 17 in 11 games.
Beyond the statistics, what stands out about Gutierrez is that he's a hard-working competitor.
"The first time I saw him practice with us, he was a great player, and he was a hustler," said Rebels sophomore forward Carlos Lopez, who played with Gutierrez at Findlay Prep. "At that time, I saw how good he was and how much potential he had. I really wanted him to come to UNLV, but stuff didn't work out the way we wanted.
"I think he's one of the best players in college right now."
Gutierrez helped steer the Pilots to a 32-1 record, but he was the last of six Findlay Prep seniors — including the Rebels' starting center, Brice Massamba — to get a scholarship offer.
"I was playing with some of the best players in the country," Gutierrez said, "and it helped my game, and it helped me get attention.
"When I came to Cal, I knew I wasn't going to have much playing time, but I kept playing hard, and my role expanded. I've improved every year. Coach (Montgomery) has helped me develop as a player and as a person. It's always great being around him."
In Montgomery's last trip to the Thomas & Mack, he coached the Bears to a 73-55 victory over the Rebels in November 2008. Gutierrez, as a freshman backup, had 10 points and five rebounds to help stop UNLV's 19-game winning streak.
Gutierrez, who watched the Rebels' victories over North Carolina and Illinois, said, "They play a fast tempo. We need to try to slow them down."
As a senior, he is supported by two outstanding sophomore guards in Allen Crabbe and Justin Cobbs.
In California's 70-50 victory over UC Santa Barbara on Monday, Cobbs scored 25 points, and Crabbe had 19. Gutierrez sat out with an illness that he described as "food poisoning" from eating a burrito.
"I didn't even get to see the game," he said. "I'm feeling better."
Contact reporter Matt Youmans at myoumans@reviewjournal.com or 702-387-2907.
CALIFORNIA VS. UNLV
WHEN: 2 p.m. today
WHERE: Thomas & Mack Center
TV/RADIO: CBSSN (333), KWWN (1100 AM, 98.9 FM)
LINE: UNLV 5.5; total 138