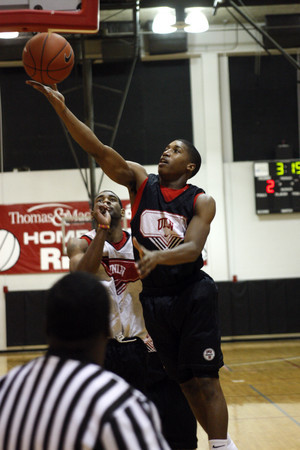 Some freshmen expect a lot of playing time right away. Justin Hawkins came to UNLV hoping for some minutes and willing to work to earn more.
Rebels coach Lon Kruger continually will adjust his 11-man rotation in November and December, fine-tuning the distribution of minutes and players' roles before Mountain West Conference play in January. It's too early to draw many conclusions, but Hawkins is ahead of the curve.
The 6-foot-3-inch guard scored 11 points in 21 minutes, third most on the team, in UNLV's season-opening 91-52 victory over Pittsburg State on Saturday. In two games against Division II opponents, including an exhibition win against Washburn (Kan.), Hawkins has played 40 minutes.
"I'm real happy about the minutes I'm getting," Hawkins said. "I knew coming in I was going to get some type of minutes, but I'm really surprised by the minutes I'm playing. I didn't think it was going to be that many.
"I thought I was probably going to get the regular freshman minutes, between eight and 12 (per game) early on and then maybe work my way up in league. I think I'm being efficient and doing what Coach wants me to do."
Kruger has no complaints with his freshmen, either Hawkins or guard Anthony Marshall from Mojave High. Marshall had six points, three rebounds and three assists in 19 minutes Saturday.
Hawkins, from Woodland Hills (Calif.) Taft High, has shown good shooting skills and is running the point as a backup to junior Derrick Jasper in games.
"He can play the point and he can play either of the wing spots, which anytime you have that versatility it allows you the opportunity to get on the floor more," Kruger said.
"Justin and Anthony both have done really good jobs, all the way through the fall practices and workouts. They are two guys who obviously were very well coached in high school, and they're seeing what it takes to compete at this level."
When the Rebels play UNR at 7:30 p.m. Wednesday at the Thomas & Mack Center, Kruger said he will stay with a starting lineup of Jasper, Oscar Bellfield and Tre'Von Willis in the backcourt, with Chace Stanback at forward and Brice Massamba at center.
Junior guard Kendall Wallace, who made four 3-pointers and scored 16 points against Pittsburg State, will be used often off Kruger's bench.
"Kendall has shot the ball very well, and he's doing well defensively, so he's giving us a lot of good play," Kruger said.
Senior guard Steve Jones, who played 15 minutes in the opener, probably will fit in the rotation behind Wallace, Hawkins and Marshall.
Kruger will look for more consistent production from UNLV's big men, a group including Massamba, senior Darris Santee and junior Matt Shaw.
Shaw, who had two points and four rebounds in 11 minutes Saturday, is still working into shape after missing last season with a torn anterior cruciate ligament in his right knee.
"It has been a year and a half since Matt's played a game," Kruger said. "He hasn't been quite as comfortable on the floor as what he was a couple years ago."
Contact reporter Matt Youmans at myoumans@reviewjournal.com or 702-387-2907.