Here's what they're saying about UNLV's interim coach Todd Simon
January 13, 2016 - 1:05 pm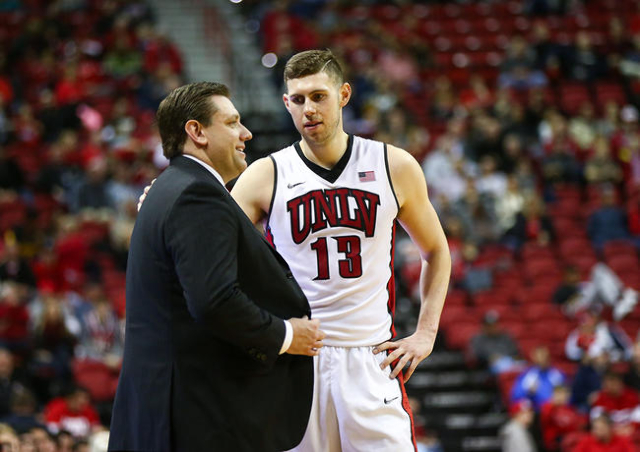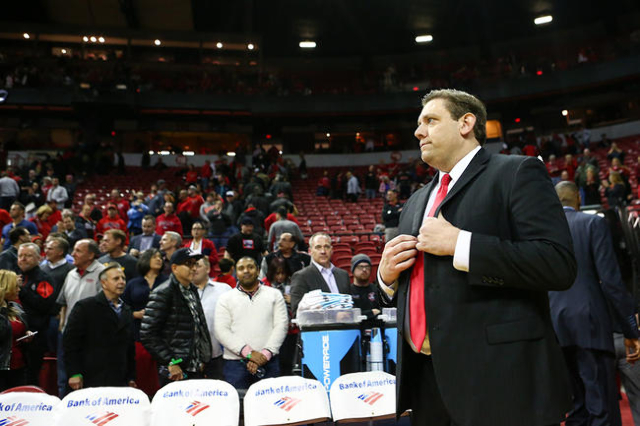 Todd Simon has taken over as coach of the UNLV men's basketball team, winning his first game as interim on Tuesday night. After that win what is the regional and local media saying about him and the Rebels?
Graham Couch, Lansing State Journal:
Simon might be the interim coach, but this a massive opportunity. However it turns out, he is already a terrific and inspiring story.
The 1999 Fowler High School graduate married a girl from Pewamo, first asking her out because he liked her jump shot.
They have three children, all boys. The youngest, Ryder, was born Dec. 3.
"We have a 3-year-old (Raylan) who's adamant against potty-training and then a 5-week-old," said Simon's wife, Kati, formerly Kati Klein. Their oldest, Rece, is 4. "Luckily my parents have been out here since Ryder was born."
"She's awesome," Simon said of Kati, noting a tender text message she sent him in the last couple of days to ease his mind about neglecting his family. "She's the absolute best. She gets it."
Geoff Grammer, Albuquerque Journal:
Simon said he plans to change a few things. Something he definitely wants to do is go back to a full-court pressure defensive scheme, which Rice promised for months before backing off. Rice was coaching scared in his last week, and it showed as the Rebels blew big leads in losses at Colorado State and Wyoming. It was a nightmare road trip that cost him his dream job.
UNLV fell to 9-7 overall and 0-3 in the Mountain West after a 59-57 loss at Wyoming on Saturday, causing Kunzer-Murphy to take the unusual step of dumping her coach midseason. Rice's run ended with a 98-54 record. Since receiving a contract extension in March 2014, Rice compiled a 27-22 record, including 8-13 in the Mountain West. Rice will be paid around $1 million on the way out, receiving the balance of his remaining base salary ($300,000 per year) for the rest of this year and the three years left on his contract.
His recruiting success never carried over to the win column. Seven-foot freshman Stephen Zimmerman Jr., Rice's big catch last spring, has so far been a disappointment. The team as a whole has played poorly. Simon is a better motivator, so maybe a change can spark the Rebels in the season's final two months.
Mike Grimala, RunRebs blog:
The UNLV basketball team didn't exactly look different in Todd Simon's first game as interim head coach. The Rebels just seemed to do more, in all aspects of the game, and it led to a reaffirming 86-74 win over New Mexico on a night when the program desperately needed a positive result.
There was more energy from players on both ends of the court. More effort on the glass. More pressure from the defense in halfcourt situations. And more attention to detail. Just more. Whether you want to chalk that up to Todd Simon's motivational techniques or the players' resolve in the wake of Dave Rice's dismissal, something jolted the team for 40 minutes on Tuesday.
Stephen Zimmerman was the biggest beneficiary of the Rebels' renewed vigor. He set up shop in the post and his teammates fed him the ball consistently. Zimmerman answered the bell with the best performance of his career, posting 15 points, 15 rebounds and four blocks in 32 minutes.
Zimmerman's drive and dunk put UNLV up 36-28 less than a minute into the second half, and the Rebels stretched out the lead from there, with Patrick McCaw (a team-high 18 points), Ike Nwamu (15 points) and Jerome Seagears (10 points) providing firepower from the perimeter. New Mexico never got close again, as UNLV's lead swelled to 22 points midway through the second half, allowing Simon to revel a bit in his first victory.