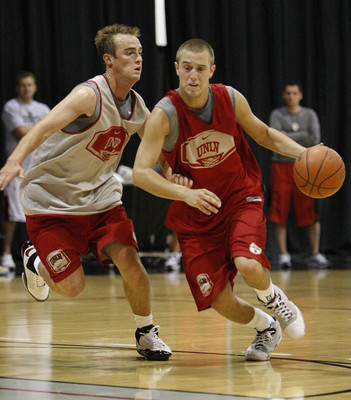 Almost everywhere he goes on UNLV's campus, Scott Hoffman gets recognized. He's not the anonymous student carrying a book bag.
But that's not because of what he does on the basketball court — it's because of what he does not do.
Hoffman, who will be a redshirt junior next season, has been an afterthought, the last player coach Lon Kruger usually thinks about sending into a game after the Rebels are involved in a blowout.
The 6-foot-3-inch, 180-pound guard is a fan favorite because he spends most of his time cheering from the bench.
"Everybody kind of knows me," Hoffman said. "Coach says I've got a connection with the fan base because I'm kind of like one of them."
He desires to be something different, though. He wants to be more than the sympathetic underdog figure.
Hoffman will get his opportunity on the team's two-week tour of Australia, where UNLV is scheduled to play six exhibition games beginning June 26. Kruger is taking only eight healthy players.
"This Australia trip is going to be really big for me," Hoffman said. "I think if I continue to hit shots and do the things Coach expects of me, I might get put in the mix.
"It's been a long time coming. I just figured if I kept working hard, hopefully one day I'll get in there."
In two seasons, Hoffman has played a total of 49 minutes in 16 games and scored four points.
As a high school senior in Hays, Kan., he averaged 23 points per game. He was offered chances to walk on at Creighton and UNLV, and he could be playing a bigger role at a smaller school, but his connection to Kruger was strong.
Kruger and Hoffman's father, Don, played baseball and basketball together at Kansas State in the early 1970s. Kruger's wife, Barbara, and Hoffman's mom, Gretta, have been friends since college.
"Coach told me it would be tough to get some playing time, but I knew that," Hoffman said. "I'm really close with the coaching staff. I like where I'm at right now."
In Tuesday's practice at the Thomas & Mack Center, Hoffman put a fake on former Rebels star Kevin Kruger, stepped back and made a 3-pointer. He regularly knocks down 3s in practice and hustles on defense, but he's a long shot to see significant minutes in a game.
"Scott has worked really hard every day in practice, and his teammates really appreciate that," Lon Kruger said. "Scotty will play a lot of minutes and he'll be in the rotation when we go to Australia."
Hoffman is not always happy to be a practice dummy. "Sometimes I get down a little bit," he said.
One of his biggest supporters and closest friends on the team is senior forward Rene Rougeau, a walk-on who started 27 games last season.
"Scott's really stepping his game up and shooting better than ever," Rougeau said. "I think he's just as good as Joe Darger shooting, that's as much faith as I have in him."
But in games, Hoffman has shot 1-for-10 on 3-pointers in his career, something he blames on adrenaline, nerves and the pressure of fans howling for him to shoot.
He almost never sees action when it matters, and his featured photo in the UNLV media guide shows him celebrating on the bench.
Still, in no way is his role model Daniel "Rudy" Ruettiger, the former Notre Dame football bench warmer and subject of an inspirational movie that glorified an underdog's story.
"I keep getting compared to Rudy. I don't want to be like Rudy, man," Hoffman said. "I hate that movie."
Contact reporter Matt Youmans at myoumans@reviewjournal.com or 702-387-2907.