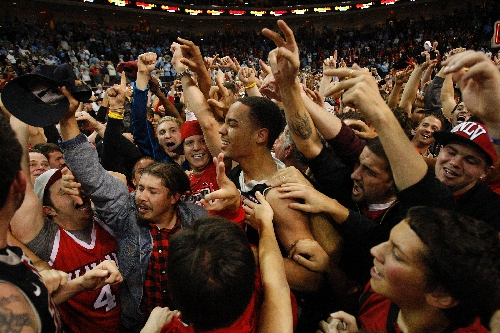 After a busy semester of academics and basketball, our players were able to finish final exams last week. This is a time of year that is always a lot of fun for student-athletes, as they are now able to concentrate 100 percent on the team and basketball.
It was a tough stretch for us to play six games in a row away from our building, but it was also a period where we grew as a team. It will certainly help us as we move forward toward conference play.
The holiday season is important to our guys. After we play California on Friday afternoon at the Thomas & Mack Center, our players will be off through Christmas. We will come back and practice Monday to get ready for another home game, against Central Arkansas on Wednesday.
One of the strengths of our team all year long has been depth. I have great confidence in the contributions our bench has made, and with the completion of finals, guard Reggie Smith is eligible to play for us. He will be another one of those key players off the bench.
We are fortunate to have great senior leadership. Those guys continue to work extremely hard in practice and are committed to having a really good season.
We want to remind Runnin' Rebel fans that our game against California has a unique starting time for a Friday, at 2 p.m. When we play at home in the Thomas & Mack Center, our guys get a lot of inspiration from our great fans.
This game will be a good opportunity to play against a quality Pac-12 Conference opponent. This is the kind of series we are excited about — playing good teams from power conferences. It is why we have started the series with Arizona, and we will continue to play a competitive schedule. We are always looking at these kinds of regional matchups as we continue to build our program.
Happy Holidays to all Runnin' Rebel fans. We hope it is a great holiday season for everyone.
UNLV basketball coach Dave Rice writes a weekly column for Rebels Report.