Hunt happy to reunite with Rebels
November 11, 2008 - 10:00 pm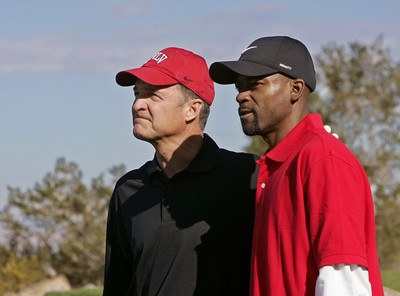 After leaving UNLV in 1991, Anderson Hunt played basketball in France, Poland, Saudi Arabia, Turkey and Venezuela.
"All around the world and back," he said.
Hunt lives in Detroit, where he said he works in real estate. But he did not truly come back to his second home in Las Vegas until Monday, when he played in the Legends & Friends Classic golf tournament hosted by Rebels coach Lon Kruger at Dragon Ridge Country Club.
The event was a reunion for Hunt, who endured some troubling times and was estranged from the program for several years.
"It's real nice to see all the fellas and talk about old times," he said.
Hunt was a star shooting guard on UNLV's NCAA championship team in 1990. He scored 29 points in a 103-73 rout of Duke in the final and was voted the tournament's Most Outstanding Player.
A year later, after the Rebels lost to the Blue Devils in the Final Four, Hunt left school as a junior and declared for the NBA Draft. He exited against the wishes of his coach, Jerry Tarkanian, and went undrafted, leading to his overseas tour.
"It was a critical mistake," Tarkanian said. "Anderson was a great kid. Somebody got in his head and he went pro. We tried to talk him out of it, and with none of the other guys did we try to talk them out of it."
Tarkanian wanted Hunt to replace Greg Anthony and play point guard during the 1991-92 season.
"We had that position just sitting there for him," Tarkanian said. "He was too short to be a shooting guard. What people didn't realize is Anderson was a great defender. If he stayed another year and played point, there was no doubt in my mind he would have made the NBA."
Hunt and Anthony saw each other at Monday's outing — which also was attended by Larry Johnson, the No. 1 pick in the 1991 NBA Draft — and Hunt said it was his first meeting with Anthony since 1993.
"We hugged real tight," Hunt said. "Greg's doing great and I'm proud of him."
While Hunt has been mostly out of sight, Anthony has been visible as an NBA player and TV analyst for CBS and ESPN.
"Anderson is one of the guys I really hoped to get an opportunity to see," Anthony said. "He was very important to our success. He's a wonderful person who's obviously had some difficult times through the years. But from all accounts, he seems to be headed in the right direction."
In May 1991, the Review-Journal published photos of Hunt with teammates David Butler and Moses Scurry in a hot tub with known sports fixer Richard Perry. In October 1993, Hunt was arrested for marijuana possession in connection with a traffic stop and pleaded guilty to misdemeanor charges.
Hunt said he worked for a bail bonds business in Las Vegas for a while after retiring from basketball about eight years ago.
He never married and is the father of five, with three boys and two girls ranging in age from 1 to 16.
"I own some houses in real estate. But that's a big headache," Hunt said. "The economy is messed up in Detroit. I'm definitely going to move back out here to Las Vegas. I made a lot of good friends here.
"It could be better, but I'm hanging in there and trying to stay out of trouble. Coach Kruger is a nice guy. He's been trying to get me back to talk to the kids."
If he could turn back the clock, Hunt said he still would not take Tarkanian's advice to stay in school for his senior year.
"I don't regret leaving school early; they can say what they want to say," Hunt said. "I didn't make the NBA, but I don't have regrets. My only regret is not playing baseball. I was way better in baseball as a shortstop.
"I'm going to come back and finish up my degree in social work. I've got to talk to the academic adviser, but I'm pretty close. There's a lot of kids and a lot of families that need help."