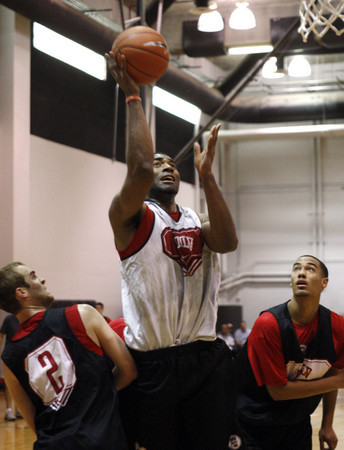 Every dunk Darris Santee throws down in basketball practice has a purpose.
"I think about being aggressive going to the rim, so everybody will know my presence and know that I'm there," he said.
It was easy to miss Santee during the second half of last season, when the 6-foot-8-inch forward was buried on UNLV's bench. When he did play, his presence was barely felt.
But Santee is serious about making a lasting impression as a senior. He spent the summer getting stronger, and he has shown a more assertive approach in the post through two weeks of practice by finishing more plays with dunks.
"As soon as the season was over, I went right to work and went to the weight room," he said. "I wanted to come back and be a big part of the team."
Sitting on the bench can light a fire under a player, and it did for Santee. But something else is inspiring him. His godfather Charles Phillips died of kidney cancer Oct. 15, the day before the Rebels' first practice.
"Lately, the motivation has been coming from my godfather," Santee said. "He put the basketball in my hands and he told me everything I know about basketball. He always had an aggressive mindset. I feel I have to live the way he talked."
Phillips, 52, coached Santee in high school in Houston. Santee went home for the funeral Oct. 24 and has been reflecting on his time spent with Phillips over the summer.
Santee always has been close with his mother, Carolyn Williams, and was in the eighth grade when he met Phillips.
"Me and my father never really got along, so (Phillips) was like a father for me," Santee said. "I talked to him a lot this summer and visited him a lot. He fought (cancer) for a year. He was telling me to keep my confidence up, don't ever give up on myself and stay strong.
Santee plans to be a more physical presence on the court. He improved his bench press by 35 pounds, now maxing at 275, and added strength in his legs is showing in his explosiveness.
Too often meek and weak around the basket last season, Santee is making a concerted effort to finish with authority by dunking.
"I feel a lot stronger," he said. "I'm going to try to come back with a more aggressive attitude. I think dunking is going to be a big part of my game. It gets the crowd into the game, it gets your teammates into the game, and it brings another level of intensity."
After two years at Midland (Texas) College, Santee stepped into UNLV's lineup and started 21 games. He led the team with a career-high 21 points in a win at Fresno State in early December. But by late January, with his production fading, Santee was demoted by coach Lon Kruger.
"I was really trying to stay positive and keep my teammates up," said Santee, who averaged 5.3 points and 2.6 rebounds as a junior. "It was tough, but I kept my cool and just waited it out. I knew I was going to have to work hard to get back in the lineup."
Kruger said Santee has a "refreshed outlooked" as he competes for time in the post with junior Matt Shaw, sophomore Brice Massamba and freshman Carlos Lopez.
"Darris' attitude is always great. Sometimes he's maybe a little too nice in some ways," Kruger said.
"It's tough when you're not scoring and you're not getting a chance to play, and your confidence goes down. That's a fine line. But he's playing with a lot of confidence now, shooting real well and really rebounding the ball aggressively. That's where it has to start with him: go rebound everything."
Encouraged by the play of UNLV's big men, Kruger should not have to resort to a four-guard lineup this season if Santee, Shaw, Massamba and Lopez play in games as they have in practices.
Santee and the 6-10 Massamba appear to be the team's most improved players, but they also had the longest way to go.
"I'm going to come in and play strong," Santee said. "There's no doubt in my mind we're going to have an inside presence."
• NOTES — Sophomore swingman Chace Stanback returned to practice Saturday after missing more than two weeks with a sprained left ankle. … Bishop Gorman sophomore Shabazz Muhammad, a top recruit in the class of 2012, attended Saturday's practice.
Contact reporter Matt Youmans at myoumans@reviewjournal.com or 702-383-0353.