Jasper displays scoring chops
November 26, 2010 - 12:10 am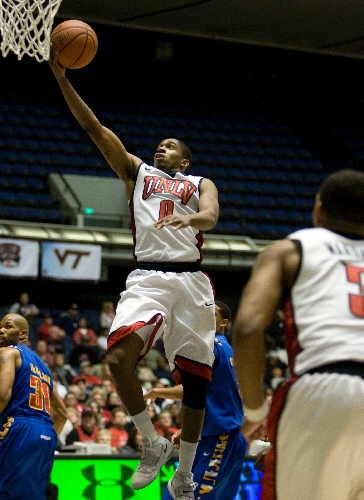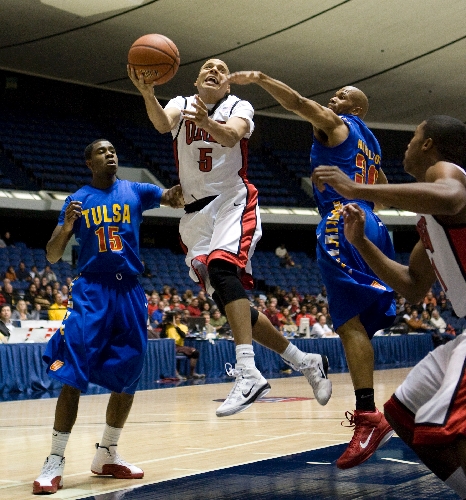 ANAHEIM, Calif. — Derrick Jasper is a 6-foot-6-inch guard, but the UNLV senior played bigger than his size and filled every spot on the floor Thursday night.
Jasper posted his first career double-double with 13 points and 10 rebounds as the Rebels defeated Tulsa 80-71 in the first round of the 76 Classic at the Anaheim Convention Center.
"Derrick just continues to do a lot of good things," coach Lon Kruger said. "He rebounded the ball, and he really played all five positions for us. His versatility really gives us a big lift."
UNLV (4-0) advanced to play Murray State, a 55-52 winner over Stanford, in the second round at 6:30 p.m. today.
Jasper's 3-pointer from the left corner put the Rebels ahead 56-39 with 15 minutes to go. The margin was reduced to 10 before Jasper made a 3-pointer from the right corner with 7:04 to go.
"We didn't quite put them away when we had the opportunity," Kruger said.
Scottie Haralson's 3 pulled the Golden Hurricane within 73-68 with 2:40 left. Tre'Von Willis sank two free throws as UNLV held off the rally.
Jasper, who shot 5-for-7 and added two steals, was disappointed in how the Rebels squandered most of a double-digit lead.
"We were doing a great job of controlling the tempo early in the second half, but we kind of got away from that," Jasper said. "We just can't commit the kind of turnovers we were committing."
Junior forward Chace Stanback scored 15 points, Oscar Bellfield 13 and Willis 12 for UNLV.
"We've got a lot of guys who can score. That's not new to us," said Bellfield, who had nine points in the first half.
Bellfield beat the halftime buzzer with a reverse layup to put the Rebels up 40-31. Stanback's 3-pointer just over a minute into the second half stretched the lead to 47-31.
UNLV was a deeper and more athletic team and its pressure defense forced a faster pace than the Golden Hurricane (20 turnovers) could handle.
"It all starts with defense, and I think our defense helped our offense," said Stanback, who hit 6 of 7 field goals.
The first 20 minutes were tightly contested, but the play was sloppy.
Willis hit a 3-pointer to put Rebels in front 20-17 with 8:07 remaining in the half.
Willis returned from a four-game suspension and was limited to four points in UNLV's victory over Wisconsin on Saturday. The senior guard came off the bench again Thursday and performed better.
"Tre looked a lot more comfortable," Kruger said.
Starting forward Quintrell Thomas finished with eight points, six in the first half, but again encountered foul trouble.
Junior center Brice Massamba scored seven points but fouled out in 13 minutes.
Haralson and senior guard Justin Hurtt each scored 15 points for Tulsa (2-2). Steven Idlet, 6-foot-11-inch forward, had 12 points.
The Rebels shot 29-for-54 (53.7 percent) from the field, including 8 of 14 from 3-point range.
Jasper's efforts defensively and on the boards were a plus.
"I've always kind of had a nose for the ball as far as getting rebounds," Jasper said.
Oklahoma State and Virginia Tech advanced in the other half of the eight-team bracket.
Contact reporter Matt Youmans at myoumans@reviewjournal.com or 702-387-2907.
UNLV vs. Tulsa
UNLV — 80
TULSA — 71
KEY: Chace Stanback had 15 points as four Rebels scored in double figures.
NEXT: UNLV vs. Murray State, 6:30 p.m. today, Anaheim, Calif., ESPNU (Cable 320), KWWN (1100 AM, 98.9 FM)