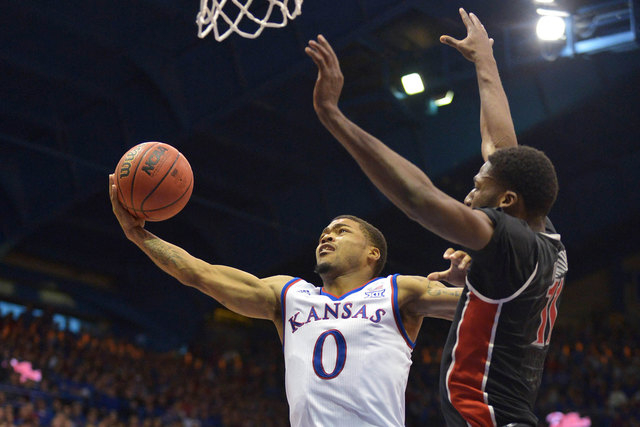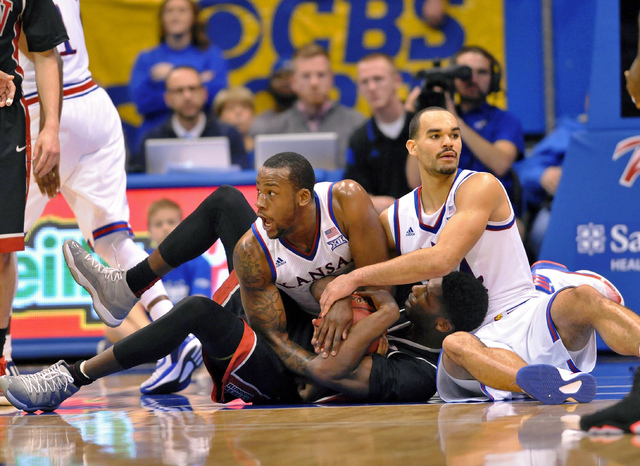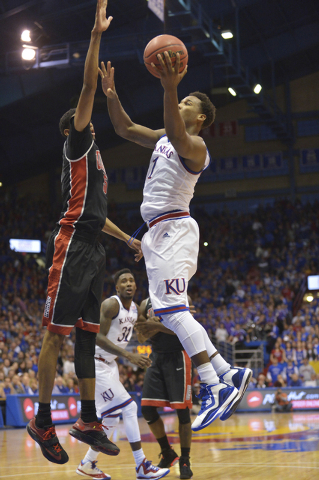 LAWRENCE, Kan. — A driving layup by Cody Doolin put UNLV in front and in position to pull off an upset. But that's also when the fantasy faded and reality hit.
"We just have to be a little stronger and tougher," Doolin said.
Frank Mason III was everything the Rebels were not down the stretch, totaling 18 points, seven assists and four steals as 13th-ranked Kansas pulled away late for a 76-61 victory over UNLV on Sunday at Allen Fieldhouse.
"It's what I take pride in, being tough," said Mason, a 5-foot-11-inch point guard.
The Rebels (9-5) wrapped up their nonconference schedule with a predictable result — a loss on the road against a team that has won 10 straight Big 12 Conference regular-season championships — but feeling optimistic about their chances to contend for a Mountain West title.
"We were right there for about 32 minutes," UNLV coach Dave Rice said, "and we have to continue to get better at winning these games."
Doolin and Chris Wood finished with 12 points apiece for the Rebels, who led by four at halftime before getting worn down by a stronger opponent.
The Jayhawks (11-2) finished with a 45-31 advantage in rebounds and shot 60 percent from the field in the second half to make the final score appear more lopsided than a majority of the game.
Wood made back-to-back 3-pointers, and Doolin's drive put UNLV up 51-49 with 11:35 remaining. But Mason made two layups and a 3 as Kansas countered with nine straight points to take control before a raucous crowd of 16,300.
"If you can come in here and play well in this building, you can probably play well anywhere," said Doolin, a senior who played with poise, shot 5-for-6, made two 3s and had seven assists and one turnover. "It was really fun for all of us. It really doesn't get any better than that in college basketball. It will help us in the long run."
The Rebels were rattled early and trailing 21-12 before Rashad Vaughn shot them back into it with back-to-back 3-pointers. Goodluck Okonoboh's reverse dunk tied the score at 27 with 2:33 to go.
Patrick McCaw converted a three-point play with 1:15 remaining to lift UNLV to a 33-29 halftime lead. Okonoboh, who had six points and five blocked shots in the first half, was a strong defensive presence for the Rebels near the rim.
"I didn't think it was terrible, but they played well and controlled the last 15 minutes of the half," Kansas coach Bill Self said.
"I'm not going to mess up his name. I'll call him Goodluck. I thought he was the best player in the game in the first half. (Okonoboh) is a Kentucky-type shot blocker and Wood is a Kentucky-type shot blocker. But Kentucky throws six of those guys at you."
The Jayhawks threw a big punch by opening the second half with a 7-0 run. Although the Rebels recovered and briefly regained the lead, Kansas had too much firepower with Mason, Perry Ellis (16 points, nine rebounds) and Wayne Selden Jr. (16 points, four 3-pointers).
Selden made a deep 3 and added two free throws as Kansas busted loose for a 70-57 lead with 4:33 left.
Kelly Oubre Jr., a freshman from Findlay Prep, had 12 points and 10 rebounds for the Jayhawks, and Self praised his defensive effort against Vaughn, who was shaking off an illness and lacking his usual energy.
"Rashad is a guy who takes a lot of shots, and he didn't hunt for shots today," Self said. "Kelly guarding him the vast majority of the time was good. We did some good things defensively, and the biggest thing was that we rebounded the ball."
After scoring eight points in the first half, Vaughn finished with 10 on 4-for-10 shooting. Jelan Kendrick also scored 10 for UNLV, which hit 7 of 23 3-pointers.
The Rebels, who dropped their Mountain West opener at Wyoming on Wednesday, return home to resume conference play against UNR and San Jose State this week.
"I was worried about this one, to be honest," Self said. "We treated this game like a conference game. UNLV is good enough and talented enough to do well in our league."
Contact reporter Matt Youmans at myoumans@reviewjournal.com or 702-387-2907. Follow him on Twitter: @mattyoumans247.
KANSAS 76
UNLV 61
■ KEY: The No. 13 Jayhawks, with 18 points from Frank Mason III, erased a four-point halftime deficit by shooting 60 percent in the second half.
■ NEXT: UNR at UNLV, 8 p.m. Wednesday, CBSSN (333), KWWN (1100 AM, 100.9 FM)