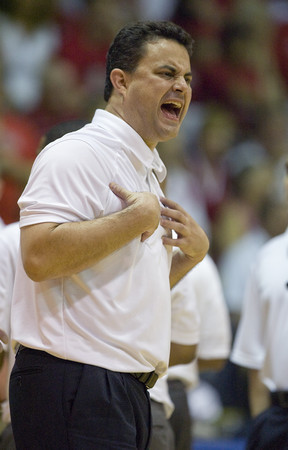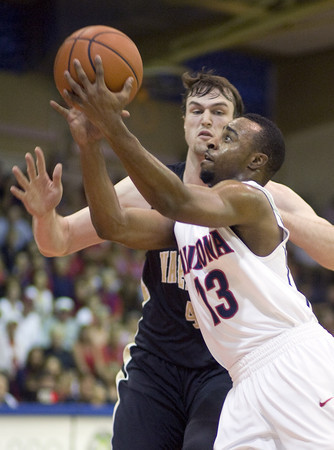 TUCSON, Ariz. — A standout guard at Pittsburgh, Sean Miller knew he was going into coaching as soon as he was done playing basketball.
Lon Kruger helped Miller get an early start.
"As a matter of fact, he ended my career," Miller said. "He probably doesn't remember, but I do."
Kruger was the coach at Florida in 1992, when the Gators eliminated Miller and the Panthers in the second round of the National Invitation Tournament. Kruger used a box-and-one defense to shut down Miller, who was a prolific 3-point shooter.
"I didn't realize that. I didn't think about it being the last game of his career," Kruger said. "It was long enough ago where I don't know if I recall the details. But I do remember it was a good road win for us."
Kruger has UNLV at 5-0 and ranked 24th, and he's searching for another quality road win at Miller's expense.
The Rebels leave home for the first time this season to face Arizona (3-2) at 6 p.m. today at the McKale Center. The unranked Wildcats are 31/2-point favorites.
"We're very much in the beginning stages of everything," said Miller, 41, in his first season as Arizona's coach. "We have a lot of inexperience, and we're trying to learn our system.
"I really admire the way Coach Kruger has his team playing. You can tell UNLV's team is playing together, and you can see by the way the bench is into the game that it is a true team in every sense. It's a team with 11 players, not an individual."
Senior guard Nic Wise, the Wildcats' top scorer at 16.4 points per game, is playing for his fourth coach in as many years. Wise has been through leadership changes from Lute Olson to Kevin O'Neill to Russ Pennell to Miller.
After coaching Xavier to four NCAA Tournament appearances in five years, Miller is starting over at Arizona with a team that has five freshmen and five sophomores.
"Coach Miller does bring stability to the program, something we've been missing," Wise said. "It's going to be up to me and him to keep the team rolling. I'm the only senior on the team, so everybody looks up to me.
"It's tough having to learn a new system every year and then throwing it away. It wasn't what I expected when I signed with Arizona. But you always have to adapt to your situation."
The 5-foot-10-inch Wise scored a career-high 30 points last week to lift the Wildcats to a 91-87 overtime victory over Colorado at the Maui Invitational. Wise made five 3-pointers and added six assists and four steals.
"He's clearly our team's heart and soul," Miller said. "As a true point guard, he just makes the game easier for his teammates. I certainly would put him up there as one of the nation's best point guards."
Arizona opened the season with 17-point home wins against Northern Arizona and Rice. The Wildcats lost to Wisconsin and Vanderbilt in Maui.
But they showed the potential to be good because of Wise and a talented front line of 6-8 Derrick Williams, 6-7 Jamelle Horne and 6-6 Solomon Hill.
"It's a first-year program, and it takes time to get everything in that you want, but it appears Sean's off to a great start," Kruger said. "It appears to me that his guys have really bought in to what he's doing. It's obvious they're playing hard and playing with enthusiasm."
Wise started and scored eight points last year in Arizona's 79-64 loss at UNLV. Most of the key players from that game are gone.
One of the teams will add a quality win to its postseason resume today.
"We have a lot of young guys, and this is their first time getting a taste of what college basketball is like," Wise said. "Our goal is to make the NCAA Tournament. We feel like when the Pac-10 season comes around, we'll be extremely tough to beat.
"But we have to win these early games so we don't make it tough on us at the end of the year."
Contact reporter Matt Youmans at myoumans@reviewjournal.com or 702-387-2907.
GAME DAY
UNLV VS. ARIZONA
• WHEN: 6 p.m. today
• WHERE: McKale Center, Tucson, Ariz.
• TV/RADIO: Fox College Sports Pacific (Cox 332); KWWN-AM (1100)
• LINE: Arizona -3-1/2