Lady Rebels bring non-conference success into Mountain West opener Wednesday
December 29, 2015 - 7:34 pm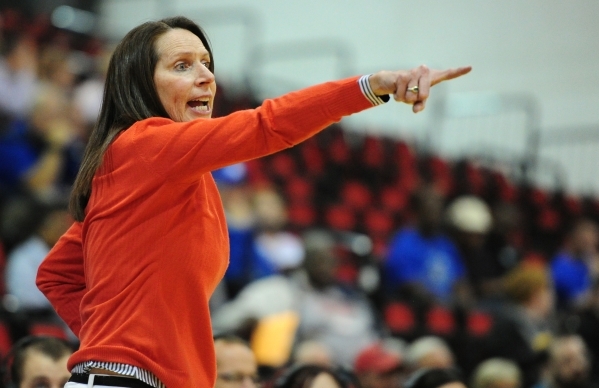 After 11 educational non-conference games, the UNLV Lady Rebels close out a month-long, six-game road trip at Fresno State on Wednesday, in both teams' Mountain West Conference opener.
"Definitely feel like we've gotten more experience with our non-conference schedule," UNLV coach Kathy Olivier said, upon arriving in Fresno on Tuesday evening. "Our team is definitely understanding what our strengths are and what we need to get better on.
"Every day we focus on those things and we continue to work on growing and getting better."
The Lady Rebels (7-4) are currently 2-3 on their road trip, and look to end a two-game skid after dropping a pair of tight games in the Beach Classic, to UTEP (60-52) and host Long Beach State (67-63).
"Since we've been on the road so many games in the month of December, we've gotten to understand each other more, know each other's strengths and weaknesses more," Olivier said. "It's good for us, good to play away from home, prepare you for conference games away from home.
"If you can win games on the road, like we did, you are that much better. Life on the road is much different than at home, you will have to fight through adversity, and have to be that much better offensively and defensively to get the wins."
Due to their hot shooting early on in the season, which began with six consecutive home games, the Lady Rebels have faced more zone defensive sets of late, which has tightened the reins on UNLV's perimeter shooting. Because of that, the Lady Rebels have turned to their front-court seniors Aley Rohde and Amie Calloway.
Rohde, who has posted back-to-back double-doubles, averages 10.7 points per game and 9.5 rebounds per game, and has helped the Lady Rebels emerge as one of the best offensive rebounding teams in the country. UNLV pulls a league-best 19 rebounds on the offensive end, an average that ranks sixth in Division I.
She could be facing her biggest test of the season, against Faz Davalos, who is averaging 13.5 points per game. Faz Davalos ranks first in the conference with 10.8 rebounds per game and ranks fifth in the nation with 3.14 blocks per game.
UNLV sophomore guard Brooke Johnson had breakout non-conference showing, and comes in leading the team with 14.6 points per game. The 5-foot-11 guard will be looking forward to playing in front of familiar faces, as she hails from nearby Hanford, which is roughly 30 minutes from Fresno.
Johnson said while the current road trip may have exposed some of the team's weaknesses, the Lady Rebels have also learned how to overcome adversity as a team and come together at crucial moments in games.
"We now know we won't give in any game no matter who we face," said Johnson, who scored a career-high 25 points during the current road trip at Texas A&M Corpus Christi. "This road trip has allowed us to mature and we've learned how to fix things as a team."
The Lady Rebels, who are 8-8 all-time in Mountain West season openers, have won three of their last four conference lid-lifters. UNLV is 2-3 when opening conference play with a suitcase in hand. Fresno State (4-7) comes into the conference opener on its own two-game slide, after losing at home to San Diego (72-68) and at Utah, 78-63.
"This is a very important game for us since Fresno State is perceived as one of the top teams in the conference," Johnson said. "This is a good time for us to make a statement to the rest of the conference that everyone should be aware of the Lady Rebels."