Lady Rebels excited about progress entering conference play
December 29, 2016 - 12:13 am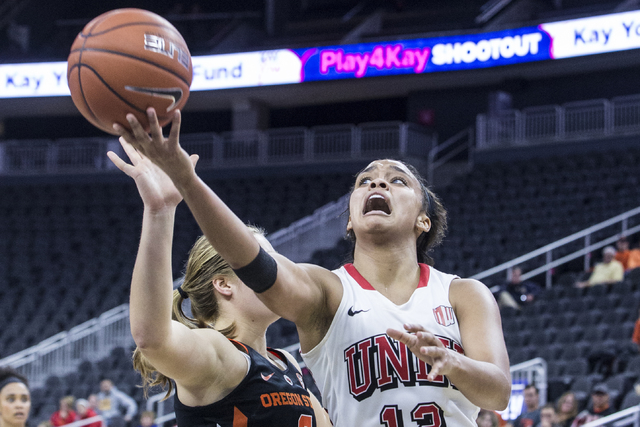 A year ago, the UNLV women's basketball team finished 9-9 in the Mountain West.
The Lady Rebels have confidence they can improve on that record this season despite losing starting point guard Nikki Wheatley to a season-ending knee injury this month.
UNLV (9-3) begins conference play Thursday against Colorado State (8-4) at 3 p.m. at Cox Pavilion.
"Last year, we were able to kind of end with some success toward the end, which was exciting for us and made us even hungrier for this season and this conference play, so really we're looking forward to improve that standing. We definitely feel good that we can do that," junior guard Dakota Gonzalez said. "It's just a matter of staying together and making sure that we execute offensively and defensively."
The Lady Rebels were predicted to finish fourth in the Mountain West, something that caught the team's attention.
"We were just excited to sort of keep pushing to move up in that preseason ranking, and then we wanted to just kind of prove to ourselves that we could even exceed that," Gonzalez said.
It's a task made more difficult without Wheatley, but coach Kathy Olivier said players need to "not step up and try to do more, just step up and try to do things better."
They get their first chance against the Rams, the Mountain West favorites after winning the conference regular season and tournament titles last season.
But UNLV had its fair share of tests during its nonconference schedule, including games against then-No. 25 Oregon State and then-No. 21 South Florida.
"I think our nonconference schedule really prepared us for what we're going to see in the conference, and I know our team thinks that way, too," Olivier said.
Olivier said she looks at the year in three parts — the nonconference schedule, conference schedule and Mountain West tournament.
"Everyone starts out 0-0, so for us, I thought we did some really good things and we have to build on that," Olivier said. "I think there's opportunity for us to get better, and some teams maybe have already reached what they can do. I think this team can still get better."
Two areas of concern are the free-throw line (65 percent) and turnovers (17.3 per game). Olivier said the Lady Rebels also are focused on getting more assists — they average 12.5 per game.
But despite the need for improvement in certain areas, UNLV likes the direction it's headed.
"I feel pretty confident in the team and just how we've come together this season," Gonzalez said. "We're really still building, which is exciting for us. I think heading forward to conference, everybody is just really excited and pretty confident with where we're at right now."
Contact Betsy Helfand at bhelfand@reviewjournal.com. Follow @BetsyHelfand on Twitter.
UNLV women vs. Colorado State
Where: Cox Pavilion
When: 3 p.m. Thursday
Tickets: Available through UNLV's website