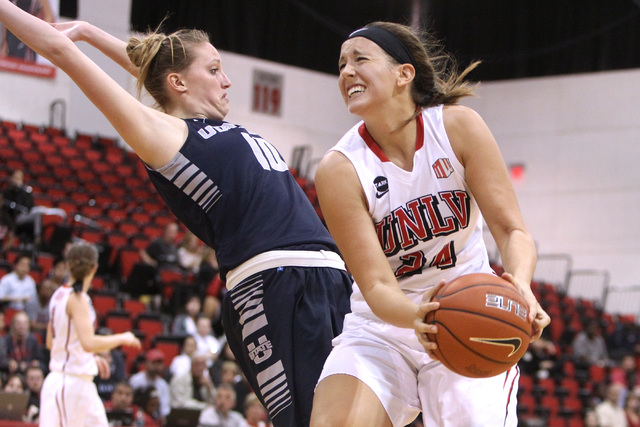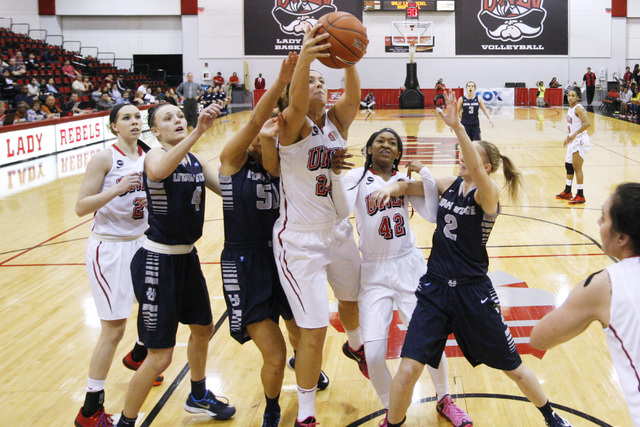 Sports of all kind are filled with superstitions, and among the more prevailing is one about not talking about a good streak or a good statistic when times are going well.
Times were going quite well recently for UNLV, which until nearly two weeks ago was the Mountain West's hottest women's basketball team, having won seven of eight games.
The Lady Rebels also were the conference's best at defending the 3-point shot, a stat assistant coach Caitlin Collier pointed out to the players.
Uh-oh.
"I literally said out loud in the locker room, 'She just jinxed us,'" said senior forward Alana Cesarz, who averages 15.9 points and 7.5 rebounds per game. "From then on, that thing we were the best at has been our worst thing. But it shows that we can defend the 3 really well, and we're going to get back to that."
Now would be a good time for the Lady Rebels to go back to defending the 3 well with the Mountain West tournament under way at the Thomas &Mack Center.
Fifth-seeded UNLV (13-16) plays its first game in a quarterfinal game against No. 4 Boise State (19-10) at 2:30 p.m. today. The winner plays at 6 p.m. Wednesday against the winner of today's quarterfinal between top seed Colorado State (23-6) and No. 8 San Jose State (14-16).
UNLV and Boise State split their series during the regular season, with each winning on the opponent's floor.
The Lady Rebels can't afford to let the Broncos go crazy from outside like their previous three opponents. Wyoming made 57.9 percent of its 3-pointers against UNLV, San Diego State 50 percent and San Jose State 51.4 percent.
"From our losses, there are obviously things we can take from and learn from, but we're not down about it," Cesarz said.
UNLV already went through a similar experience this season. The Lady Rebels were going nowhere at 6-12 when something clicked and they began to play better defense and establish a strong chemistry.
So they know they can reach down and find some magic, and if they can win three games in a row this week, the Lady Rebels will receive the conference's automatic bid to the NCAA Tournament. That's their only shot at the postseason.
But they play in a conference without a dominant team, and the Lady Rebels have beaten every member except Colorado State. In the lone meeting between the teams, Colorado State broke open a close game by scoring the final 11 points in just three minutes to win, 55-43.
Third-seeded Fresno State (21-8) owns the Mountain West's highest Ratings Percentage Index ranking at No. 52, so this figures to be a one-bid league.
Coach Kathy Olivier is hopeful the Lady Rebels will find it within themselves this week to be a tough out.
"This is my seventh season, and I feel like this team has a different perspective than other teams here," she said. "They're fighters. Do they get down? Do they want to win? Yeah, they get down when we don't (win), but they come back in a practice and get going and can't wait to play another game so they can prove themselves. So I just think they don't want it to be over."
The Lady Rebels showed their determination when this week began.
"We set the tone yesterday in practice," said guard Danielle Miller, who leads the conference with 18.5 points per game. "We had a good day, a really intense day. We didn't take it light at all."
The Lady Rebels are ready to play.
Now are they ready to win?
Depends on whether it's the UNLV team that won seven of eight games that arrives at the arena or the one that lost the final three.
"I don't feel like it's over," Olivier said. "I'm actually very optimistic. I don't know what that means, if that's a good thing or a bad thing."
She'll find out soon enough.
■ NOTES — Cesarz and Miller were named to the All-Mountain West squad, and Miller also was selected to the All-Defensive Team. Guard Nikki Wheatley was named to the freshman team. … On Monday, San Jose State won 99-85 over No. 9 Utah State (8-23), No. 7 San Diego State (12-18) was a 70-48 victor over No. 10 UNR (9-21), and sixth-seeded Wyoming (16-13) defeated No. 11 Air Force (2-28) 70-48.
Contact Mark Anderson at manderson@reviewjournal.com or 702-387-2914. Follow him on Twitter: @markanderson65.