Lady Rebels look for fresh start in conference play
December 30, 2014 - 12:10 pm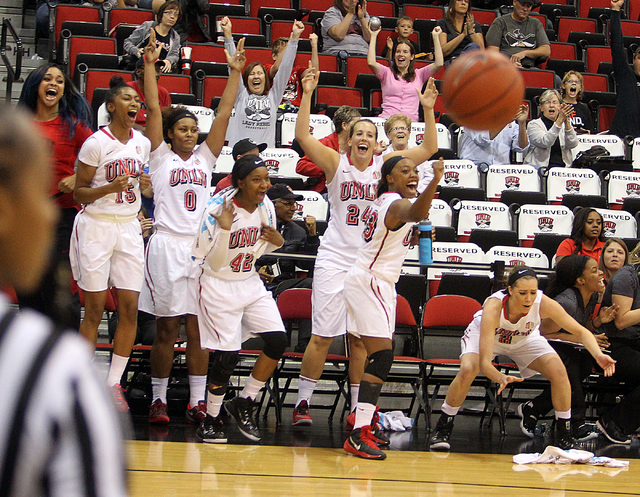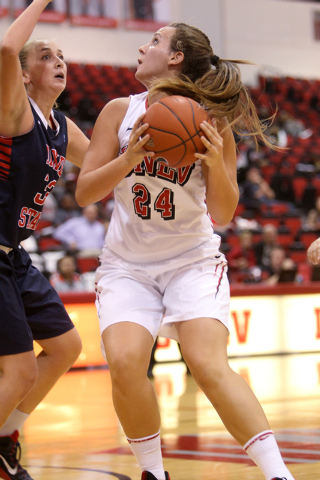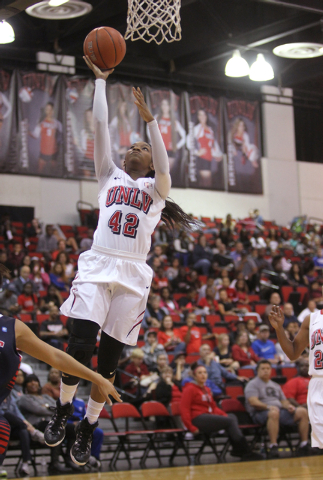 If it were just one thing wrong with the UNLV women's basketball team, coach Kathy Olivier would have found a way to fix it.
But when you've lost six straight basketball games, it's never the same thing that gets you beat. One night, you're turning it over too often. Another night, you can't make a free throw if your life depended on it. The next night, the ball won't drop and even layups are a dicey proposition.
But perhaps redemption is on the way for the Lady Rebels, who open Mountain West play at 2 p.m. Wednesday against Wyoming at Cox Pavilion with a chance to start fresh. That 3-8 preseason slate? Mere dress rehearsals.
"I'm excited," Olivier said Tuesday. "Conference play is everything. We're opening at home and that's big. It's a game we have to find a way to win."
UNLV, which last won back on Nov. 29 when it defeated Delaware State, 91-78, in the Lady Rebel Round-Up, has played well enough to have won virtually all of the six games it has lost. But the inability to put all the components together, especially on the road, where four of the six straight losses have occurred, has been painful for Olivier and her players.
"We're close," she said of her team turning things around. "We've improved our rebounding (UNLV leads the conference in offensive rebounding). We've got good players who get along. They're working hard. But we have to make our free throws. We can't turn the ball over. I know we're trying to play faster than we have in the past but we still need to take better care of the ball.
"We've got to play hard and play together. We've done that for the most part but there are times we try to do too much individually and when we tend to go our own way, it doesn't work out well for us."
Alana Cesarz and Danielle Miller continue to be the Lady Rebels' 1-2 offensive punch and both players went over 1,000 career points in last week's 74-71 loss at Bakersfield. Miller, who is second in the conference in scoring, is averaging 17.9 points and Cesarz is third in the league at 17.8. But the scoring drops off noticeably with Aley Rohde averaging 10 points. Rohde is also averaging 7.5 rebounds, second on the team to Cesarz, who is averaging 7.9 a game.
"We do have people playing well," Olivier said. "But we've played 11 games. We're not young anymore. We're not going to make excuses. Let's go."
Wyoming will be an interesting matchup for UNLV. Joe Legerski's Cowgirls are 5-5 and have the Mountain West's top scorer in junior guard Marquelle Dent, who averages 18 points along with 5.8 assists a game. Senior forward Kayla Woodward averages 15 points and 7.7 rebounds and senior guard Kaitlyn Mileto averages 10.5 points. Lergeski's teams have been tough over the 12 years he has been in Laramie. Rarely do they beat themselves and Wyoming has beaten UNLV in eight of the last nine meetings.
"He has a very good trio," Olivier said of Legerski's Big Three. ""Dent is very good at controlling tempo so we have to do a good job against her.
"For us, it's about going out and winning every possession. We need to take care of the ball and get stops and everyone work together."
The Lady Rebels were picked to finish sixth in the Mountain West preseason poll. Following Wednesday's conference opener, UNLV travels to UNR Jan. 7 and then plays at San Jose State Jan. 10. Both are winnable games and Olivier knows an early-season run in the conference can turn her team's entire season around.
"We have a great opportunity to do that, being at home," she said. "The league has a lot of depth and I believe we're part of that depth."
Contact reporter Steve Carp at scarp@reviewjournal.com or 702-387-2913. Follow him on Twitter: @stevecarprj.