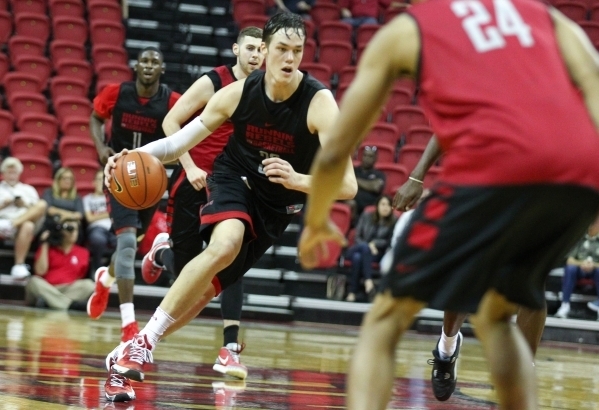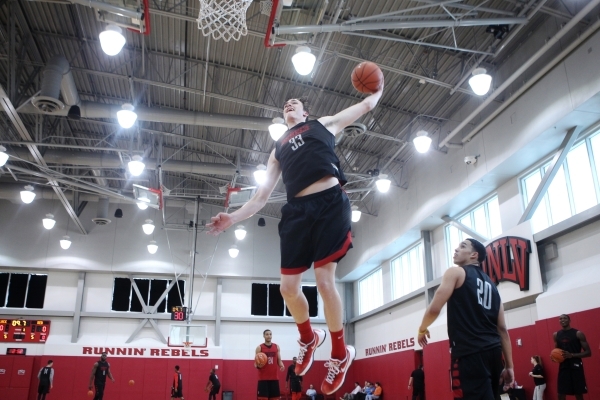 At age 4, he was 4 feet tall. Stephen Zimmerman Jr. never was the kind of kid to look down on others, though. He was raised to be grounded.
He had a humble father and grew up with three older sisters. He was not always the most popular in school. Long before he was a 7-foot phenom, a McDonald's All-American and the big man on campus, he was like everyone else, although much taller than his classmates.
"Before I was good at basketball, I was one of those kids that didn't really have a lot of friends and all that stuff," he said. "And then I got good at basketball, and everybody wanted to be my friend."
John Calipari, Sean Miller, Bill Self and Roy Williams all wanted to be his friend. But popularity did not change his personality.
"I try to be that person who's always positive and talking to people," he said. "That's kind of the person I am off the court."
The new face of the UNLV basketball team is a hometown kid who had every opportunity to go elsewhere. But his relationships with family, friends, teammates and coaches meant too much for him to leave Las Vegas.
In April 2011, Dave Rice was named the Rebels' coach. About a month later, after Zimmerman's eighth-grade year, he received his first scholarship offer. He was 6-9 at the time.
"I had him and his family in my office pretty soon after I got the job and offered him a scholarship," Rice said. "He's been in the spotlight for a long time. But he's a great kid, and that's not coachspeak."
On an April day four years later, Zimmerman committed to UNLV. The Rebels missed out on the NCAA Tournament the past two seasons, and Zimmerman is expected to lead them back. The NBA might come calling for him next spring, and Zimmerman is expected to listen. There are lots of expectations for the freshman, and some are even realistic.
The father who knows him best is sure his son can handle it. "He plays a lot better when he's comfortable and he has support," Eric Zimmerman said, "and that's what he has here."
Family matters
Zimmerman was born in a Nashville, Tenn., suburb. He was 6 when his dad, after a divorce, decided in 2003 to move the family to Las Vegas, where the construction business was booming. Eric was a carpenter who later drove a lumber truck.
Stephen was 6-5 — the same height as his dad — at age 11. That's also when he picked up basketball on an organized level.
"He's been taller than me for years," Eric said. "When he started playing, he had the advantage of being taller than everybody else, but he was also a good player.
"He was never in any kind of trouble, always a good kid. He had three sisters before him, so he wasn't trying to be a tough guy or a stud or anything. That's just his nature. He just wants to be a regular kid. He's always been a low-key kid."
In that sense, father and son were similar.
"My dad is kind of a quiet guy," Stephen said. "He's not really a talking type. I have become more outgoing."
Throughout his career at Bishop Gorman High School, where he helped the Gaels win four consecutive state championships, Stephen Zimmerman became a well-known name. This year, he chose to add "Jr." for the first time.
"I was proud of him for doing that," Stephen Eric Zimmerman Sr. said. "I think he's paying homage to me, which is pretty awesome."
Zimmerman's stepmom, Lori Stevens, has been in his life for more than a decade and the two developed a tight bond. She handled most aspects of his college recruitment and watches his UNLV practices almost daily.
She's by far the most talkative one, and she pushed Stephen to basketball when he was an 11-year-old who leaned toward soccer.
The decision
Calipari had a shot to lure him to Kentucky. Self made a big impression on him at Kansas. Stephen Zimmerman also made official visits — all of them with his parents — to Arizona and UCLA. He never went to North Carolina, although his dad said he was thrilled when Williams, the Tar Heels' coach, was sitting in his living room eating MoonPies.
"It was a dream come true," Eric said. "I've been into sports all my life, and it was great seeing him get all the attention. It was great seeing all the coaches you read about and you had seen all those years.
"When we were at Kentucky, me and Lori were like, 'This is where we want you to be.' And Stephen said, 'I don't know if that's for me.'"
But he was not always set on UNLV.
"I wanted to go somewhere else just because I would be away from my family and have a sense of being grown up," Stephen said. "But that's also a bad thing. With my parents here, they can help me out whenever.
"There were times for each school, there was a solid month when I said, 'No matter what, I'm going to this school. I love this school.' But I knew it was a process and I had to wait it out."
He announced his decision on Twitter in April. He said it was a "family thing," that he felt close to the Rebels' players and coaches and staying home felt right.
"A big reason I chose UNLV is the teammates I'm going to be around," he said. "Before I even got here, they welcomed me."
He shares an apartment with freshman forward Derrick Jones Jr., who's already known nationally for his high-flying dunking exploits.
"He was the first person I called when I committed. I told him I'm going to wait for him. I wasn't rushing him, and I told him it was no pressure," Jones said. "Even if he went to Kansas or Kentucky or Arizona, he was still going to be my boy. I want the best for him. He's like my best friend.
"We do everything together. He wakes me up in the morning. If we need to leave and he's sleeping, I'm going to wake him up. We come to the gym, go the movies, go the mall, just do things that kids do."
He's almost as close to junior forward Ben Carter, another Bishop Gorman graduate who spent two seasons at Oregon before transferring to UNLV last year.
"With a freshman in general, people can have high expectations, but it's so much of a learning curve," Carter said. "Being his former high school teammate and being like a big brother to him, I have high expectations for him, as well. Stephen's done such a great job of coming in here with the right mentality and ready to work. He's humble and doesn't take anything for granted. Arrogant and him don't even fit in the same sentence."
Zimmerman played for Grant Rice, Dave's younger brother, at Bishop Gorman. He and his parents also formed a personal relationship with Rebels assistant coach Ryan Miller more than two years ago, and the family's faith in Miller was another major factor in the decision. Miller was an assistant at New Mexico when he first watched Zimmerman in the summer after his eighth-grade year.
"I remember someone told me to make sure you go see him because he's going to be the next big thing," Miller said. "I knew right then he had a chance, and I watched him develop throughout his high school career.
"He stayed humble and hungry through the process, which is important. He's the real deal there. There is a culture of entitlement, people always telling you how good you are, and it's hard for young kids to stay humble through the process.
He's always learning, always listening to coaching and always working to get better."
There is a certain guarantee of NCAA Tournament success that comes with playing at Kentucky and Kansas. UNLV has been to one Sweet 16 (in 2007) since its last Final Four appearance in 1991, the year before Jerry Tarkanian was forced out as coach.
"It's very difficult for a kid to turn down some of the prestigious programs," Miller said. "Stephen said I'm ready to put my name on a program and take it to a level it was 20 or 25 years ago, and that's the challenge he took on."
Living in the moment
Another decision is looming. The one-and-done questions are coming, and Zimmerman's answers are unlikely to change much.
"Right now, I'm not even thinking about the NBA," he said. "I'm really so excited for this season. I really can't wait. I've been waiting for college forever. If I do happen to be able to go high in the draft or whatever, then that's great."
The Rebels have produced two one-and-done freshmen in Rice's four seasons — Anthony Bennett was the No. 1 pick in 2013 and Rashad Vaughn was drafted 17th in June — and Zimmerman is probably going to be the third.
"I hope Stephen does get the one-and-done question a lot because that means he's having a great season and so are we," Rice said. "We have a track record, when guys are ready we're not going to hold them back."
Miller, whose brother Mike has had a long NBA career, already has been counseling Zimmerman on the process.
"The biggest thing to do is live in the moment," Miller said. "It becomes overwhelming if you think about it. Don't think about the future, think about the moment, and that's what we have been telling him. It's hard not to get caught in thinking about that stuff. But's he's living in the moment. There's going to be some adversity ahead. I think he's mentally strong enough to handle it. When the time comes, he will have a decision to make."
Rice and Miller plan to put Zimmerman in the ideal position to succeed, which means putting the skilled big man in positions all over the floor. He's not a back-to-the-basket center. He's a left-hander with a soft shooting touch, smooth passing ability and a sharp sense for how to play the game.
"He's a matchup nightmare in the offense. We're going to put him in the best situations where he creates mismatches," Miller said. "He kind of has a point guard mentality in that he looks to make plays not only for himself but for others on the team."
He wants to model his game and attitude after a former Boston Celtics great.
"I've watched Larry Bird highlights, and I like how scrappy he is. He got in a lot of fights. and that was pretty cool," Zimmerman said. "I talk trash, but I don't start it. If someone starts it, I'll talk back. Because of how long and skinny I am, I've been called (soft) already."
Off the court, he's got a sensitive side, which is especially obvious to his family, friends, teammates and coaches. But, he said, there is another, tougher side of his personality that he needs to succeed as a basketball player.
"I'm completely different on the court."
— Contact reporter Matt Youmans at myoumans@reviewjournal.com or 702-387-2907. Follow him on Twitter: @mattyoumans247