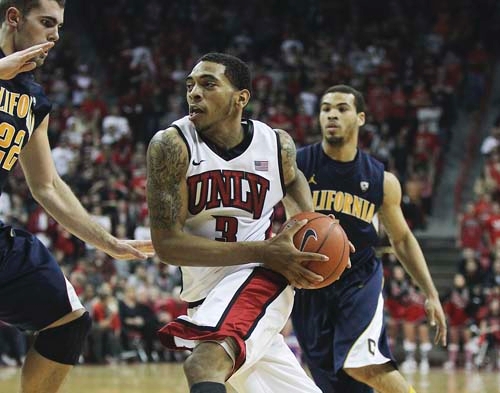 At some point during a first-half scoring frenzy by UNLV, Anthony Marshall said he was able to "get into a groove" offensively. He had plenty of company.
"I've got great teammates," Marshall said. "On any given night, anybody can have a big game."
On Friday afternoon, Marshall's effort was the biggest. The junior guard produced season highs of 22 points and nine rebounds to lead the 21st-ranked Rebels to an 85-68 rout of California before 15,188 at the Thomas & Mack Center.
Chace Stanback scored 15 points, Mike Moser had 14 points and eight rebounds, and Oscar Bellfield totaled 11 points and 11 assists as UNLV unleashed a well-rounded offensive assault.
"I told the team afterward that for about 35 of the 40 minutes, we were sensational," Rebels coach Dave Rice said.
UNLV (13-2) added another quality win, with its victims including North Carolina, Illinois, UNR and UC Santa Barbara.
"It's a good starting point for us," said Marshall, who shot 9-for-16 from the field and made two 3-pointers. "Our potential is unlimited."
The Golden Bears (10-3) did not beg to differ, and they were defenseless in the first half while the Rebels shot 54.3 percent en route to a 46-26 lead.
A jumper by Marshall triggered a 21-4 run and turned a one-point game into a 36-18 UNLV advantage with five minutes remaining before halftime. The flurry was highlighted by a Brice Massamba dunk, Moser's four-point play, a Stanback 3-pointer and Marshall's steal and layup.
"It definitely felt pretty good," said Stanback, who punctuated the half by sinking another 3 just before the buzzer. "Everybody was looking for the open man and trying to make plays for each other."
The Rebels made 6 of 7 shots to open the second half, with Moser and Stanback each hitting a 3-pointer, and extended the margin to 72-45 on Bellfield's 3 with 8:41 remaining.
"We dug ourselves a huge hole. We never put any pressure on them," California coach Mike Montgomery said. "Marshall and Bellfield were good off the pick-and-roll. You have to handle the pick-and-roll, and we didn't do a good job of that."
The Bears also failed to defend the perimeter, and UNLV shot 9-for-24 from 3-point range. Marshall, Moser and Stanback did most of the damage, combining to go 8-for-15.
"We just have fun sharing the ball," said Marshall, who had three of the Rebels' 22 assists. "We were able to hit shots and get rebounds and stops."
Marshall, who has endured a few anemic offensive stretches this season, scored in double figures for only the second time in the past seven games. He had 20 points in a victory over Texas-El Paso on Dec. 14.
"Anthony is so important to our team, and we want him playing with confidence," Rice said. "He doesn't have to be making shots to help us, but when he does it's pretty special."
UNLV attacked inside, too, with senior center Brice Massamba and junior forward Quintrell Thomas each scoring eight points.
California's perimeter shooters were held in check, and that aspect of the Rebels' defense was a major emphasis, according to Rice. The Bears, who started four guards, were blitzed in the first half and never recovered.
"We're not used to playing at such a fast tempo," said California senior guard Jorge Gutierrez, a Findlay Prep product.
Justin Cobbs paced the Bears with 20 points. Allen Crabbe scored 13 while Gutierrez and forward Harper Kamp each added 12 points.
"We're a talented team, and I think we got a little frustrated," Cobbs said. "We're better than that. They did a good of defending and made the game difficult on us."
Rice gave his players the weekend off. UNLV next hosts Central Arkansas on Wednesday before a New Year's Eve game at Hawaii.
"It's a good way to close out the pre-Christmas schedule for us," Rice said. "We have played a pretty strong schedule with not many breaks."
Contact reporter Matt Youmans at myoumans@reviewjournal.com or 702-387-2907.
UNLV — 85
CALIFORNIA — 68
KEY: Anthony Marshall had 22 points, nine rebounds and three steals for the Rebels.
NEXT: Central Arkansas at UNLV, 7 p.m. Wednesday, KWWN (1100 AM, 98.9 FM)