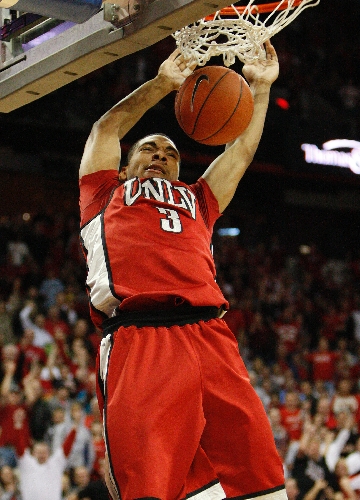 Early in life, Anthony Marshall spent his summers playing basketball, a game he started to pick up at age 3 and never stopped.
"Even as a little kid in Vegas, it was hot outside on the blacktop and I would be out there playing," he said. "I don't know how I did it. But as a kid you really don't think about the heat. You just want to play."
Marshall might still be considered a kid as a UNLV sophomore, and he still spends his summers the same way. But now he calls it "working on my game," and he doesn't do it so much under the sun.
"I try to live in the gym," he said. "You've just got to be dedicated and committed to getting better."
Marshall's debut season with the Rebels was encouraging in many ways. The 6-foot-3-inch guard displayed big-time athletic ability, relentlessly attacked the rim on the dribble and defended with energy.
A former Mojave High School star, Marshall showed why coach Lon Kruger spent so much effort in recruiting to keep him in his hometown.
"There's a lot of things about Anthony to like," Kruger said. "He's got a great attitude and he's all about winning as a group and not worried about individual stuff.
"He's a guy who goes to the gym a lot by himself. He has worked awfully hard in the spring, summer and fall. He's a terrific worker. Last year he didn't make shots and still had a really good freshman year."
Marshall misfired with his jumper so often, it became a major topic of discussion. He heard all the talk, and he was embarrassed by his shooting statistics: 1-for-23 from 3-point range and 54.8 percent from the free-throw line.
So he spent summer school in the gym working on his shot. One of his teachers was Robert Smith, a UNLV point guard from 1974 to 1977 and the most accurate free-throw marksman in school history.
Smith, the Rebels' radio analyst, helped Marshall alter his footwork and shooting form.
"I'm trying to pick up on Robert's habits," Marshall said. "I was trying to make 500 shots a day, and each day adding more.
"I feel like last year I was trying to jump extra high and I was releasing the ball on my way down. I've got a smoother release where I'm releasing at the top of my jump shot. I continue to work on it before practice and after practice."
After Tuesday's practice, Marshall took passes from assistant coach Greg Grensing and fired 3 after 3. And he was making more than 4.3 percent of the attempts.
Junior forward Chace Stanback said teammates "joked around a little bit" with Marshall about his miserable jump shooting last season. But he doesn't think that will be a punch line any longer.
"We know he's going to pick it up. I see a lot of improvement in his 3-point shot," Stanback said. "I feel like he's more confident in his shot, and he'll definitely be a lot better shooter from outside."
Marshall started 11 of 34 games and averaged 5.3 points as a freshman. Kruger started him in the final 10 games, and Marshall's confidence and production blossomed.
He had 13 points and 12 rebounds in a Mountain West Conference Tournament victory over Utah that helped launch the Rebels to an NCAA Tournament berth.
After finishing the season at 199 pounds, Marshall is a more solid 205. The summer was not all about working on his shot.
"People say it looks like I put on a couple extra pounds of muscle. I feel stronger," he said. "I tried to live in the weight room and the gym this summer."
Contact reporter Matt Youmans at myoumans@reviewjournal.com or 702-387-2907.