Massamba has time to hit heights
February 24, 2010 - 12:00 am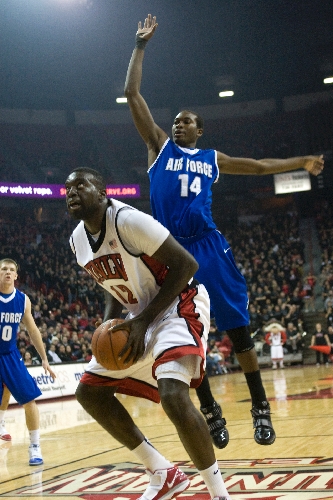 It's with a smile that UNLV sophomore center Brice Massamba acknowledges he probably has more critics than members of his unofficial fan club.
"There's always haters out there," he said. "But I just play."
One of the Rebels' shortcomings the past three seasons has been quality big men. Massamba has plans to help change that perception, while winning some fans along the way.
The 6-foot-10-inch, 240-pounder has the support of one person whose vote counts for more than any other. Sitting in Massamba's corner is UNLV coach Lon Kruger.
"He believes in me," Massamba said. "Coach has got pretty big plans for me, so I should fill up the shoes."
Kruger will bring Massamba off the bench when the Rebels (20-7, 8-5 Mountain West Conference) host Texas Christian (12-15, 4-8) at 8 p.m. today at the Thomas & Mack Center.
Senior forward Darris Santee will get his second consecutive start at the post position also shared by Massamba and junior forward Matt Shaw, who is out with a sprained left ankle.
In UNLV's 79-70 victory over TCU on Jan. 23, Massamba started and combined with Shaw and Santee to shoot 9-for-10 and score 22 points.
Next season, with the additions of 6-8 Quintrell Thomas, a Kansas transfer, and 6-11 Carlos Lopez, a redshirt freshman from Findlay Prep, the Rebels' big problem on the front line should be solved. Massamba is expected to play a key role on a taller, tougher team.
"I listen to Coach Kruger, and Coach believes wholeheartedly that the next two years Brice is going to play at a really high level," assistant coach Greg Grensing said. "I think (fans have) seen just little glimpses of what Brice can really do.
"His aggressive nature has changed. He's being more assertive in wanting the ball, and when he gets it, he's comfortable attacking the guy. He's a really good passer that we run things through. He sets good screens. He's a really good defender."
Massamba, a Findlay Prep graduate, went home to Sweden for two months last summer, and returned this season about 40 pounds lighter and more athletic. He described his play as "terrible" as a freshman.
While starting 15 of 27 games this season, Massamba has more than doubled his scoring average to 4.3 points. He is shooting 72 percent from the field, including 75 percent (24-for-32) in conference play.
"Easy shots," Massamba said of his team-high shooting percentage. "I'm at the right place at the right moment. They just pass me the ball and I'm pretty much wide open most of the time."
Kruger expects Massamba to blossom as a junior.
"Brice made a big jump from his freshman season to his sophomore season, and I think there's room for another jump of at least that size next year," Kruger said. "He's got such a good feel for the game and good instincts."
Massamba's lighthearted personality is often on display during practices. "Brice has a sense of humor," Grensing said. "He's not a clown, but he likes playing around."
Massamba said, "Off the court, people say I'm pretty funny. I always take basketball serious. I'm just trying to have fun too at the same time."
Behind the joker mask is a player with serious talent, according to the Rebels' coaches.
"It feels easier to play now. It feels like I'm starting to develop much better," Massamba said. "Coach Kruger has been talking to me a lot about that. Maybe I haven't been the biggest factor right now, but I think I can be a big factor if I really work hard to become it.
"Of course, there's people who don't believe anything. But I'm just trying to reach those goals."
Contact reporter Matt Youmans at myoumans@reviewjournal.com or 702-387-2907.
GAME DAY
TEXAS CHRISTIAN VS. UNLV
WHEN: 8 p.m. today
WHERE: Thomas & Mack Center
TV/RADIO: CBSC (333), The Mtn. (334), KWWN-AM (1100)
LINE: UNLV -14