Mick Cronin spurns UNLV, stays at Cincinnati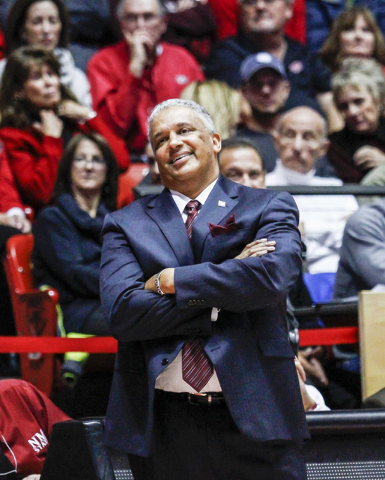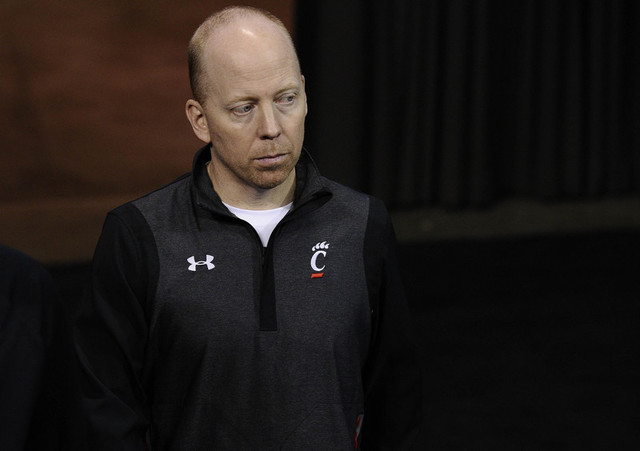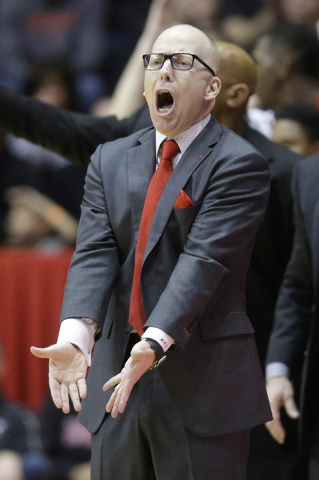 Mick Cronin made UNLV wait through two days of interviews and then wait some more after returning to Cincinnati on Thursday.
And now the wait goes on for the Rebels, who are still in the market for a basketball coach after Cronin turned them down Friday.
UNLV didn't waste any time moving on, flying in New Mexico State coach Marvin Menzies on Friday, according to sources close to the search. He will interview Saturday.
Rebels athletic director Tina Kunzer-Murphy declined to speak about specific candidates, but made it clear the school was moving forward from the Cronin situation.
"We've always said by the Final Four we're going to have a coach," Kunzer-Murphy said. "We're sticking to it. We've always had a very comprehensive list that we're working with, and we'll continue to do that. We're not in a rush."
Kunzer-Murphy said she didn't want to project how the weekend interview would go or whether she would look to bring in additional candidates.
If the Rebels search elsewhere, they also are likely to consider Arkansas-Little Rock's Chris Beard, Saint Mary's Randy Bennett and South Carolina's Frank Martin as well as Steve Lavin, formerly the coach at UCLA and St. John's.
Menzies, 54, is 198-111 in nine seasons at New Mexico State, which includes five NCAA Tournament appearances. He won four consecutive Western Athletic Conference tournament championships before losing to Cal State Bakersfield 57-54 in the tourney final this season. But the Aggies won the regular-season title and made the National Invitation Tournament before losing in the first round at Saint Mary's, 58-56.
Menzies has UNLV ties, having coached under Lon Kruger in the 2004-05 season. He also coached under Rick Pitino at Louisville from 2005 to 2007 and under Steve Fisher at San Diego State from 1999 to 2003. Kunzer-Murphy said she has spoken to all three of those coaches in doing her research.
At New Mexico State, Menzies makes $391,000 per year, according to the Albuquerque Journal. UNLV was willing pay Cronin north of $2 million, but Kunzer-Murphy said that doesn't mean that figure drove up the price for other candidates.
"We were talking to a coach that was making more than that (up to $2.2 million) at that institution," Kunzer-Murphy said. "We felt that was the appropriate amount to get a coach here from an institution that didn't want him to leave.
"When we did that, it was to make sure we were in the ballpark of the people we were talking to."
Kunzer-Murphy thought she would be planning a news conference to introduce Cronin rather than keep the search going.
"He told me that he was going to be our next head coach and then go home and do it the right way," Kunzer-Murphy said. "That was my understanding, but obviously that wasn't exactly how it happened. But that's OK. I wish him the best."
Cronin denied Kunzer-Murphy's assertion, telling the Cincinnati Enquirer he "never officially accepted" UNLV's offer.
"I would like people to try and understand after 10 years of dedicated service I chose to evaluate my career and my life," Cronin said in a statement. "Reflecting through that process was extremely difficult, but it was something I needed to do for me personally. The city of Cincinnati and the university are special places to me, and I've always said what an honor it is to be the head coach at my alma mater. "
Cincinnati president Santa Ono broke the news about Cronin on his Twitter account, posting: "I am thrilled to say Mick Cronin will remain our coach at the University of Cincinnati."
I am thrilled to say Mick Cronin will remain our coach at the University of Cincinnati.

— Santa J. Ono (@PrezOno) March 25, 2016
Mick Cronin belongs in Cincinnati. Let's all rally behind him and his team this year and propel our program to even greater heights.

— Santa J. Ono (@PrezOno) March 25, 2016
Cronin, 44, led his alma mater to a 207-129 record in 10 seasons. The Bearcats have made the NCAA Tournament the past six years, and this season they went 22-11 and lost 78-76 to Saint Joseph's in the first round of the tourney.
"It's important to me and the University of Cincinnati to sustain continuity with Mick Cronin leading our storied men's basketball program," Bearcats athletic director Mike Bohn said in a statement. "I salute what Mick has built in his first decade at UC, as he was and is the catalyst for the prominent growth around the program."
Contact Mark Anderson at manderson@reviewjournal.com or 702-387-2914. Follow him on Twitter: @markanderson65
RELATED:
UNLV awaits decision from Cincinnati's Cronin
No deal reached between UNLV, Cronin
Cincinnati's Cronin expected to visit UNLV; potential deal could reach $3 million
UNLV gets permission to interview Cincinnati basketball coach Cronin
Like Vegas Sports News on Facebook: