Moser gives Celtics glimpse of talent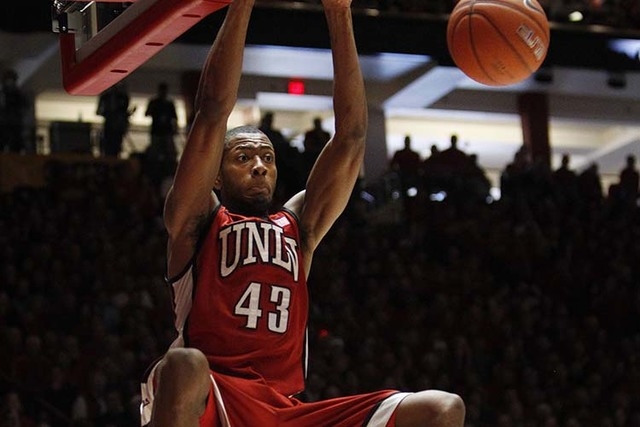 The way Mike Moser sees it, he has five chances to impress the Boston Celtics. That's how many games the team will play in the NBA's Orlando Pro Summer League.
His first opportunity came Saturday on the opening day of the seven-day league, and the former UNLV forward didn't disappoint. He scored 17 points, second on the Celtics behind second-year center Kelly Olynyk's 20, in 25 minutes of an 85-77 victory over the Miami Heat.
Moser, who signed as an undrafted free agent with Boston on June 27, hit 6 of 11 field goals, including 3 of 6 on 3-pointers, with three rebounds, three assists, three steals and one blocked shot.
"I would have liked to rebound the ball better; that'll just have to come another day," Moser said by phone after the game. "I shot it pretty well, though. We made some things happen, (and) I felt good. We played a really good team. They had some guys who have been professional basketball players for a while now. But I don't think there was any kind of caliber of player I haven't played against. I felt really comfortable out there."
But if his audition with the rebuilding Celtics doesn't go well, Moser said he could end up playing for another team in the Las Vegas Summer League, which runs from July 11 to 21 at UNLV.
"I know there are teams going to Las Vegas that are interested in me as well," Moser said by phone Friday. "No matter what, there are more opportunities."
Switching jerseys is nothing new for the 6-foot-8-inch forward, who began his college career at UCLA before transferring to UNLV. He played two years for the Rebels before transferring for his senior season to Oregon, where he averaged 13.2 points and a team-high 7.7 rebounds.
Moser said he learned valuable lessons at all three places, such as overcoming adversity in his freshman year at UCLA to becoming a floor leader with the Ducks.
Under coach Dave Rice at UNLV, Moser said he learned how to come into his own and be himself, a valuable tool as he tries to make an NBA roster. He was a first-team All-Mountain West selection and Associated Press honorable mention All-American as a sophomore with the Rebels.
"Coach Rice always belabored the point to do what I do well, which was to rebound," Moser said. "Ultimately I learned more about myself. Coach always wanted to see me do better at the highest level I could get to."
Moser didn't get to that level in the 2011-12 season at UNLV because of a severe elbow injury that limited his playing time.
"I really didn't have the season I wanted to," he said. "That team was so talented, I felt like we definitely could have done more there."
Perhaps, he said, that's why a part of him wouldn't mind returning to Las Vegas for the summer league and a chance to play in front of the same fans who cheered for him at UNLV. But, of course, his focus right now is to show the Celtics that he belongs on their roster.
"There's no doubt I've got a lot to prove," Moser said. "A lot of teams were calling (after the draft), and I just wanted to make sure I took advantage of one of these opportunities. I chose to play for Boston because they were one of the first teams to call after the draft. They were really persistent."
Moser said the Phoenix Suns, Minnesota Timberwolves and his hometown Portland Trail Blazers also contacted him. All three will field a team in Las Vegas.
"I'm definitely high on Portland; I like what they do there," said Moser, a basketball and track and field standout at Grant High School in Portland. "I don't think I have a favorite, but them being a hometown team, they hold some kind of weight. Right now I just want to get out on the court and show Boston and other teams what they get if they decide to take a chance on me."
■ NOTE — Another player with Las Vegas ties, Desert Pines High School product Pierre Jackson, ruptured his right Achilles on Saturday in the Orlando league.
Jackson, a 5-10 point guard who was acquired by the Philadelphia 76ers on June 26, the night of the NBA Draft, for a second-round pick, suffered the injury in the first quarter of an 83-77 loss to the Orlando Magic. He had scored seven points in seven minutes off the bench.