Moser, Rebels refuse to rest on laurels
January 17, 2012 - 9:43 pm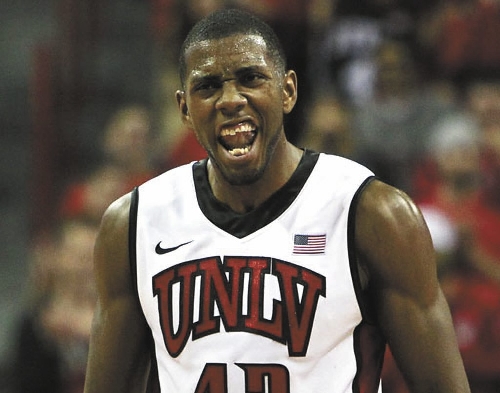 Accolades are beginning to pour in for Mike Moser, with the sophomore forward attracting widespread recognition for leading UNLV's strong start.
Moser was named Tuesday to the Wooden Award Midseason Top 25 list, putting him in the running for college basketball's most prestigious honor. A week ago, ESPN analyst Doug Gottlieb selected Moser as one of the nation's top five players.
But getting too impressed with himself won't be one of Moser's problems.
"It was really disappointing and frustrating all weekend," he said. "I've definitely got to do better, scoring and rebounding the basketball."
The 6-foot-8-inch Moser is scoring 13.9 points per game, and he ranks seventh in the nation with an 11.2 rebounding average.
Yet after opening Mountain West Conference play Saturday with a 69-67 loss at San Diego State, the Rebels walked away with a laundry list of concerns, all of which were addressed the past two days in the film room and on the practice floor by coach Dave Rice.
Moser recounted several of UNLV's shortcomings and said, "There was so much. The list goes on and on."
The 14th-ranked Rebels (16-3, 0-1 MWC) plan to learn from their mistakes, and they get a chance to prove it against Texas Christian (10-6, 0-1) at 7:30 p.m. today at the Thomas & Mack Center.
The Horned Frogs, off a 95-89 double-overtime loss at Colorado State, don't figure to present a stiff challenge to UNLV, which is a 21-point favorite.
Rice is focused on fixing some of the Rebels' deficiencies that the Aztecs exposed.
"One of the many things I like about our team is that we've always bounced back from a loss with even greater intensity, and we've been ready to play," Rice said.
Particularly problematic for UNLV has been its tendency to look unfocused in first halves, and that was a major issue Saturday, when the Rebels shot 3-for-22 from the field to open the game and fell in a 10-point hole.
Settling for long-range jumpers (8-for-27 from 3-point range), missing free throws (11-for-21), failing to finish in transition and getting careless with the ball (nine assists, 14 turnovers) were factors that plagued UNLV throughout the game at San Diego State.
"We got off to a tough start. I was frustrated that we started off the game 3-for-22," Rice said. "It wasn't so much that we missed shots, because I want guys shooting open shots. We had guys who tried to do a little bit too much on their own and got away from what's made us good, and that is sharing the basketball and making plays for each other. I don't think for one second that it was selfishness.
"A number of those 27 3-point attempts were wide open, but they just were not exactly in the flow of what we were trying to do. The ball movement wasn't what it needs to be, and our spacing wasn't as good as it's been. We reverted to not running the floor to our proper spots. So we addressed that in the film room, and I know we'll be better."
The Rebels' lack of execution in transition was especially "frustrating," Rice said, but he found plenty more teaching points to emphasize.
"We had six to eight transition opportunities, including some contested layups, that we didn't convert. We've got to do a better job of turning stops into points," Rice said. "We went 11-for-21 from the free-throw line, and that's a major problem. We had 19 offensive rebounds that resulted in only 10 second-chance points, and that's not a good ratio."
Point guard play was another problem. Senior Oscar Bellfield shot 1-for-12 and made a couple of costly defensive errors. Bellfield played 35 minutes, and his backup, sophomore Reggie Smith, missed three shots in four minutes.
"We want Oscar to play confidently, and we want him to shoot the ball with confidence," Rice said. "I believe when he shoots it, it's going to go in, and I want to make sure he believes that, too. I think most of the time he does.
"He's very important to what we do. My goal is to play Reggie more minutes. I've probably played Oscar a few too many minutes."
UNLV has several issues to clean up on the defensive end, too. But for all that's in need of repair, the Rebels still have only three losses.
"We didn't play together," Moser said of Saturday's setback. "We knew who their (scorers) were, and we didn't stop any of them. I don't know where we were that day. We just didn't have it. Hopefully we can learn from that.
"We're not going to hang our heads."
Contact reporter Matt Youmans at myoumans@reviewjournal.com or 702-387-2907.
TEXAS CHRISTIAN VS. UNLV
WHEN: 7:30 p.m. today
WHERE: Thomas & Mack Center
TV/RADIO: The Mtn. (334); KWWN (1100 AM, 98.9 FM)
LINE: UNLV -21; total 156.5