NCAA rules UNLV's Derrick Jones ineligible for rest of season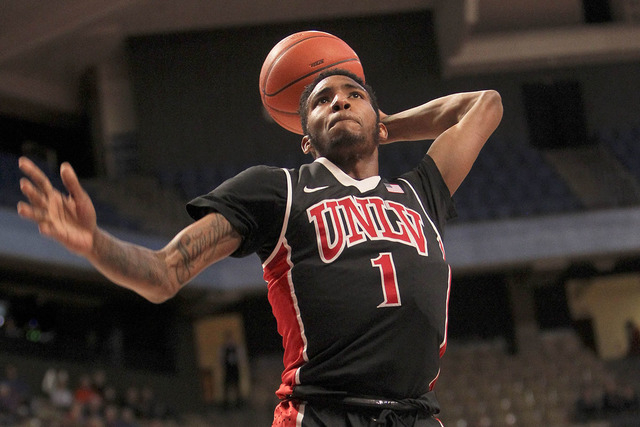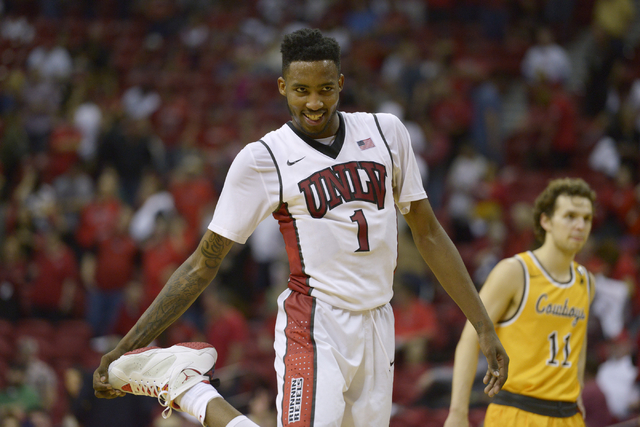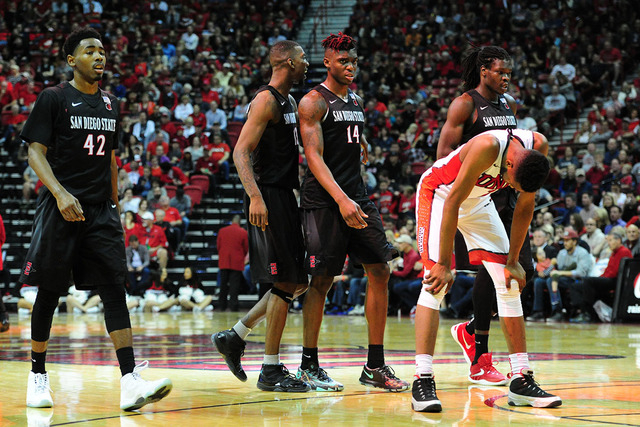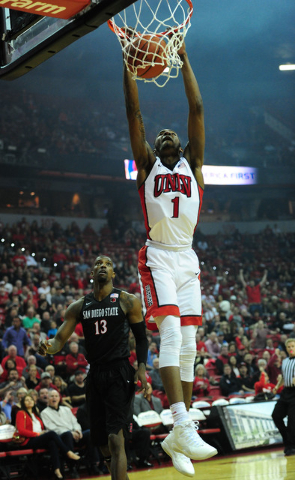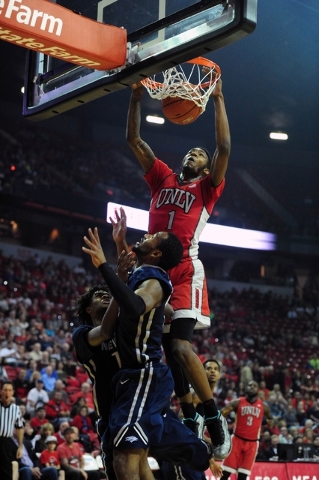 UNLV's basketball team suffered another hit Wednesday when freshman Derrick Jones Jr. was ruled ineligible for the rest of the season by the NCAA after his standardized test score was deemed invalid.
The issue centers on the NCAA's concern regarding a testing site for the American College Test. The ACT canceled the results of Jones' test and those of the others taken at the Baltimore site.
Jones lived in the Philadelphia area, but his attorney, Don Jackson, said Jones took the test about two hours south of there because he was visiting family.
The attorney also said the NCAA notified UNLV last summer there could be a problem with the testing site, but the organization approved Jones to play.
"I thought the entire thing was over," Jones told ESPN. "I've played all season. I was in shock. I just don't understand it.
"When my coach told me, it broke my heart. I started crying. I just don't get why they are doing this. I'm trying to figure out why."
Jones was not made available by UNLV to the Review-Journal. UNLV issued a statement that no one in the athletic department would comment.
Jackson said he has been in consultation with UNLV and three options remained, but none was promising.
n UNLV could press for reinstatement, but those cases usually involve amateurism issues.
n The school could apply for an initial eligibility waiver, but the fact Jones was eligible until this week works against him.
n Jackson could get a court injunction, but the Rebels would risk having to forfeit games should a judge's decision allowing Jones to play get overturned on appeal.
"This is not a battle between Derrick and UNLV, and I don't want to put UNLV in an uncomfortable position where they would have to make the decision to put him on the floor and play him if we did get the injunctive relief," Jackson said. "Even with a court order, they are under no obligation to play him."
Jackson said he was upset at the timing of the ruling, and suspected other schools that have players who did not play because of the ACT issue were the ones who alerted the NCAA.
"This could be much easier in terms of the options available to us if we had several weeks or a month to work with," Jackson said. "This is what leads me to believe it was a calculated effort by some to limit his options, because why would this happen now after he has played 30 games when the investigation started in the middle of last summer?"
Jones insisted to ESPN that he didn't cheat, and noted his 3.25 GPA at UNLV and two ACT preparatory classes he took as proof of his dedication as a student.
In a lengthy statement issued early in the day, Jackson pointed to racial overtones in the NCAA's decision to discipline Jones, who is African-American.
"Over the past decade, I have routinely spoken about the selective application of NCAA initial eligibility rules to African-American and international student-athletes," Jackson said in the statement. "All of the student-athletes impacted by the 'investigation' of the testing site in this case were either African-American or international. The testing site was ethnically diverse.
"The NCAA's methodology for 'red flagging' student-athletes and demanding substantiation for their academic performances and standardized test performance is blatantly discriminatory and selectively applied to African-American and international student-athletes."
Jones, a 6-foot 7-inch forward, was playing his best basketball when the news broke. He scored 48 points and grabbed 16 rebounds in the past two games combined. Jones, who had struggled at the free-throw line this season, also made 22 of 25 foul shots in those two games.
He was averaging 11.5 points and 4.5 rebounds for the season.
His is the latest setback for the Rebels, who have dealt with a series of injuries, especially in the frontcourt with Stephen Zimmerman Jr., Ben Carter and Dwayne Morgan. Zimmerman, who had a sprained left knee, recently returned. Carter is out for the season with a torn left ACL, and Morgan is out indefinitely because of a separated right shoulder.
Goodluck Okonoboh quit the team in late November, and guard Daquan Cook was dismissed from the team last month. Cook also was suspended the entire nonconference portion of the schedule following his Nov. 1 arrest for driving under the influence.
The biggest program-shaking event occurred Jan. 10 when Dave Rice was fired as coach.
UNLV (17-13, 8-9 Mountain West) closes its regular season at 7 p.m. Saturday at San Diego State. The Mountain West tournament is next week at the Thomas &Mack Center.
"This is a tough time for me," Jones told ESPN. "I just want to play. Now I don't know what to do."
Contact Mark Anderson at manderson@reviewjournal.com or 702-387-2914. Follow him on Twitter: @markanderson65.