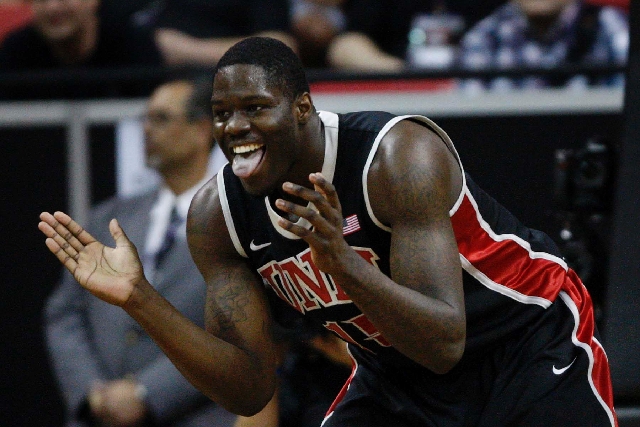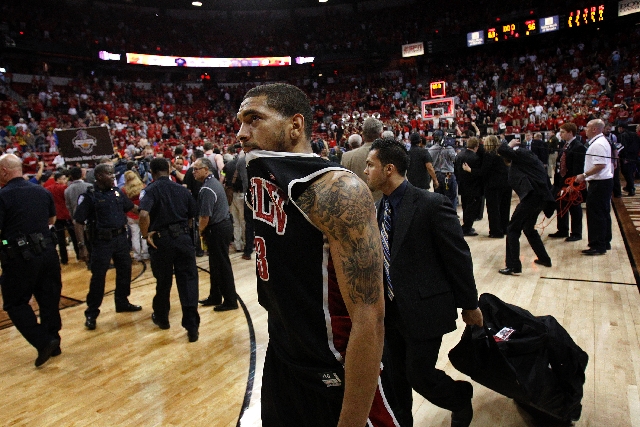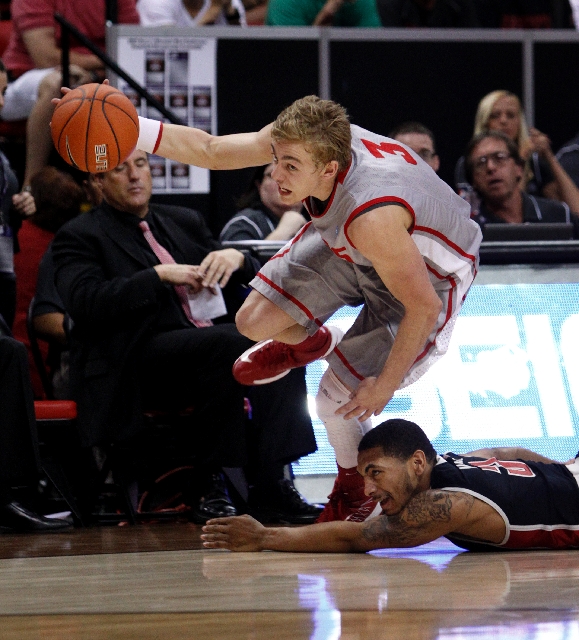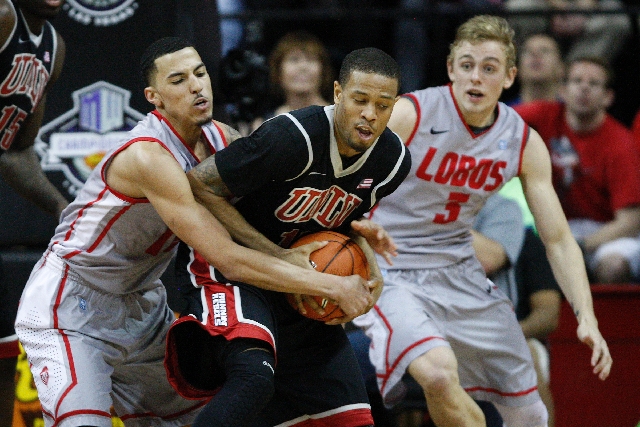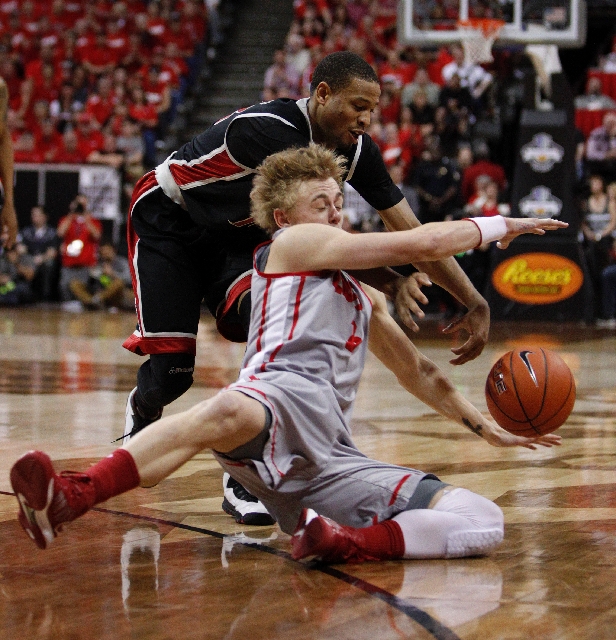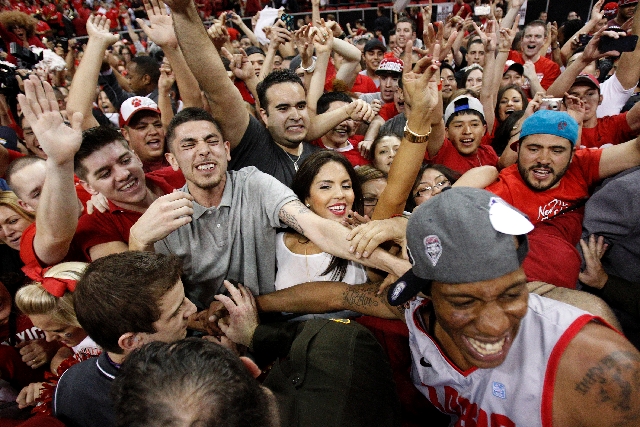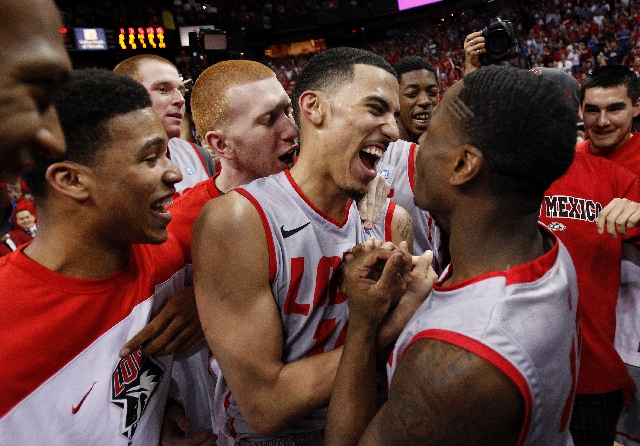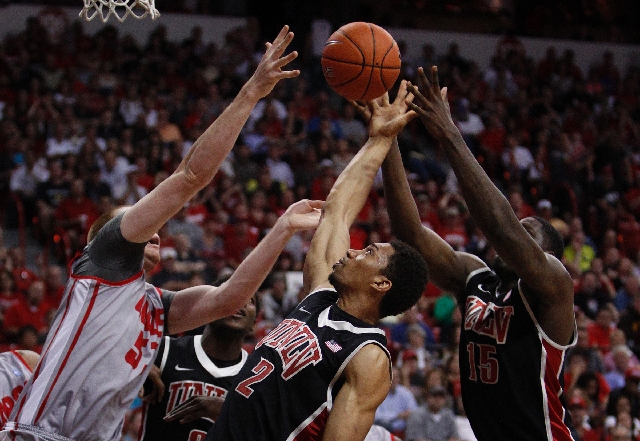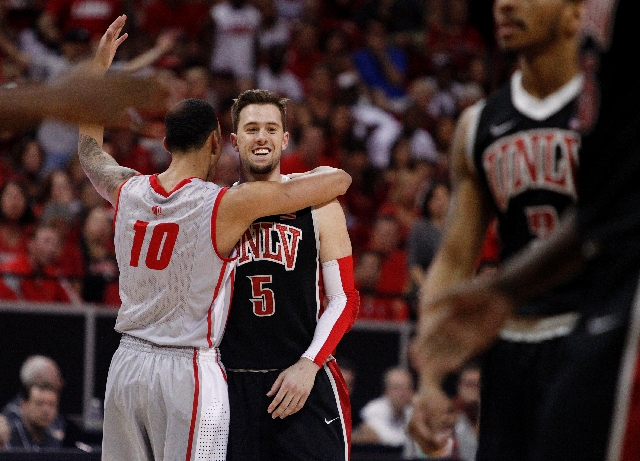 It appeared Anthony Bennett might be unstoppable. The bigger the game, the better the UNLV freshman forward typically plays, and he opened at his best.
But then he disappeared, and eventually so did the Rebels' hopes of winning a title Saturday afternoon.
Tony Snell took over late in the second half and finished with 21 points to lead No. 15 New Mexico to a 63-56 victory over UNLV in the Mountain West tournament championship at the Thomas & Mack Center. Snell's finish proved far more valuable than Bennett's hot start.
The Lobos (29-5) followed their regular-season title by winning the tournament and the league's automatic NCAA Tournament bid for the second consecutive year.
The Rebels (25-9) wait for their NCAA at-large invitation to be announced at 3 p.m. today, when they figure to draw something close to a No. 6 seed. After losing a high-stakes game, the biggest of his two years as coach, Dave Rice said he walked away "bitterly disappointed."
New Mexico coach Steve Alford, who again wore a net around his neck to the postgame news conference, said, "We've had an incredible run."
No player had a better run than Snell. The junior guard scored 13 points in a row for the Lobos to break open a close game, one Bennett threatened to take over at the tip.
Bennett scored on a midrange jumper and fast-break dunk in the first minute. He added a 3-pointer, pouring in his team's first 11 points, and his two free throws put UNLV up 15-13 after 7 minutes, 20 seconds. But he was held to one basket the rest of the way.
After the half, nothing was working for the Rebels on the offensive end until Bryce Dejean-Jones heated up. He made two 3s before hitting a 17-footer to tie the game at 44 with 12:41 remaining.
UNLV had a shot to take the lead, but freshman Katin Reinhardt missed a wide-open 3 from the corner. On the next possession, Snell connected on a corner 3 to put the Lobos ahead 49-45 with 8:09 to play.
Snell made another 3 with 7:32 to go, then slipped behind the defense, caught a lob pass and dropped it in to extend New Mexico's lead to 54-47 with seven minutes remaining.
Dejean-Jones, who totaled 19 points and seven rebounds, hit back-to-back 3s to trim the Rebels' nine-point deficit to 56-53 with two minutes to go. But with a shot to tie, Reinhardt missed a 3 in transition. Snell ran off a hard screen and drained a 3-pointer from the top to slam the door on the Rebels with 1:02 to go.
"We made way too many defensive mistakes," Rice said. "Every time we made a mistake in the second half, they made us pay. That, quite frankly, was the difference in the game."
After a game UNLV was favored to win, Snell emerged the obvious choice as the tournament's Most Valuable Player.
"We knew we've always been the underdog," said Snell, who shot 8-for-11, including 5-for-7 on 3-pointers. "That's what I love about this team. We're underdogs, but we still like to go out and prove people wrong."
Kendall Williams topped off his 12-point performance with a windmill dunk in the final seconds before hundreds of New Mexico fans — and there were several thousand in the sellout crowd of 18,500 — stormed the court.
Cameron Bairstow and Hugh Greenwood each had nine points, with Greenwood hitting three momentum-swinging 3-pointers for the Lobos in the first half. Bairstow and reserve Chad Adams deserved most of the credit for slowing Bennett, who finished with 15 points and 11 rebounds but missed 6 of 7 3-pointers.
"There was no adjustment. That wasn't coaching. That's who our team is, and that's a great credit to our players," Alford said. "Bennett is extremely talented. The last 32 minutes of the game, he gets one basket."
New Mexico's defensive intensity and ability to contest shots was made easier by UNLV's lack of ball movement and screening. The Rebels rarely looked inside, instead content to fire 3-pointers (9 of 31) and hope to ride a hot shooter.
"We were just missing a lot of shots we usually make," Dejean-Jones said.
Rice called it a "scary thing" to see the Lobos, who started three juniors and two sophomores, in position to dominate the Mountain West again next season.
"We'll put our starting five up against anybody," Alford said. "To think about that entire starting five's back, we're pretty excited about the future."
The Rebels' forecast appears a bit more cloudy. Three seniors depart, and Bennett and junior forward Mike Moser could enter the NBA Draft, though Moser didn't help his cause by going scoreless in 16 minutes in the biggest game of his team's season.
"This is the last time I'll have an opportunity like this," senior guard Anthony Marshall said. "This is the last go-around for us. Very disappointing."
■ NOTES — Snell was joined on the all-tournament team by Bairstow, Bennett, Reinhardt and Colorado State's Colton Iverson. … Bennett scored 57 points in three games, the most by a freshman in MW tournament history.
Contact reporter Matt Youmans at myoumans@reviewjournal.com or 702-387-2907. Follow him on Twitter: @mattyoumans247.
NEW MEXICO — 63UNLV — 56
■ KEY: Tony Snell scored 21 points, including 13 in a row for the Lobos in the second half.
■ NEXT: UNLV, postseason TBA
Tweets about UNLV basketball
!function(d,s,id){var js,fjs=d.getElementsByTagName(s)[0];if(!d.getElementById(id)){js=d.createElement(s);js.id=id;js.src="//platform.twitter.com/widgets.js";fjs.parentNode.insertBefore(js,fjs);}}(document,"script","twitter-wjs");