No. 14 Utah spoils Rebels' night on the Strip, 59-46
December 20, 2014 - 11:14 pm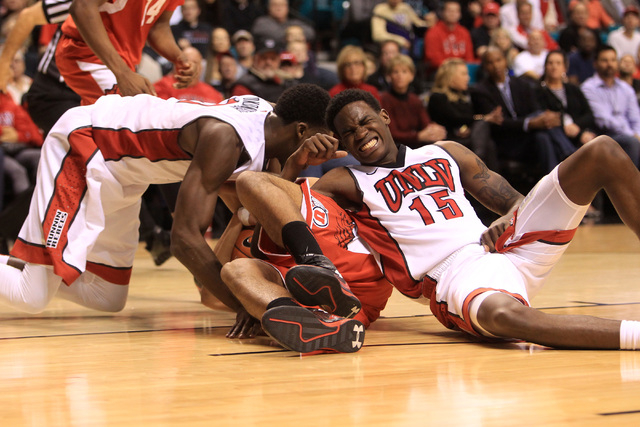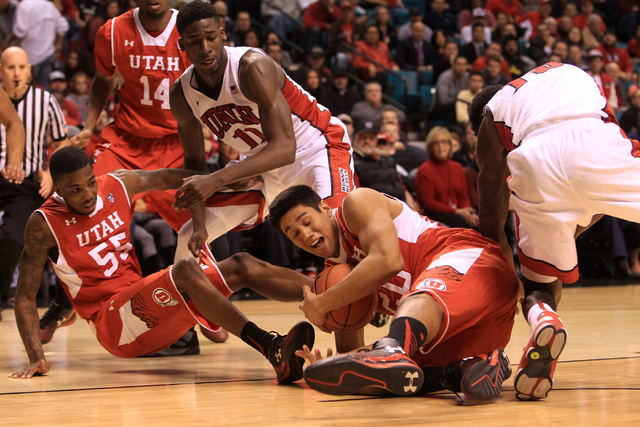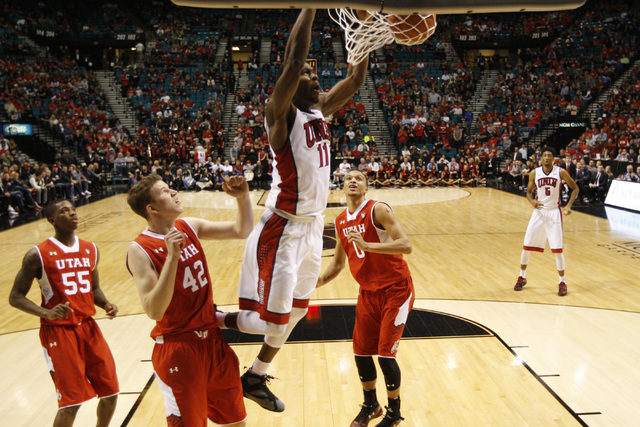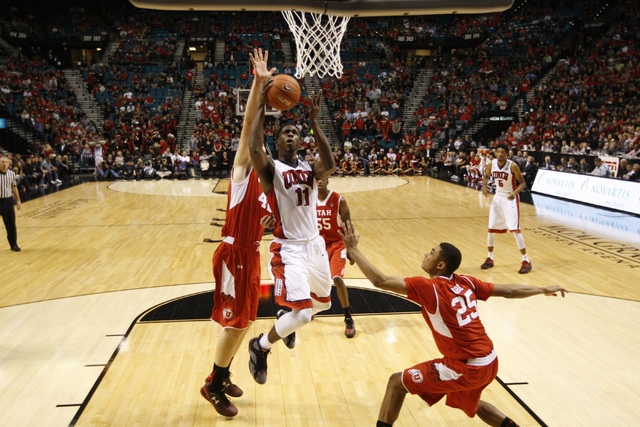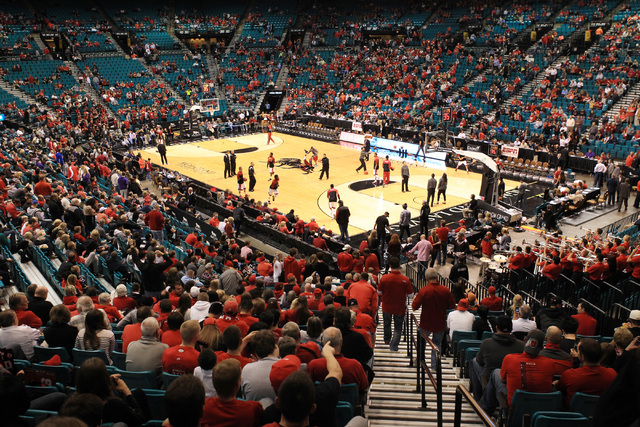 Even on an off night, Delon Wright had enough going on to hold off UNLV, which could not overcome its own shooting woes.
Wright, a senior and one of the top guards in the Pacific-12 Conference, was not at his best Saturday night but still scored 17 points to lift 14th-ranked Utah to a 55-46 victory over the Rebels at MGM Grand Garden Arena.
Wright started slowly and finished 5-for-16 from the field, and Brandon Taylor added 16 points for the Utes (8-2).
Freshman guard Rashad Vaughn, UNLV's leading scorer, was unable to outduel Wright. Vaughn shot 6-for-16 from the field and totaled 16 points and seven rebounds. He made 4 of 7 free throws.
Sophomore forward Chris Wood had eight points and 12 rebounds for the Rebels, who were hanging close until midway through the second half.
The first game of the MGM Grand Showcase went to the wire, with No. 16 Washington holding on to beat No. 15 Oklahoma 69-67. UNLV, a 9½-point underdog, briefly threatened to pull off a bigger upset in front of a crowd of 9,357 that included a large number of Utah fans. Those hopes faded after the half.
The Rebels (7-3) shot 32.7 percent from the field and were a wreck at the free-throw line, hitting only 10 of 23.
The Utes started to take charge when Taylor hit a floater in the lane for a 44-34 lead with 8:20 remaining. Taylor sank an 18-foot jumper to make it 51-38 with six minutes left.
Vaughn's fast-break layup pulled UNLV within 51-42 with 3:32 to play. But Wright made two free throws as Utah maintained control.
Goodluck Okonoboh blocked five shots in the first half as solid defense and strong rebounding helped the Rebels overcome an offensive slump. Jelan Kendrick's 3-pointer from the corner put UNLV up 21-17 with 3:15 to go.
After a slow start, Wright finished the half with a flurry. His steal and breakaway layup beat the buzzer and lifted Utah to a 24-23 lead at the break.
The Rebels, 0-3 against Pac-12 opponents this season after previously falling to Stanford and Arizona State, host No. 3 Arizona on Tuesday.
HALFTIME:
Delon Wright's breakaway layup beat the buzzer and lifted 14th-ranked Utah to a 24-23 halftime lead over UNLV at MGM Grand Garden Arena.
Goodluck Okonoboh and Rashad Vaughn each scored six points for the Rebels. Okonoboh added five blocked shots.
Wright and Brandon Taylor scored eight apiece for the Utes.
Vaughn spun inside for a layup to put UNLV in front, and Jelan Kendrick followed with a 3-pointer from the corner to extend the lead to 21-17 with 3:15 remaining.
The Rebels shot 9-for-25 from the field, including 1-for-6 on 3s, and 4-for-9 on free throws.
PREGAME REPORT:
UNLV is playing on the Strip for the first time in program history, and coach Dave Rice is optimistic his basketball team can put on a good show.
The Rebels (7-2) face 14th-ranked Utah (7-2) at 8:30 p.m. in the second game of the MGM Grand Showcase at the Grand Garden Arena.
"It's going to be a tough test for us," senior point guard Cody Doolin said. "Utah is a very good team. We're going to have to play really well to beat them."
Doolin's last-second layup lifted UNLV to a 75-73 overtime victory over Portland on Wednesday. Rice said his team is much improved from November and early December and capable of hanging with the Utes.
Utah, led by 6-foot-5-inch senior guard Delon Wright and 7-foot Jakob Poeltl, has been off for a week since a 63-60 loss to 10th-ranked Kansas
The Rebels are 9½-point underdogs, and the total is 129½.
Contact reporter Matt Youmans at myoumans@reviewjournal.com or 702-387-2907. Follow him on Twitter: @mattyoumans247.
Who will win? See our staff picks.
Utah 59, UNLV 46
Key: Delon Wright scored 17 points and Brandon Taylor added 16 for the Utes.
Next: UNLV vs. Arizona, 7 p.m. Tuesday, Thomas & Mack Center, CBSSN (333), KWWN (1100 AM, 100.9 FM)