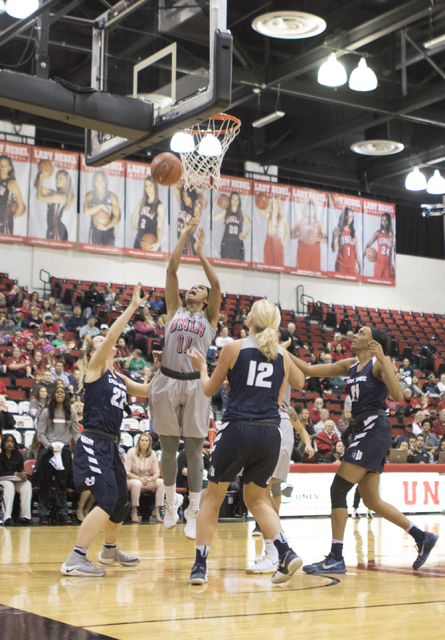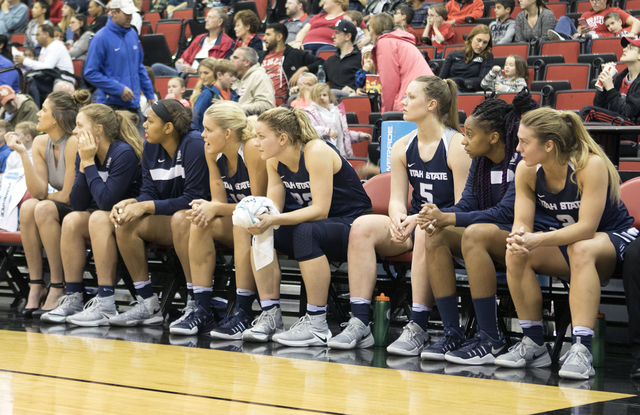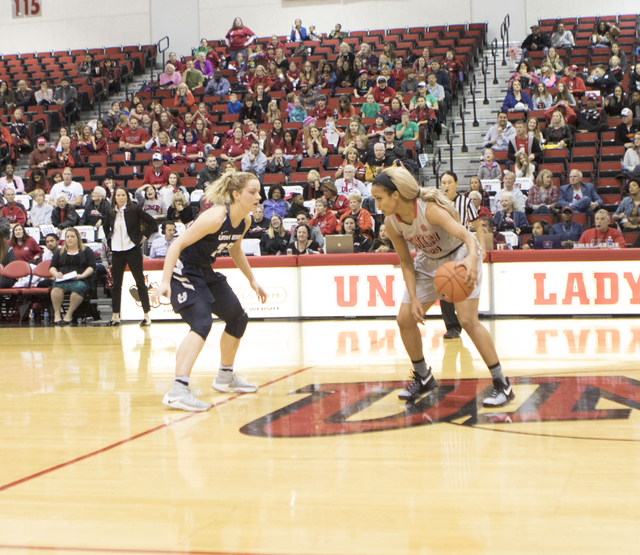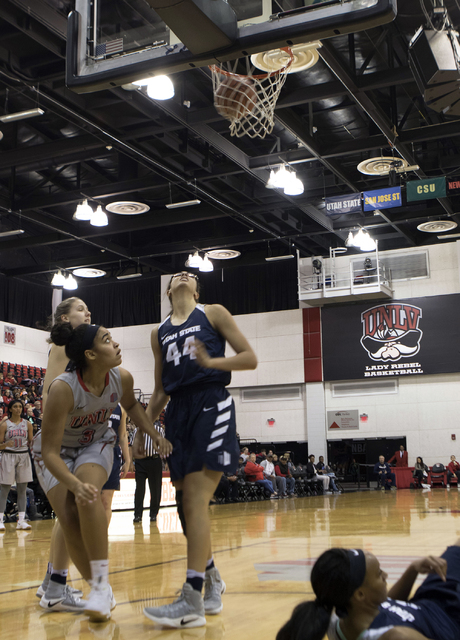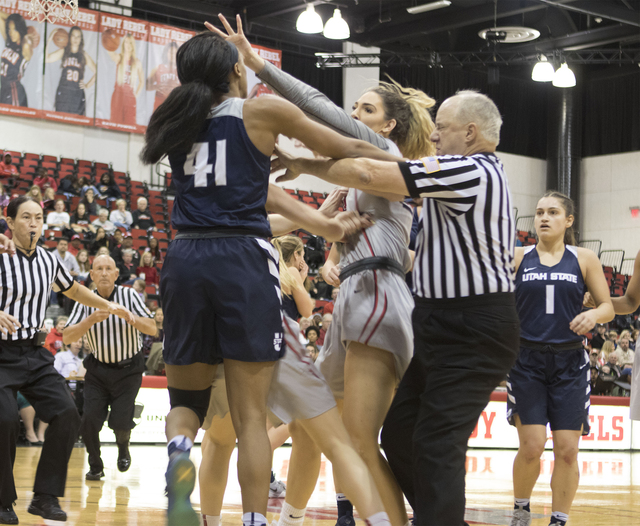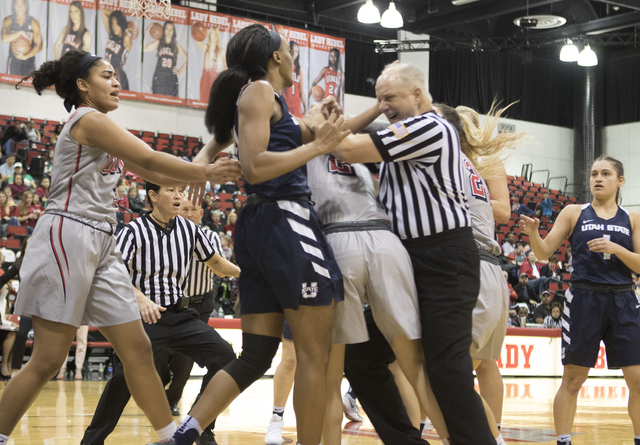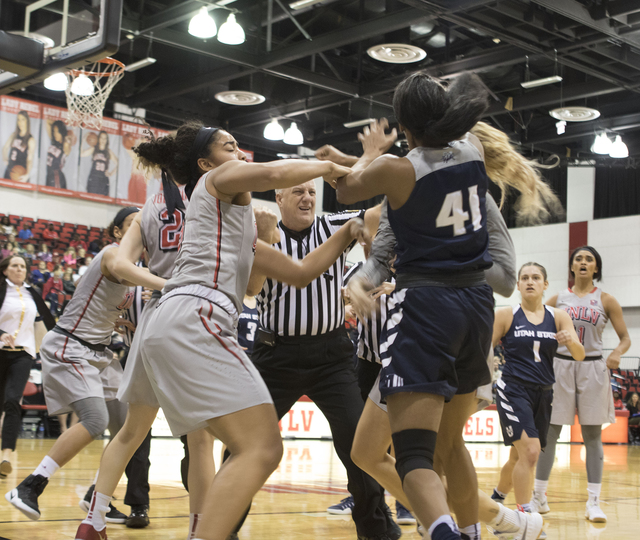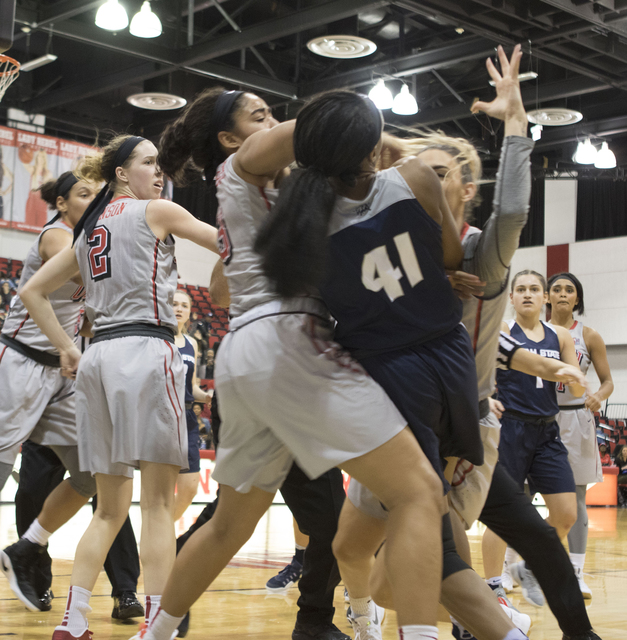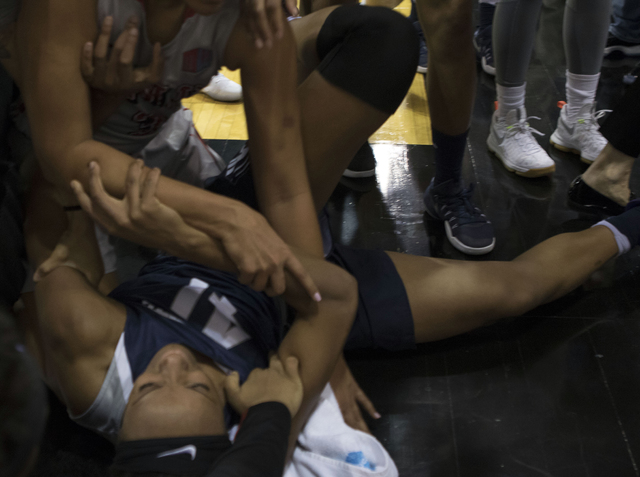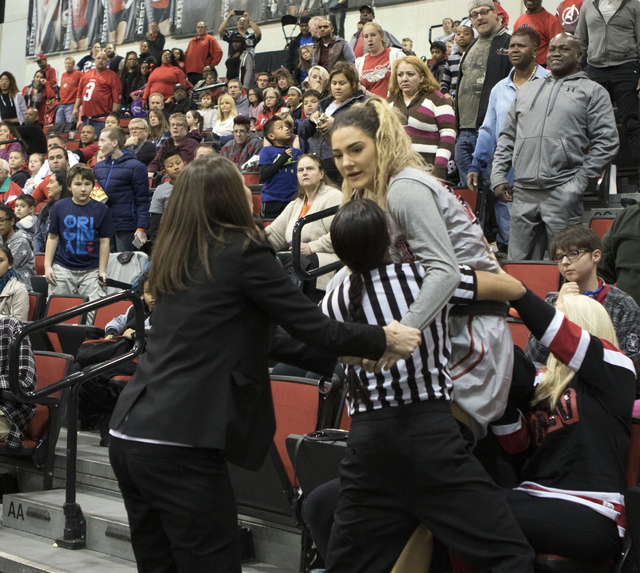 The Lady Rebels sprung off the bench and raced toward one another after sealing a 55-53 overtime victory over Utah State on Saturday at Cox Pavilion.
They were jubilant after a hard-fought battle.
It was a hard-fought battle that literally included a fight.
An ugly scene broke out between UNLV's Katie Powell and Utah State's Antoina Robinson in the third quarter shortly after the Lady Rebels' Brooke Johnson was fouled.
"Throughout the game she was playing a little dirty. Words were exchanged. I just told her to chill out," Powell said. "And then we came to the other side of the floor. Brooke got fouled. I was walking to go help her up. She bumped me and then pushed me and then I just kind of swung at her."
Players threw punches, and both benches rushed toward the scrum to offer reinforcements.
"I just kind of saw both of them go at each other, and I just got in the middle of them to push them apart," Johnson said. "I had Katie, and then she tripped over someone after the next person came."
Eight players were ejected, including UNLV's Powell, Destiney Lee, Rodjanae Wade and Kennedy Wharton, leaving the Lady Rebels with a decimated bench.
"For the players that did leave the bench, they didn't know better. That was all our new players that did that," UNLV coach Kathy Olivier said. "Do I ever go over that? No. I didn't think I needed to do that, so that's my mistake (not) saying that you can never leave the bench. They saw me go out there and wanted to try to help me, but I was helping the situation. They cannot leave the bench."
Six Lady Rebels were available to finish the game, as Nikki Wheatley is out for the season with a knee injury, Jordyn Bell sat as part of the concussion protocol and Tiara Tucker was academically ineligible.
But UNLV persevered and won its second Mountain West game of the season, improving to 11-5 and 2-2. Utah State fell to 8-7 and 1-3.
"I thought our team did a great job of reining everything back in and staying dialed in to what we were saying," Olivier said.
Johnson led all scorers with 18 points while playing the entire 45 minutes. She missed two of four three throws down the stretch, but also had two crucial steals in the final 20 seconds. Dylan Gonzalez also played 45 minutes, while her twin sister Dakota played 42. Paris Strawther played 43.
A fight broke out in the UNLV Utah State women's basketball game. pic.twitter.com/JzwutY8A9n

— Tyler Bischoff (@Bischoff_Tyler) January 8, 2017
One of Johnson's late steals led to a missed layup, but Dakota Gonzalez, who had struggled from the field throughout the game, scored on a putback to give the Lady Rebels a 54-53 lead with about 10 seconds left.
"I should have made my free throws, but it's nice to know (my) teammates have my back," Johnson said. "(Dakota) got my missed layup and put that back up."
Strawther had 14 points and 13 rebounds for the Lady Rebels, and the Gonzalez twins scored 10 each. Simone Sheppard (three points) and Alyssa Anderson (zero points) were the two other players active at the end of the game.
"The fight is not the focus of the game," Johnson said. "We just won in overtime, but we're here talking about a fight that occurred that's going to hurt our team for the next game. We got the win. … Whoever we didn't have, that was what we were going to have to play without, so that was how we were going to win."
Contact Betsy Helfand at bhelfand@reviewjournal.com. Follow @BetsyHelfand on Twitter.