Rebel recruits loaded with promise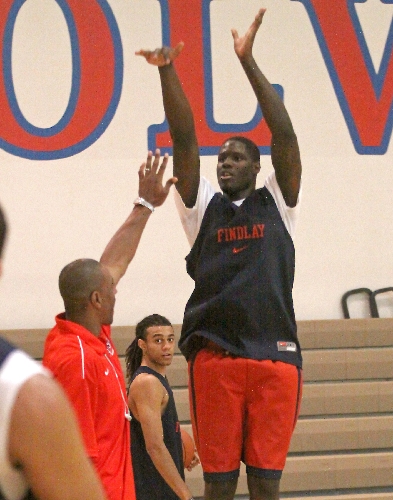 As a disappointing March fades from his rearview mirror, Dave Rice has a heightened sense of heading in the right direction.
Rice's second year as UNLV basketball coach has just begun, and, although the first game is six months away, he already has a big win.
The Rebels suffered a setback after a late-season implosion, but this week's signing of five-star prospect Anthony Bennett provided a needed boost. The buzz is back in terms of high expectations and hype.
Bennett, a 6-foot-8-inch forward from Findlay Prep, headlines a strong recruiting class that could help UNLV surge to the forefront of the Mountain West Conference and into the national spotlight.
"It's always positive when you can sign a high-level player. It sends a message that this is a good place to play," Rice said. "We certainly have everything in place that we need to be good. We're very confident we can have a special season.
"I like the expectations. We hope the expectations are going to be raised every year. I like the attention we're getting, but we better understand we're going to have to work hard to figure it all out."
Bennett, ranked by ESPN.com and Rivals.com as the nation's No. 7 prospect in the class of 2012, is the second McDonald's All-American to join the Rebels since January. The first was 6-9 Khem Birch, a transfer from Pittsburgh, and both are from Canada.
Birch is expected to become eligible at the semester break in December. Bennett figures to be in the starting five when UNLV opens the regular season Nov. 12 against Northern Arizona at the Thomas & Mack Center.
"Anthony knows there is a great opportunity to step in and play major minutes," Rice said. "I've never guaranteed anyone a starting job, but he certainly will have the opportunity to compete for a starting job."
The competition heats up Aug. 4, when the Rebels open 10 days of practice before an exhibition tour of Canada. UNLV is scheduled to play two games in Ottawa (Aug. 18, 19) and two games in Montreal (Aug. 20, 21), as Rice works six new players into the team picture.
"The trip to Canada comes at a perfect time for our program," Rice said. "I think the depth of our team will present great challenges in practice from a competition standpoint."
Bennett can play in the exhibition games. Birch is allowed to practice but is not eligible to play, though he does plan to visit family in Montreal and attend the games.
Rice signed three high school players in the fall, including combo guard Katin Reinhardt of Mater Dei High in Santa Ana, Calif. Reinhardt is the nation's 38th-ranked recruit by Rivals.com.
Demetris Morant, a 6-9 forward from Bishop Gorman High, and 6-1 point guard Daquan Cook from St. Frances High in Baltimore were Rice's other early signees. The sixth newcomer, Southern California transfer Bryce Jones, was the first recruit to commit to Rice last summer. Jones, a shooting guard, redshirted last season.
The spring signing period ended Wednesday with Rice holding one open scholarship. Connecticut transfer Roscoe Smith, a 6-8 forward, wrapped up a two-day visit to UNLV, which also continues to court Savon Goodman, a 6-6 forward from Philadelphia.
Smith might announce his plans this weekend. Goodman cannot sign a national letter of intent at this point, yet he can sign a scholarship agreement if he chooses to commit.
The nonconference schedule for the 2012-13 season is nearly finalized, and dates are set for the Rebels' road games against Portland (Dec. 4), California (Dec. 9), Texas-El Paso (Dec. 17) and North Carolina (Dec. 29).
UNLV returns two starters, senior guard Anthony Marshall and junior forward Mike Moser, in addition to experienced reserves Justin Hawkins, Reggie Smith, Carlos Lopez and Quintrell Thomas.
"There's no doubt there's going to be a transition period," Rice said. "It's good that we have so many returning players who have been a part of our current program for a year."
On Feb. 1, the Rebels were 21-3 and ranked No. 11 in the nation, but they finished 26-9 after losing six of their final 11 games. The signing of Bennett should help Rice overcome the failures of March and a recruiting miss in April, when Bishop Gorman's Shabazz Muhammad, the nation's top-ranked senior, chose UCLA.
"We did miss on some local guys. But the common denominator is every guy we signed is excited to be here," Rice said. "Anthony had a lot of options, and he's a very good player.
"It certainly helped that Khem Birch is here. Anthony also had a chance to come to a lot of our games and see our style of play and the excitement in the Thomas & Mack from the fans. Every staff works hard in recruiting, and sometimes there is a little luck involved."
Contact reporter Matt Youmans at myoumans@reviewjournal.com or 702-387-2907.