Rebel Report Card: High marks for Wood against Fresno State
February 10, 2015 - 10:43 pm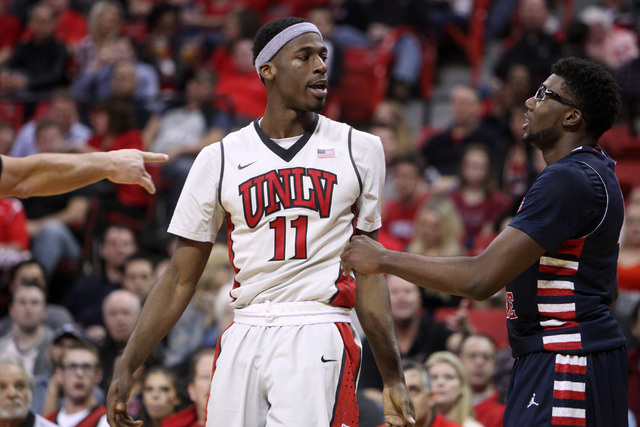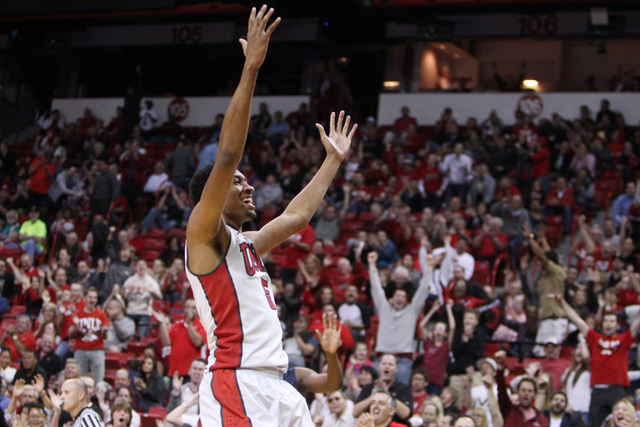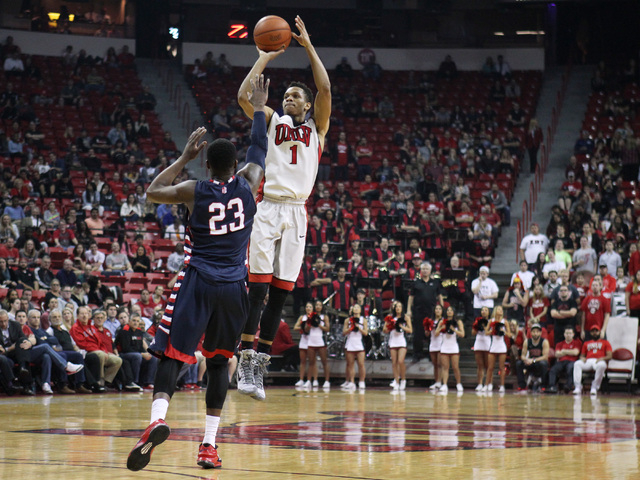 BACKCOURT: B-
Rashad Vaughn did what he had to do offensively for UNLV to cruise to a 73-61 home win over Fresno State on Tuesday night. Vaughn did most of his damage in the first half, when he scored 13 of his 18 points. He also had five rebounds and two steals, though he did commit three turnovers. It was actually Cody Doolin that really helped jumpstart the Rebels, however. After UNLV had missed 10 of 11 shots to start the game, Doolin froze the defense with a pass-fake and knocked down a 3-pointer. Jordan Cornish and Vaughn followed suit on the next two possessions and the Rebels were off and running. Doolin added another 3-pointer later in the half to finish with six points. Patrick McCaw had seven points, seven rebounds and five assists as he continues to be one of the team's most consistent performers.
FRONTCOURT: A+
Goodluck Okonoboh struggled to get anything going and fouled out in just 20 minutes of action. So what? This grade was earned completely on the efforts of Chris Wood. The sophomore forward was sensational in every way on Tuesday night. Wood had 27 points, 19 rebounds and seven blocked shots. In short, he was unstoppable. Wood got to the free-throw line 17 times as the Bulldogs tried to do anything they could to slow him down. The effort was futile. His performance was certainly helped by Fresno State's lack of size, but it's tough to find much fault in anything Wood did on Tuesday. Okonoboh was a different story. He missed all three of his shot attempts and both tries from the free-throw line before fouling out with four rebounds and four blocks.
BENCH: C+
UNLV, as usual, didn't get much production from its bench. Jordan Cornish did knock down a pair of 3-pointers early in the first half when the Rebels couldn't get much of anything going on the offensive end. His shots provided a spark that helped overcome a 1-for-11 start from the field by the team. There wasn't much else in the way of production from the reserves. Cornish finished with seven points off of just those two attempts. Dwayne Morgan went 1 of 6 from the field to finish with two points and three rebounds. Senior Jelan Kendrick had six points and two assists.
COACHING: B+
Dave Rice was concerned his team would come out flat after a heartbreaking last-minute loss at Colorado State on Saturday. Rice said he would have preferred the team play on Wednesday to have an extra day to regain focus. Early on, his fears were realized. UNLV opened the game missing 10 of its first 11 shots.The Rebels finally found a rhythm, with Vaughn leading the way the remainder of the first half. Then Wood took over with 22 points and 12 rebounds after halftime. Wood said the coaching staff drove it into his head that he'd be able to have a big game against Fresno State if he stayed in the paint. They were right. The staff also got a fairly consistent effort out of the team throughout the 40 minutes, which is noteworthy on its own.
Contact reporter Adam Hill at ahill@reviewjournal.com or 702-224-5509. Follow him on Twitter: @adamhilllvrj.