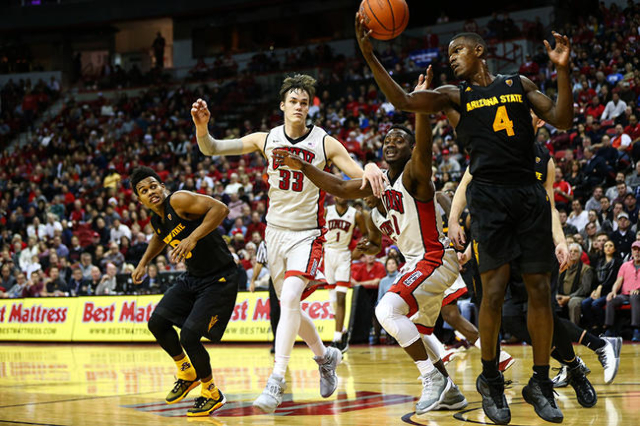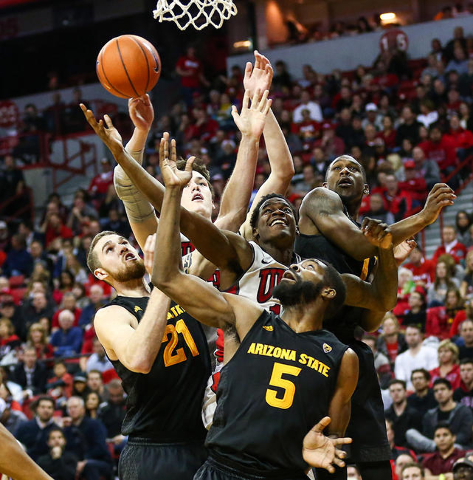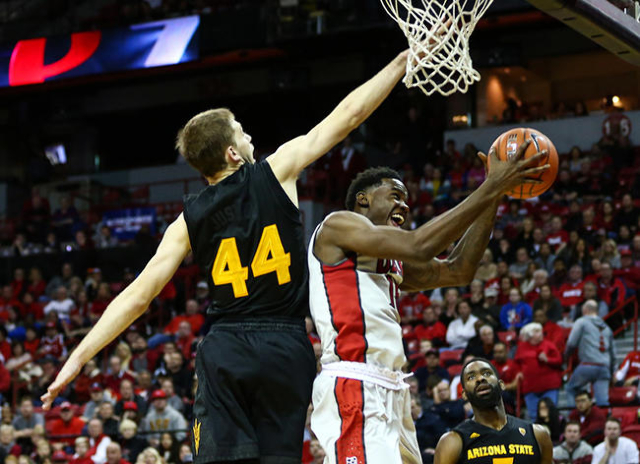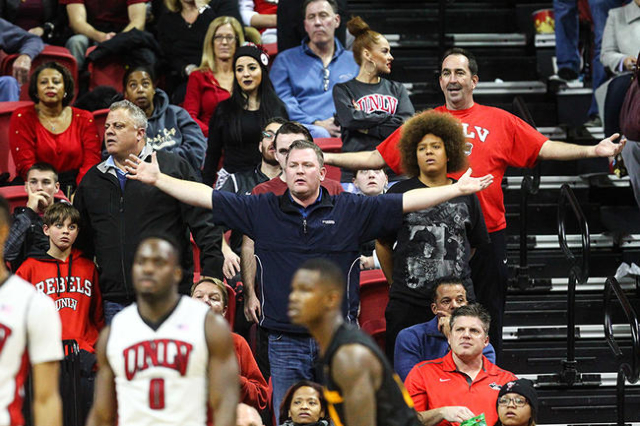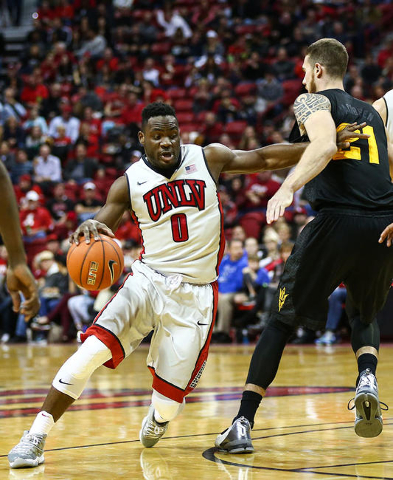 Some might question why the UNLV men's basketball team received F's across the board since it had a 12-point lead at the half before falling to Arizona State 66-56 at the Thomas & Mack Center on Wednesday. The Rebels must have done something right to have that type of lead on a Pac-12 team, right? The answer is no. If not for a few made 3-pointers by UNLV in the final minutes of the opening half, the Sun Devils would have blown the game wide open in the second half. The Rebels (8-3) stopped playing with the lead and got outworked by a Sun Devils team without their best player, Savon Goodman, who played at UNLV as a freshman. Not one Rebel recorded 10 points or grabbed 10 rebounds. Double digit assists? Get real.
Backcourt: F
Not having a point guard is starting to become a serious problem for the Rebels. For the second time in three games, UNLV was held under 60 points. The Rebels lacked ball movement, forced quick 3s and hardly looked to score in the paint. Jerome Seagears has the role of playing point guard, but it's clear now he's better suited for the two-guard. Seagears scored eight points and recorded four assists, but he's probably in Dave Rice's dog house after jacking up a quick 3-pointer with three minutes to go and UNLV only down four. Ike Nwamu was the team's leading scorer with nine points. He went 2-of-10 from the field. Patrick McCaw has bailed out the Rebels countless times when they lacked offensive rhythm. He was nowhere to be found in the second half, going scoreless in the final 20 minutes. McCaw scored five early points and struggled to stay with the Sun Devils' guards. McCaw's five points, however, did help UNLV shake off a slow start in the opening minutes when the team was called for five team fouls in four minutes.
Frontcourt: F
Arizona State came into the game thin in the front court with only one player over 6-foot-7, and having the 6-foot-6 Goodman sitting out didn't help. UNLV didn't utilize its size with 7-footer Stephen Zimmerman Jr. battling foul trouble and a Dwayne Morgan having a quiet night. The Sun Devils outrebounded the Rebels 43-30 and grabbed a whopping 16 offensive rebounds. This doesn't fall entirely on the bigs, but ASU scored three easy baskets in the paint with the game still on the line in the final two minutes. There was no rim protection with ASU scoring 36 points in the paint. Arizona State's Tra Holder, who scored a game-high 19 points, and Gerry Blakes had no trouble finding shots inside.
Bench: F
The bench usually gets a productive outing from either Ben Carter, Derrick Jones Jr. or both. They got neither on Wednesday. Carter fouled out with four minutes left in regulation and Jones never got going, finishing with only two points. The only positive from the bench was Jordan Cornish, who was 1-of-24 from long range entering the game, connecting on two 3-pointers.
Coaching: F
Dave Rice should get the majority of the blame for ASU's 22-5 run in the second half. The Rebels scored six points in a 14-minute span and Rice didn't have an answer for the scoring futility. He didn't draw up a play for an easy basket after a timeout. Nothing. Rice said after the game he wants his team to focus on a inside-outside game and not shoot as many 3s. That's hard to do without a point guard. UNLV is athletic and it can run. Rice could have pushed the tempo and let his guards attack the rim and find open shooters. There was a sequence where Zimmerman got the ball and didn't hand it to Seagears to bring up, instead pushing the ball up himself, giving an outlet pass to McCaw who then found Jalen Poyser for an open corner 3. That type of offense has worked for UNLV this season.
Contact Gilbert Manzano at gmanzano@reviewjournal.com. Follow him on Twitter: gmanzano24
Check our GameDay page for full coverage of the UNLV-Arizona State game.