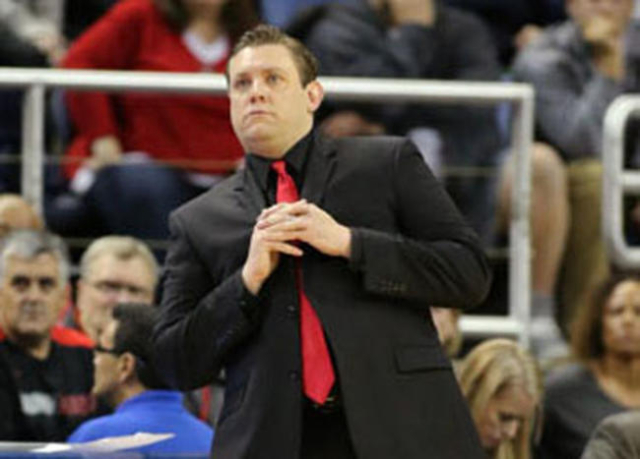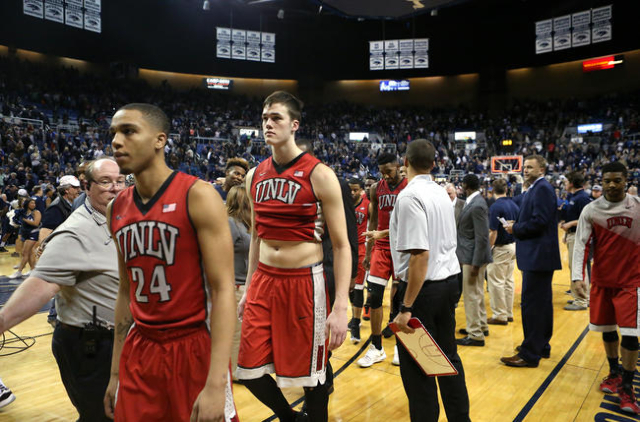 Life was great for the UNLV men's basketball team when it was running up the court and blowing out teams. The lopsided victories were dandy to start the Todd Simon era, but it never solved the Rebels' half court deficiencies on offense. The Rebels' weaknesses that put them in an 0-3 hole in Mountain West play, and eventually got Dave Rice canned, came back to haunt them against UNR on Saturday. The Wolf Pack took advantage of the Rebels' missed free throws and sluggish offense for a 65-63 win.
Backcourt: F
The backcourt of Patrick McCaw and Jerome Seagears combined for 4 of 13 from the field, including 0 for 7 from 3-point range.
It might be time to give up on McCaw as the go-to scorer down the stretch. He excels in turning steals into fastbreak layups, creating plays for others and can hit transition 3-pointers when hot. McCaw, however, isn't a guy who demands the ball and clears everyone out. The Rebels needed someone like that badly down the stretch against UNR. McCaw scored eight points and recorded five assists. The sophomore guard continues to struggle from 3-point range, shooting 0 for 6 on Saturday.
Seagears only managed four points and missed a big free throw in the final seconds.
Frontcourt: C+
UNLV (12-8, 3-4 Mountain West) was horrendous on offense, but kept the game close thanks to its defense. Stephen Zimmerman Jr. and Dwayne Morgan didn't give up easy baskets in the paint and forced the Wolf Pack to take most of their shots from the perimeter.
Zimmerman grabbed 11 rebounds — double-digit rebounds are becoming routine for the freshman — and blocked four shots. Zimmerman never got going offensively, scoring seven points. He was outmuscled by Cameron Oliver in the post.
Morgan scored eight points and grabbed three rebounds.
Derrick Jones Jr. created havoc to start the second half and helped UNLV get a nine-point lead. Jones never got back in the flow of the game after colliding with a referee to injure his ankle.
Jones and Zimmerman combined 3 of 12 from the free throw line.
Bench: C
The Rebels got 29 points from their bench compared to UNR's 13.
Ben Carter led UNLV in scoring with nine points. That's right, not one Rebel scored 10 points. Carter, along with Zimmerman and Morgan, caused fits in the paint for UNR.
Jordan Cornish and Jalen Poyser contributed seven points apiece.
Coaching: D+
Simon deserves a ton of credit for getting the Rebels to play relaxed and free during the three-game winning streak. However, when it came down to late-game Xs and Os versus UNR, he got out coached by Eric Musselman for his first loss as UNLV's coach. Musselman had multiple options when he needed a big bucket. Simon didn't have that luxury and couldn't figure out who to go to.
He never drew up plays for an easy basket when the Rebels were down two with a minute to go. The Rebels forced shots that led to turnovers.
Simon put the ball in the hands of Seagears, UNLV's best free throw shooter, with the team down two and 20 seconds to go. Seagears got fouled, but missed the first free throw and that was the ball game.
UNLV seemed to have turned the corner on its poor free throw shooting in Simon's first three games. That became an issues again when the Rebels shot 14 of 28 from the line. It's up to Simon to fix that quickly with Boise State and San Diego State coming to town next week.
— Contact Gilbert Manzano at gmanzano@reviewjournal.com or 702-383-0492. Follow him on Twitter:@gmanzano24