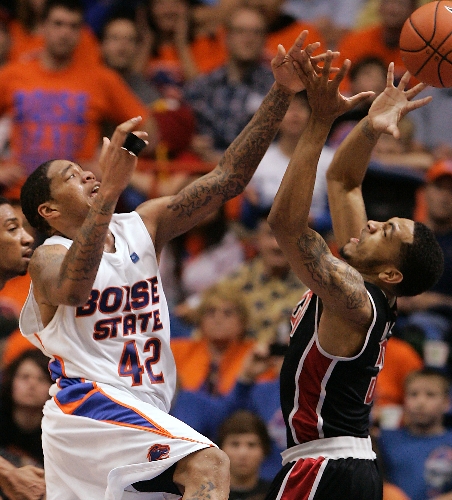 BOISE, Idaho – In a game UNLV never led, Anthony Bennett ended up with the ball in his hands and a shot to steal the show.
With 15 seconds remaining, Bennett fired a potential go-ahead 3-pointer. The freshman forward was the third option on the play, and he didn't second-guess his decision to shoot from long range with the Rebels trailing by one.
"I thought it was a good look," he said.
The result was another road trip gone bad for UNLV, which lost 77-72 to Boise State on Saturday night at Taco Bell Arena, where a few hundred students in the crowd of 9,356 stormed the court for no apparent reason.
The unranked Rebels (17-5, 4-3) fell two games behind first-place New Mexico in the Mountain West standings, but they appeared disinterested in winning a regular-season conference championship anyway.
"The problem for us, the reason we're so frustrated, is it took us so long to get going," UNLV coach Dave Rice said. "We didn't come out with intensity and the energy we needed to start the game. I'm very disappointed with our approach to start the game."
Despite trailing by 12 near the midpoint of the second half and by nine with 3½ minutes remaining, UNLV surprisingly was in position to win at the finish line.
Anthony Marshall's 3-pointer pulled the Rebels within 73-72 with 31 seconds to go. The Broncos left the door wide open when Derrick Marks missed a free throw with 23 seconds remaining, setting up UNLV to overcome long-shot odds.
Marshall was the first option, but he elected not to drive to the basket off a screen and passed to Bryce Dejean-Jones at the top of the key. Dejean-Jones, the second option, fed the ball to Bennett, who popped open high on the left wing.
Bennett, who missed his previous three 3-point attempts in the game, launched a shot that bounced off the back of the rim. Khem Birch fouled Marks on the rebound, and Marks made two free throws with seven seconds left.
Rice, who had no timeouts, defended his decision to call a play that was not designed to get Bennett the ball near the basket.
"I thought he might get double-teamed in the post," Rice said. "We got our best player with an open shot that he's made a lot of times. I want Anthony Bennett to shoot that ball every single time. This one just didn't go in."
Bennett did have a hot hand. He finished with 25 points, shooting 9-for-16 from the field and 7-for-12 on free throws.
Marshall, who had 18 points, 12 assists and five rebounds, said the game was essentially lost before the final minute.
"We came out pretty flat," said Marshall, who played full throttle for 40 minutes. "They came out like gangbusters. You've got to expect to get an opponent's best shot. It can't be one or two guys playing their hardest and the rest not following."
Rice, Marshall and Bennett agreed on one obvious point – the Rebels failed to show up prepared to play a Broncos team that was desperate to win.
"Before the game, we just came out laughing and stuff, so I just think we need to stop that," Bennett said.
Birch picked up two fouls in the first 66 seconds. After the sophomore center went to the bench, UNLV's interior defense and rebounding suffered. Boise State jumped ahead 11-2 and played with a comfortable lead most of the way.
Meanwhile, Mike Moser's nightmare season continued. Moser, who did not start, was ejected with 4:07 left in the first half after being assessed a flagrant-2 foul. The junior forward appeared to use an open hand to hit Anthony Drmic in the head on a breakaway layup, knocking Drmic to the floor. Boise State emerged from the possession with a 40-31 lead.
"The referees told me they didn't feel like Mike made a play on the ball," Rice said.
UNLV overcame its shortcomings and faced only a 73-69 deficit when Justin Hawkins missed an open 3-pointer from the corner with two minutes to go. On the next possession, Bennett was stripped and turned the ball over in the post. The Rebels had two more shots to close the gap, but Birch missed a short jumper and Marshall misfired from 3-point range.
Drmic scored 22 points and Marks 17 for the Broncos (15-6, 3-4) as they stopped a two-game losing streak.
"It took us way too long to get going in terms of our defensive intensity, and it's just inexcusable," Rice said. "It was a big game for Boise, and every game needs to be an even bigger game for us."
The Rebels shot 50 percent from the field but only 10 of 17 at the free-throw line, including two misses by Marshall with six seconds left.
"A loss is a loss. It hurts us," Bennett said. "Nobody needs to hold their head down."
Contact reporter Matt Youmans at myoumans@reviewjournal.com or 702-387-2907. Follow him on Twitter: @mattyoumans247.
BOISE STATE — 77
UNLV — 72
KEY: Anthony Bennett, who led the Rebels with 25 points, missed a potential go-ahead 3-pointer with 15 seconds remaining.
NEXT: UNLV at Fresno State, 6 p.m. Wednesday, TWCS (66), KWWN (1100 AM, 98.9 FM)