Rebels' Cornish loses weight, wants to find shooting touch
November 17, 2015 - 11:33 pm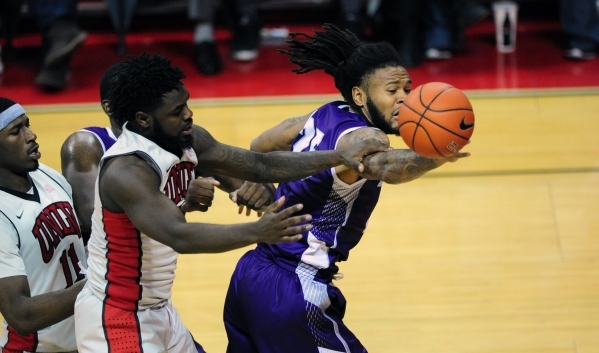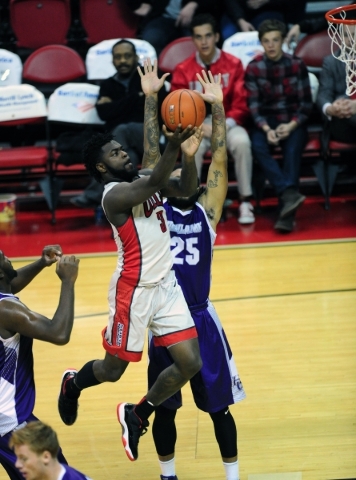 Diet pills that work miracles are advertised on TV every day. Over the summer, Jordan Cornish formed a plan to lose weight the old-fashioned way.
He worked out. He ate right. A few weeks after his freshman season at UNLV, Cornish tipped the scales at 240 pounds. Now, he's a trimmer 220.
"No fried food, no fast foods," he said.
His favorites — fried chicken and fried pork chops — are off the menu, replaced by meals such as turkey sausage.
"I actually feel like myself now," the 6-foot-6-inch sophomore guard said. "I'm a little quicker, lighter and can jump higher."
His next goal is to shoot the ball better. Cornish will come off the bench when the Rebels (2-0) host Southern Utah (0-1) at 7:30 p.m. today at the Thomas & Mack Center.
Cornish has missed all six of his 3-point attempts in UNLV's two games, after lighting it up from long range in his first season and earning a reputation as a pure shooter. But that also was the first time he had that reputation.
At Brother Martin High School in New Orleans, he was ranked the No. 1 player in Louisiana mostly because of his skills as a point guard, not a shooting guard.
"It's funny. I didn't really shoot the ball that well in high school," said Cornish, a cousin of Louisiana State star running back Leonard Fournette. "I would get to the rim and facilitate for other people."
As a college freshman, his 3-point percentage (48.7, 38 of 78) ranked No. 2 for a season in UNLV history. But he rarely drove to the rim. During the summer, he hit the gym and did not leave until he made at least 200 3-pointers and 100 free throws each day.
"Jordan is a very good shooter, and because of that and scouting reports, teams are not going to give him wide-open shots," coach Dave Rice said. "Teams are going to run at him and make him put it on the floor. It's always a pleasant development when a guy as a freshman shoots about 50 percent from 3. You never expect that.
"He learned what this level is about, and he worked extremely hard to become a leader for us. He's a guy that the other guys respect. I thought he did a very good job in the offseason."
A starter in the season opener because sophomore guard Patrick McCaw was late for a practice, Cornish totaled four points, four rebounds and four assists in 25 minutes in a 74-72 victory over Cal Poly. He returned to a reserve role Monday and scored eight points in the Rebels' 107-45 rout of Division II New Mexico Highlands.
"I like the energy that he brings off the bench," Rice said. "I have a lot of trust in what he does."
Lighter and quicker, Cornish plans on showing off more aspects of his offensive arsenal this season, and he trusts his 3-point stroke will return.
"I'm confident in my ability and my jump shot," he said. "This is a very good shooting team. We've got a long road ahead."
* NOTES — UNLV defeated Southern Utah 79-45 last season in Las Vegas. Rashad Vaughn and Chris Wood, rookies in the NBA now, scored 22 points apiece for the Rebels … The Thunderbirds opened the season Friday with an 82-71 loss at Utah. Starting guards Travon Langston (Las Vegas High) and Trey Kennedy (Bishop Gorman) each scored 13 points.
Contact reporter Matt Youmans at myoumans@reviewjournal.com or 702-387-2907. Follow him on Twitter: @mattyoumans247
Check our GameDay page for full coverage of the UNLV-Southern Utah game.