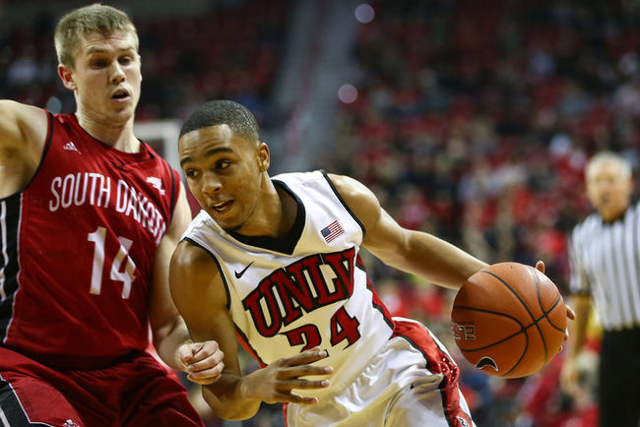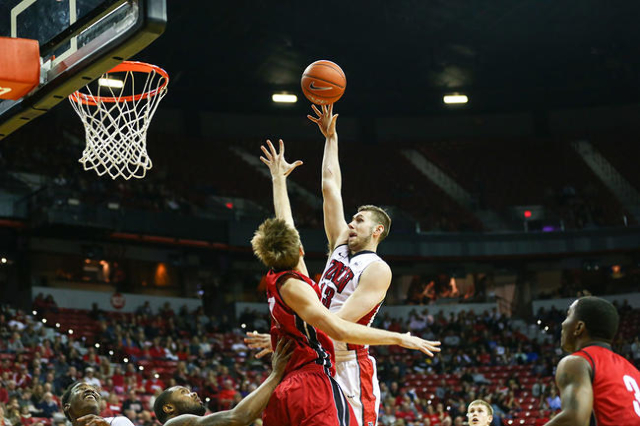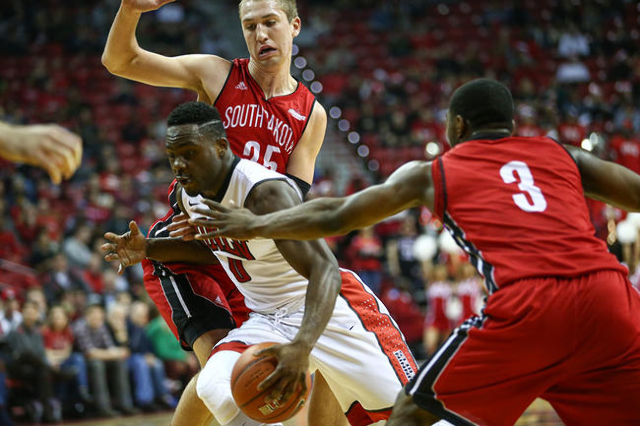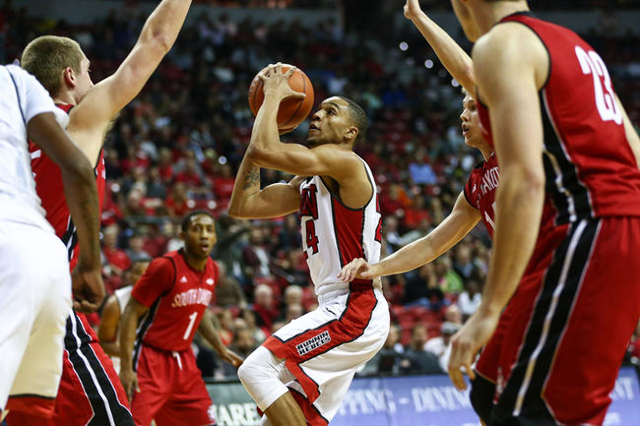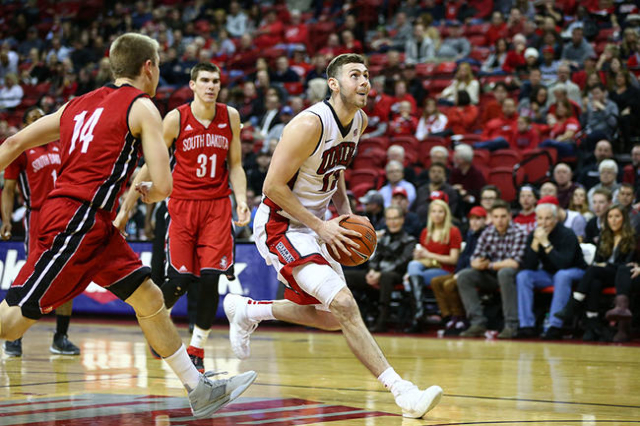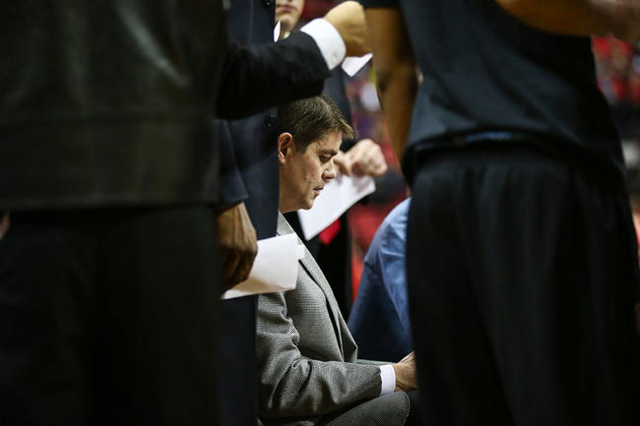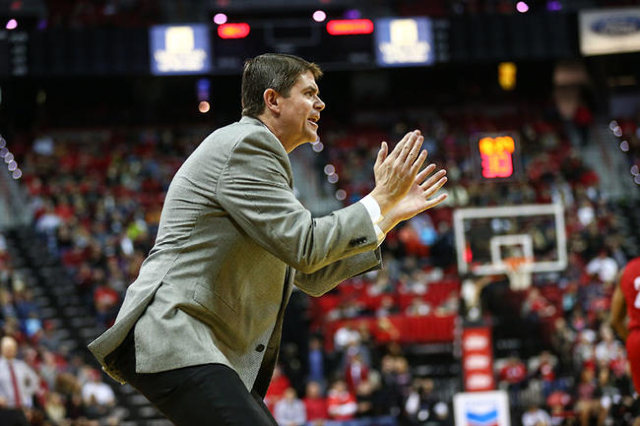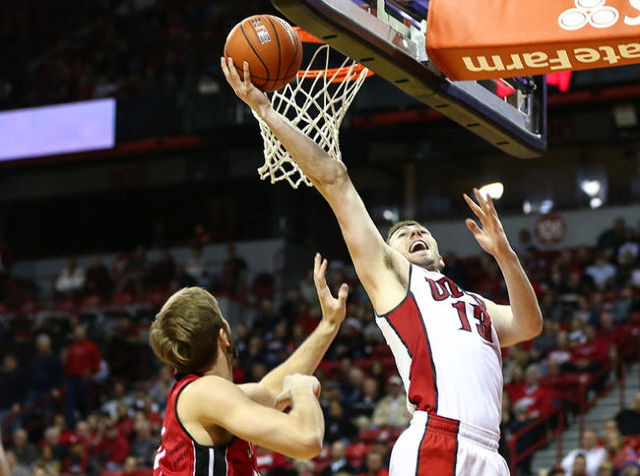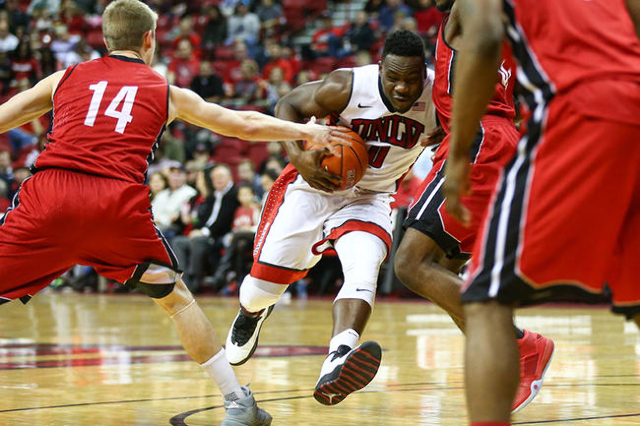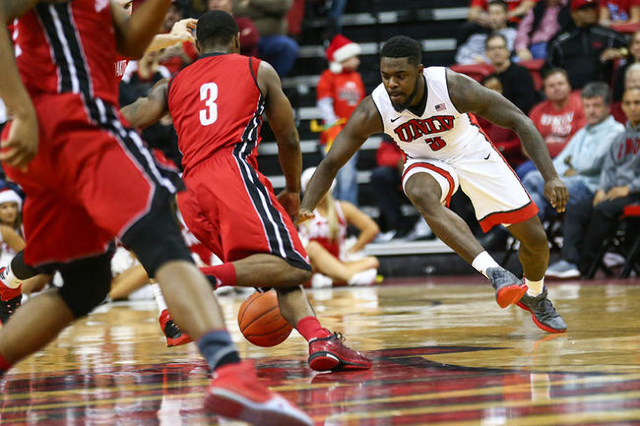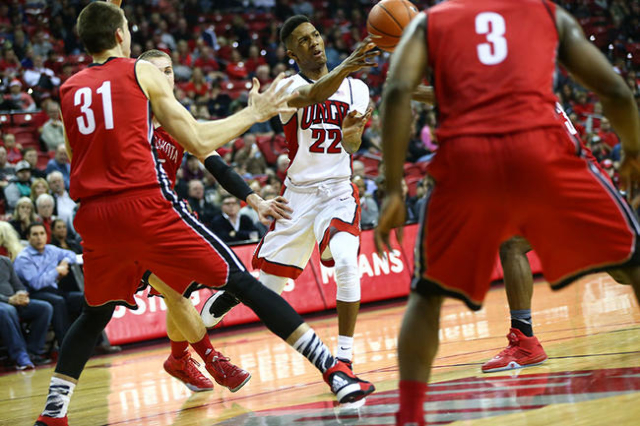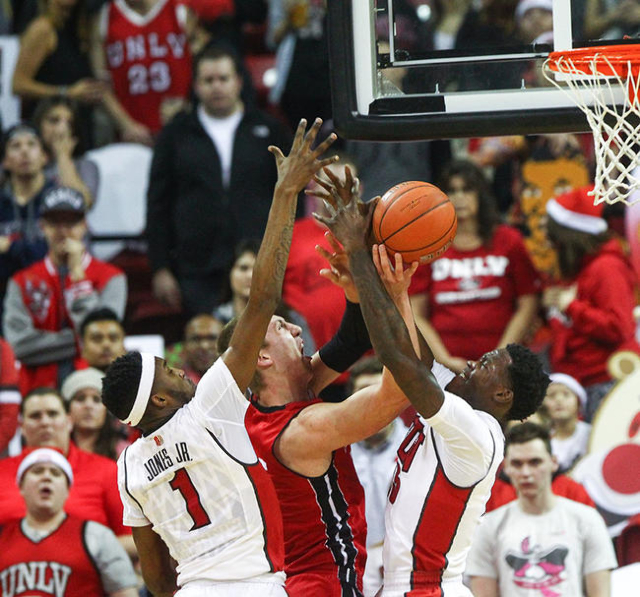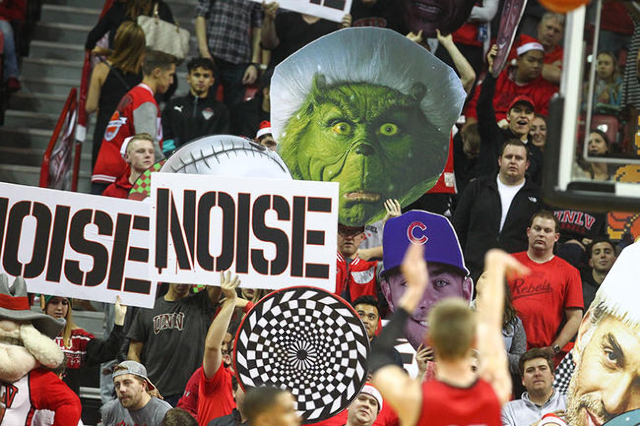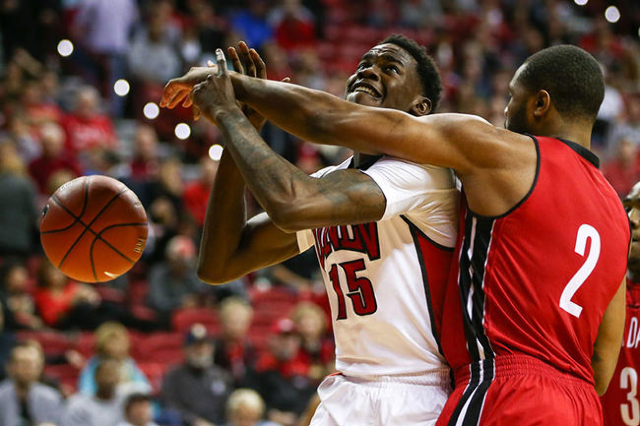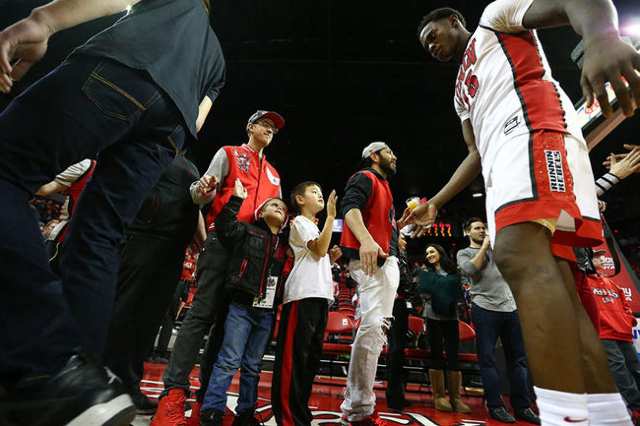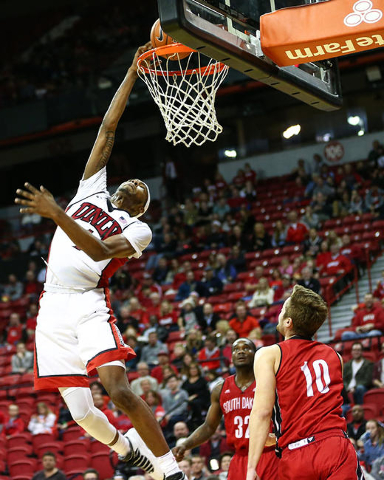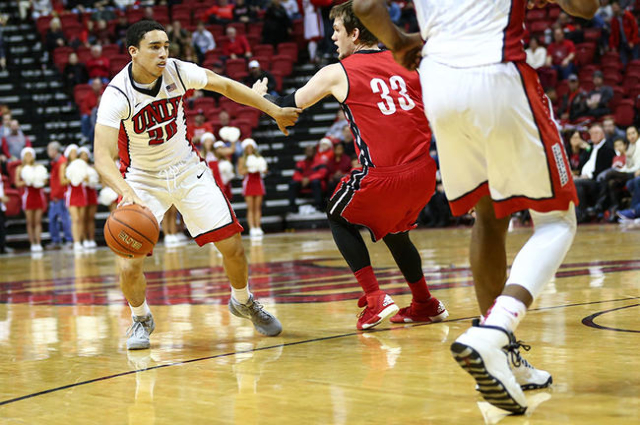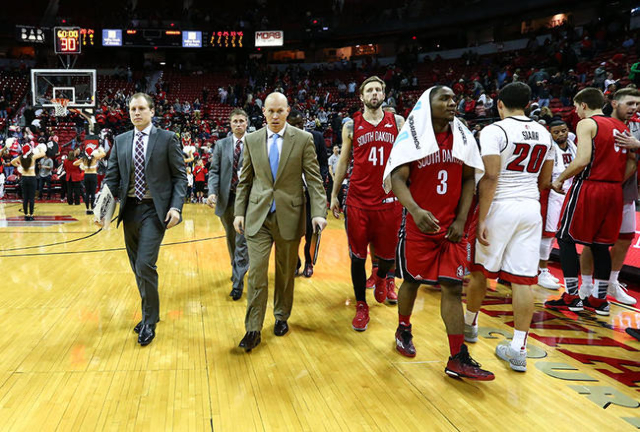 Just as cold symptoms are contagious, so is hot shooting. Jerome Seagears hit the first three 3-pointers he let fly, and whatever he had spread to his teammates.
Ike Nwamu, Jordan Cornish and Jalen Poyser joined Seagears as UNLV launched a long-range assault Tuesday night.
Poyser scored 18 points and Nwamu had 16 as the Rebels wrapped up their nonconference season by rolling to a 103-68 victory over South Dakota at the Thomas & Mack Center.
"Eighteen is a lot of 3s," said junior forward Ben Carter, who did all of his scoring inside the 3-point line. "We shared the ball really well, and we were getting good shots. It's fun to play like that."
UNLV enters Mountain West play with a 9-4 record for the third consecutive season.
The Rebels connected on 18 of 32 3s while stopping a two-game losing skid and topping 100 points for the second time this season. Derrick Jones Jr. finished with 14 points, Carter had 13, Seagears finished with 12 and Dwayne Morgan added 10.
"We were focused, we were locked in and everyone got involved," Carter said.
A senior point guard set the tone. UNLV made its first six shots, including three 3s by Seagears, and led 15-2 after four minutes.
"One of the best things Jerome does is shoot the ball," coach Dave Rice said. "He has tried hard to be a true point guard for us. We need his leadership and his 3-point shooting."
A backup freshman point guard picked up where Seagears left off. Poyser's deep 3 pushed the cushion to 39-21 with eight minutes to go in the first half. The Rebels shot 62 percent and hit nine 3-pointers en route to a 51-34 halftime lead.
UNLV did not need 7-foot freshman Stephen Zimmerman Jr., who sat out with a thigh injury. Even without Zimmerman, the Rebels were bigger and more athletic at every position.
The game turned into a laugher after Patrick McCaw and Jordan Cornish made consecutive 3s to extend UNLV's lead to 74-47 with 12 minutes remaining. McCaw, the team's leading scorer, did not attempt a shot until 27½ minutes into the game.
Cornish, who came into the game 3-for-29 from 3-point range thisd season, sank 3 of 5 3s to wake up from his perimeter shooting nightmare.
"Jordan has been working his tail off, getting shots up before practice and after practice, and really working his way out of a slump," Carter said.
Seagears made 4 of 5 3s, Nwamu hit 4 of 7 and Poyser was 3 of 6.
Poyser, whose previous season high was 16 points, sank a free throw with 59 seconds left to hit the 100-point mark and trigger a roar from what was left of the announced crowd of 11,990.
The Rebels' pressure forced 19 turnovers that they converted into 23 points. Ten players scored, including walk-on freshman guard Austin Starr. The former Foothill High School star hit the team's final 3-pointer with 32 seconds remaining.
"The energy level, the camaraderie was as good as it's been all season," Rice said. "We did a really good job of forcing turnovers."
Casey Kasperbauer scored 16 points and Tre Burnette had 15 for the Coyotes (7-6). Kasperbauer made four of his team's nine 3s.
After a break for Christmas, a few days that will allow Zimmerman to get healthy, UNLV opens the conference schedule against Fresno State on Dec. 30.
"We think we have a chance to be a special basketball team," Rice said. "We have an opportunity to compete for a regular-season conference title, and it's going to be extremely difficult. I like where we are — we're disappointed with some of the results — but we've given ourselves a fighting chance."
A week after getting upset on the same floor by Arizona State, the Rebels walked off with a much better feeling.
"Conference play is tough," Carter said, "but we like our chances."
— Contact reporter Matt Youmans at myoumans@reviewjournal.com or 702-387-2907. Follow him: @mattyoumans247
Check our GameDay page for full coverage of the UNLV-South Dakota game.