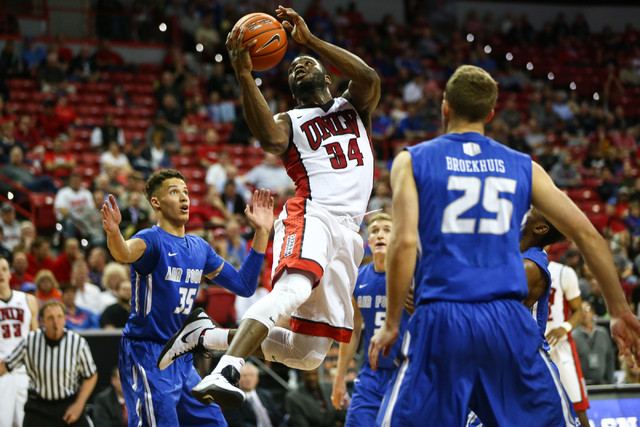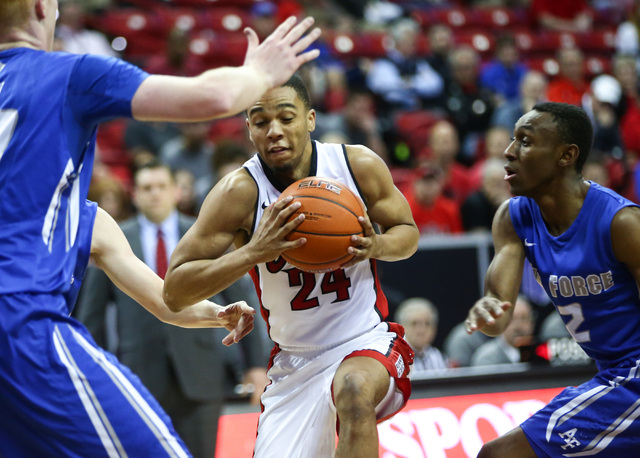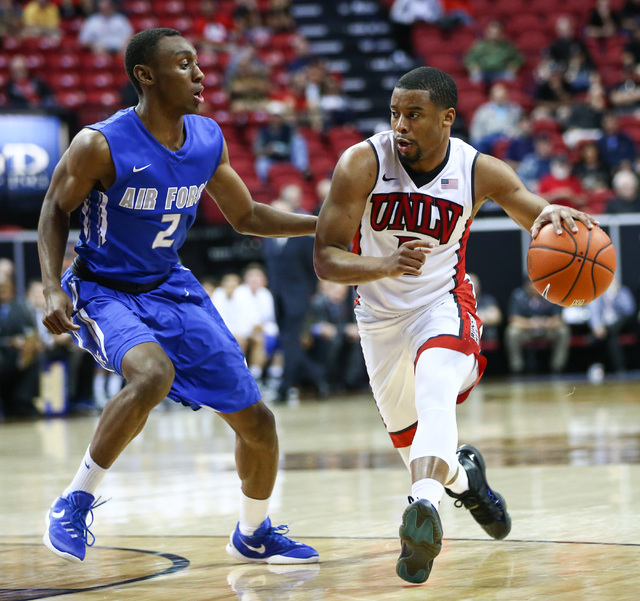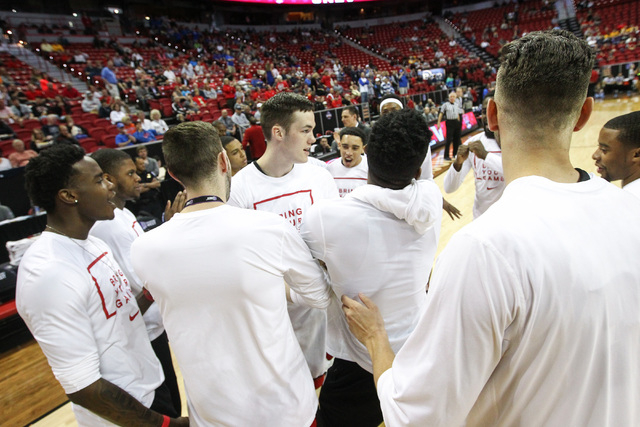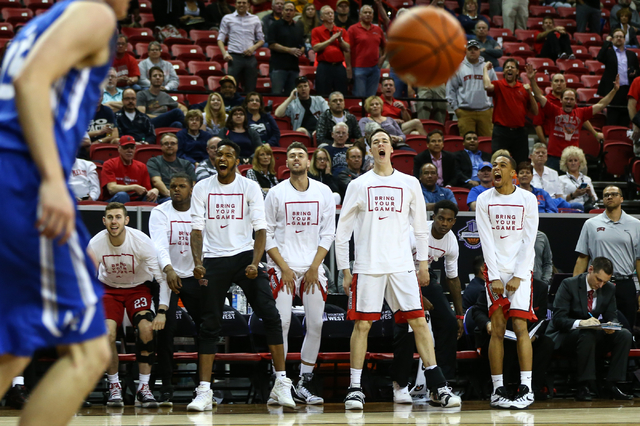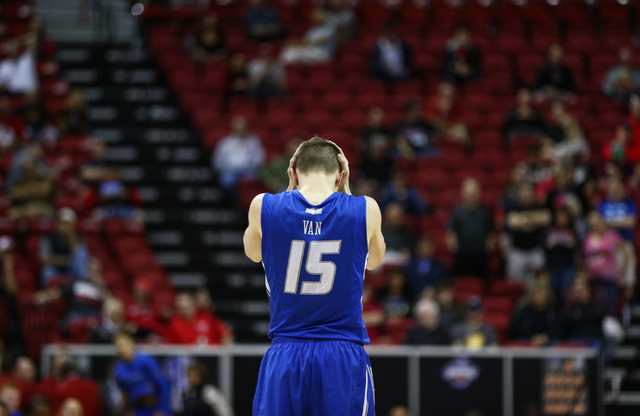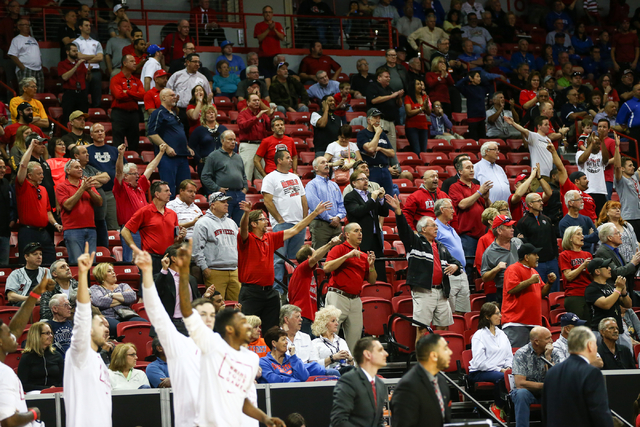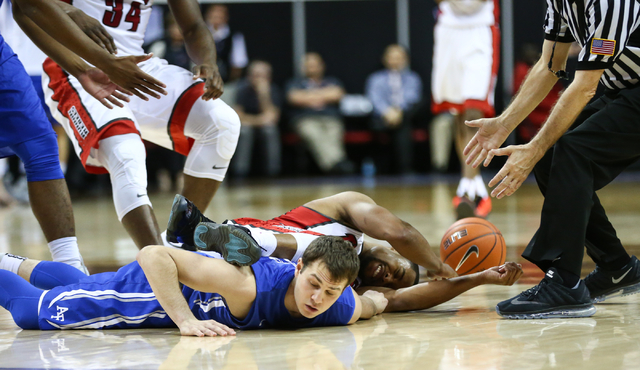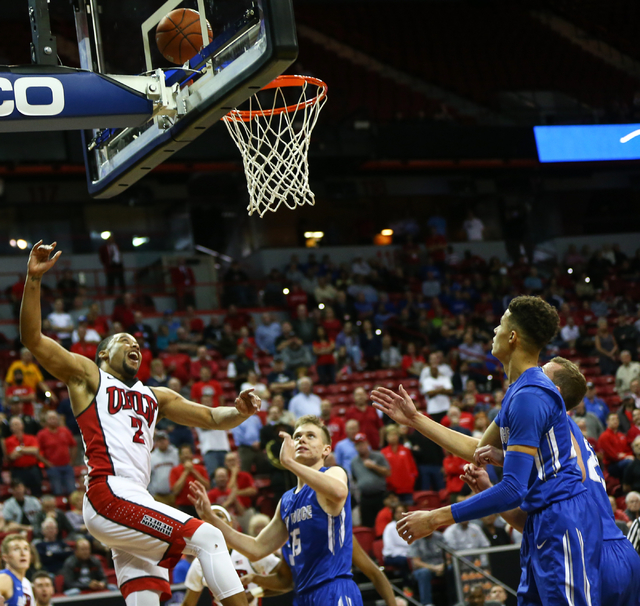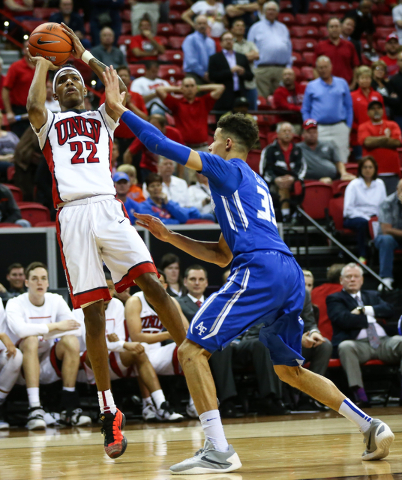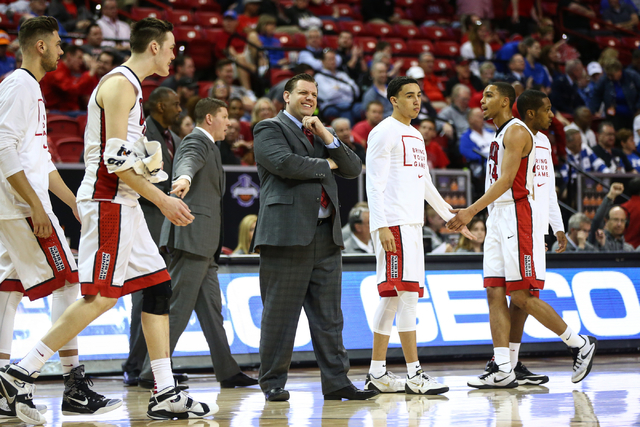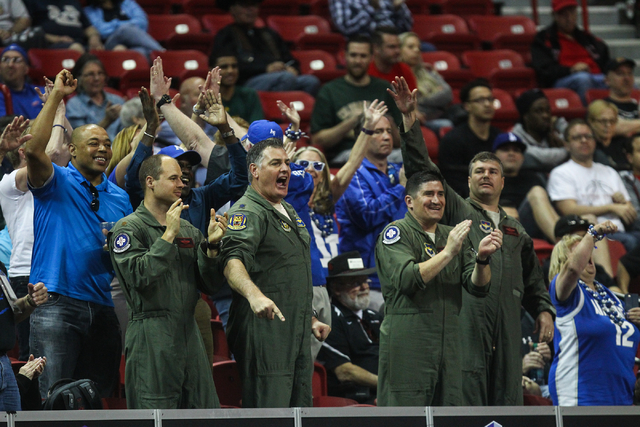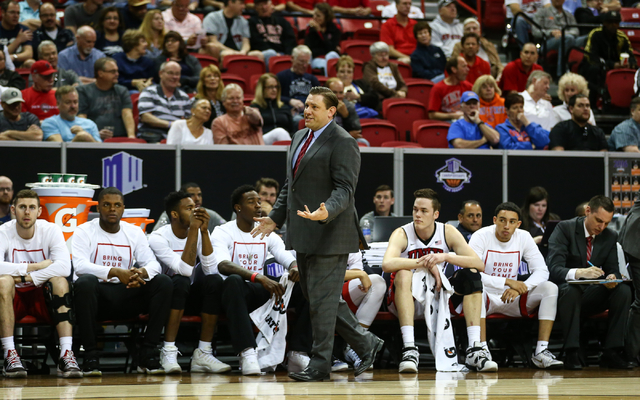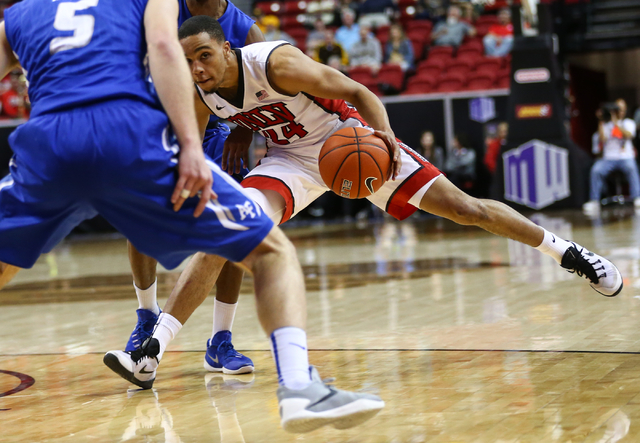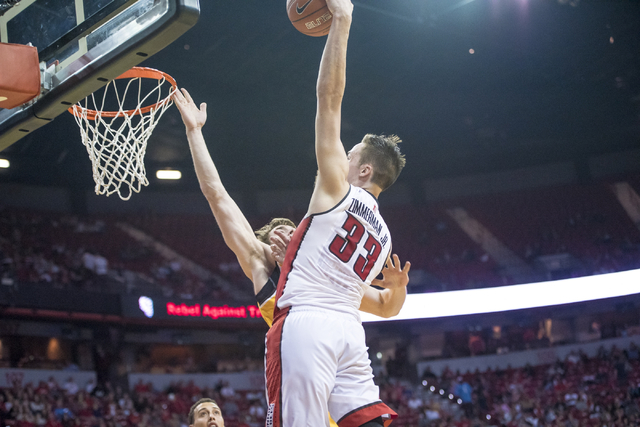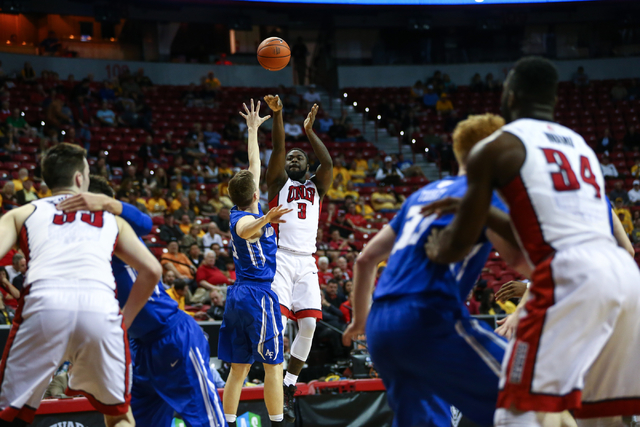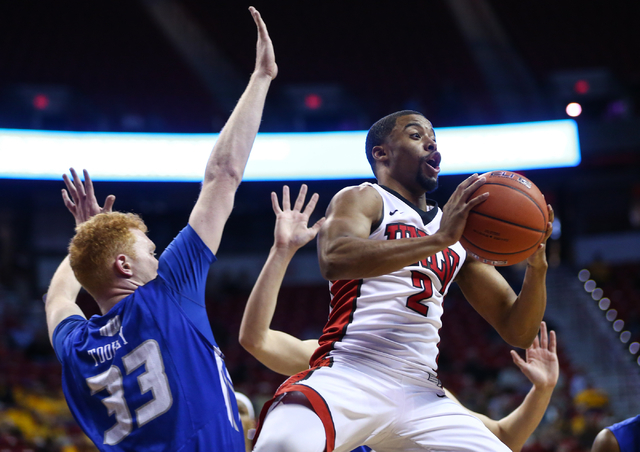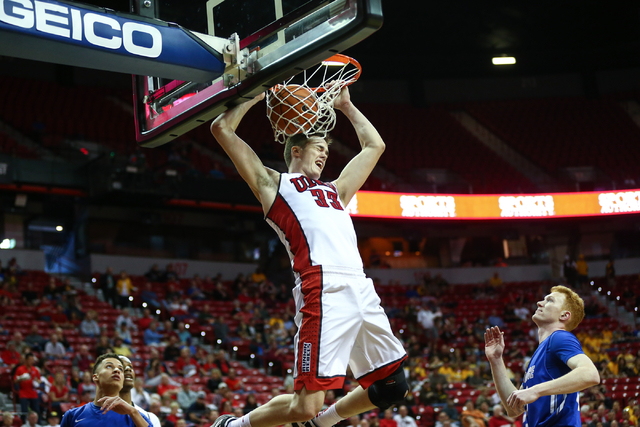 Stephen Zimmerman Jr. fouled out with 8:46 to play in regulation.
Jalen Poyser was gone 2½ minutes later.
Jordan Cornish went out with three seconds left in the second overtime.
One controversial call ended the first extra session, and the foul on Cornish was more questionable than the polls in Michigan.
Adversity is nothing new to this UNLV basketball team, and the Rebels handled everything sent their way, using three scholarship players and two walk-ons througout the third overtime to outlast Air Force — which faced its own issues with five players fouling out — for a 108-102 first-round victory in the Mountain West Tournament.
The Rebels outscored Air Force 19-13 in the third overtime.
"As a coach, it makes you emotional," UNLV interim coach Todd Simon said. "What more could you ask than to have a group that's gone through everything like this, and to still believe and still hang on what you're saying to them and to buy in and then to give every ounce of what they have? As a coach, that part makes you so thankful."
No. 7 seed UNLV (18-14) plays No. 2 Fresno State (22-9) in a quarterfinal game at 6 p.m. today at the Thomas & Mack Center. No. 10 Air Force ended its season 14-18.
Ike Nwamu (career-high 38) and Patrick McCaw (27) combined to score 65 points for the Rebels. McCaw also had 14 rebounds, and Nwamu made 16 of 19 free throws and delivered the exclamation slam dunk in the closing seconds.
Both players were on the court for all 55 minutes, and Jerome Seagears played all but one minute. Seagears has been battling hand and heel injuries, and he missed Saturday's regular-season finale at San Diego State.
"I'm a little exhausted right now," Nwamu said. "You don't think about that while you're playing. At this time of the year, it's win or go home."
How much these players have left tonight against Fresno State is the big question.
"We're not going to really think about how tired we are because you don't get an asterisk if you're compaining about being tired," Nwamu said. "We're going to get our feet up, get hydrated and then we'll be ready for (today)."
UNLV had chances to avoid playing so many minutes.
The Rebels led 68-65 with 19.6 seconds left in regulation, but Air Force tied the game at 69 on Jacob Van's short jumper with 6.4 seconds left. Nwamu had a chance to win the game, but missed on a drive, and McCaw's tip-in didn't go down.
In the first overtime, the Rebels led 77-73 with 2:30 to go, but Van — who scored 37 points — tied it at 78 on a 10-foot shot with 36.2 seconds left. Air Force had a chance to win late, but Seagears broke up a pass and was fouled with four-tenths of a second left. The officials determined it was an offensive foul, so Seagears wasn't given the opportunity to win the game at the line.
UNLV twice led by four in the final 35 seconds of the second overtime and 89-86 after Seagears' two free throws with 7.3 seconds remaining. Van then jumped into Cornish with three seconds left, but the official called Cornish for his fifth foul. Van then made all three free throws to force a third overtime.
The Rebels could have folded after that shaky call, which also left them having to play walk-ons Barry Cheaney and Austin Starr the entire third session.
"We constantly preach poise and control what you can control," Simon said. "And they displayed great hardness, as we like to call it. Nothing rattled them. They continued to move on to the next play and roll with the punches."
UNLV certainly did that, grabbing control with a seven-point run midway through the third overtime.
"It says a lot about our team," McCaw said. "We had two walk-ons, but that's still part of our team. It's a strong bond that we've had and that we've grown through the whole season. We've been through so much as a team. Everybody gets along and has fun together. (The walk-ons) brought the same energy and effort, and that was huge for us."
Typical of this season, UNLV was rocked with more bad news earlier in the day when the NCAA informed the school that freshman forward Derrick Jones Jr. could practice and receive scholarship money but couldn't play. Jones was ruled ineligible last week after his ACT score was vacated because of concerns about the Baltimore facility where he took the exam.
The Rebels put that aside just as they ably handled the setbacks that would come their way against Air Force.
"I think these young men are going to have life lessons that will apply … for a long, long time," Simon said. "And it applies here this time of year when it's championship time and their resolve and poise through situations. The growth the team has shown in those areas from early in the year to now is just tremendous.
"The guys consistently demonstrate that they can overcome stuff, that they're not going to get rattled. They will dig and find it. That's obviously what won the game for us today."
Contact Mark Anderson at manderson@reviewjournal.com or 702-387-2914. Follow him on Twitter: @markanderson65
Check our GameDay page for full coverage of the UNLV-Air Force game.