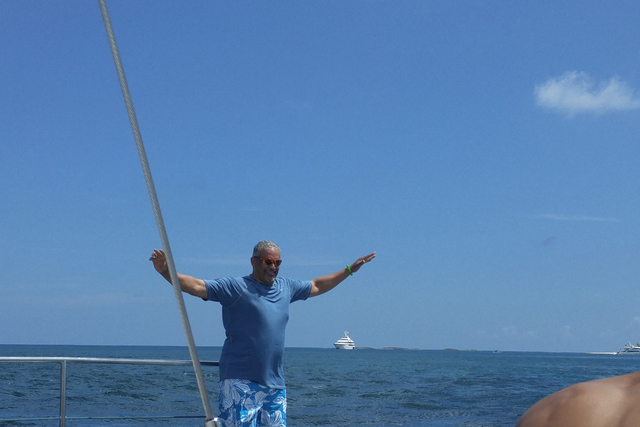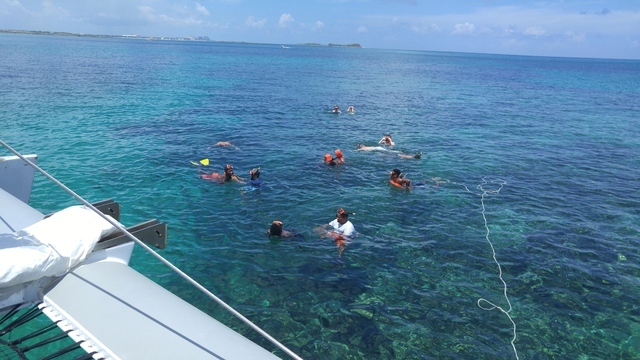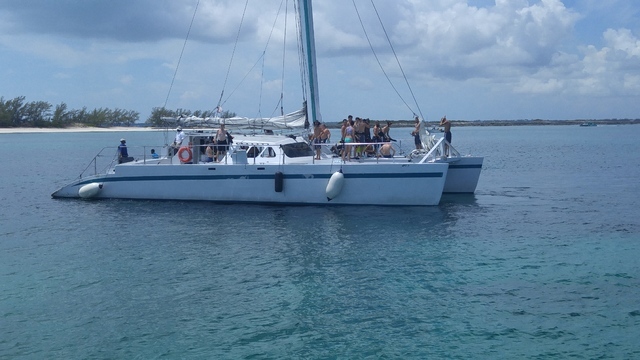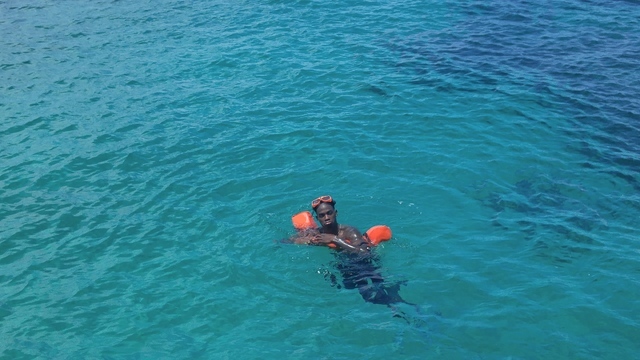 NASSAU, Bahamas — The chants from those in the sparking green and blue Atlantic Ocean waters went up, "T! T! T!"
They wanted senior Tyrell Green to jump in off the catamaran, which was anchored by some reefs so that UNLV's basketball party could go snorkeling.
Green was a little apprehensive, but he jumped right in, causing cheers to go up.
The Rebels went on a six-hour boat ride Friday to cap their trip to the Bahamas, which included three exhibition games. Including the two weeks of practice leading up to the trip, they had three weeks for players who were scattered throughout parts of the globe to get to know each other.
And that was where the boat ride was particularly important. It was more than just a reward for the players, the ride was a chance to do some real bonding, and that was evident when the boat stopped for two hours for snorkeling. As the Rebels enjoyed themselves, another catamaran pulled up nearby with Wake Forest's team on it.
Some UNLV players didn't know how to swim or were hesitant about going into the water, but their new teammates who were more adept at swimming guided them along.
"It shows you who's there for you really," senior Christian Jones said. "When one man's down, who's going to be there to pick you up?"
It took awhile for all the players to feel comfortable, with senior Uche Ofoegbu coming back up the steps of the catamaran saying, "I just saw death."
Junior Dwayne Morgan later said, "Don't judge me, I have a life vest on."
Others were more eager. Freshman Djordjije Slijivancanin repeatedly jumped into the water trying to perfect a dive.
Coach Marvin Menzies said it was important players took the initiative to assist their teammates rather than the coaches stepping in.
"It's really unique to be able to take some guys out and do some things that they've never done in their lives," Menzies said. "For some of these guys, it's their very in the ocean, first on a beach, first time swimming. We've got three or four guys that actually don't know how to swim.
"They got in, and peer pressure is huge. We've got a few guys that took some challenges and jumped in the water with the vest on and their snorkel, and they feel like they conquered the world."
Menzies, who is an excellent swimmer, did his own share of coaching when the boat later stopped at Rose Island for two hours of beach time. He helped some players who were not as comfortable in the water by showing them swimming strokes.
Then it was back to Nassau, and the sun and swimming left the players spent as most napped on the return trip.
They scatter again after leaving the Bahamas on Saturday, and when late September rolls around, it's back to work to prepare for the season.
What kind of difference did this boating trip make? It's impossible to measure, but given how many new players are on the roster, there was a feeling among the group it was well worth it.
"A lot of teams don't get this opportunity, so we've got to take full advantage of it," Green said. "It's a big trust factor. We all have to have trust with each other. If everyone has trust, we can trust each other on and off the court. Bonding together as a family is a great thing."
Contact Mark Anderson at manderson@reviewjournal.com or 702-387-2914. Follow on Twitter: @markanderson65