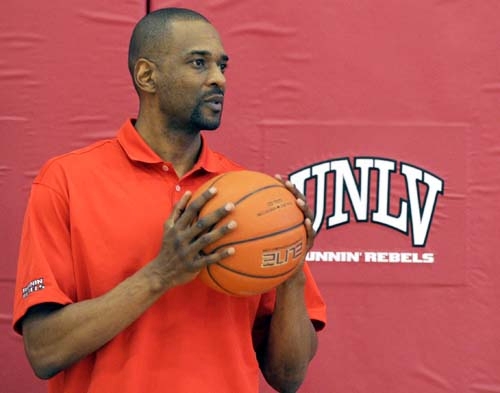 What the NCAA Tournament does, in many ways, is inspire everyone who surrounds it — players, coaches and fans. Not that he's old, but being back in the middle of the madness is making 43-year-old Stacey Augmon feel especially young again.
Twenty-one years ago this week, Augmon led an undefeated UNLV team to Tucson, Ariz., for the tournament's first round.
After almost two decades in the NBA as a player and coach, the thrills of March faded in his memory.
"I've been gone. I've been in the league," he said. "I really forgot how it was, and it's an awesome feeling. It's the real meaning of March madness, and I'm feeling it.
"I'm excited because the hype is here. I have a great feeling. I have the jitters like I want to get out there and play."
Augmon's first year as a Rebels assistant coach is not exactly taking him back in time, but it is leading him back to the NCAA Tournament.
This time, it's to Albuquerque, N.M., where sixth-seeded UNLV (26-8) opens play in the South Region against No. 11 seed Colorado (23-11) at about 7 p.m. Thursday at The Pit.
During the Rebels' rollercoaster season, Augmon has enjoyed the ride. After 15 years as an NBA player and four years as a Denver Nuggets assistant for player development, he was called back to the college game in April after Dave Rice was hired as head coach.
Rice and Augmon, UNLV teammates on the 1990 NCAA championship team and 1991 Final Four team, reunited for moments like this. But it's also just the beginning
"It means a lot," Augmon said, "I'm so excited for these kids and what they have done throughout this year. They accomplished a lot of things. It has been fun. I can't wait for the NCAA to start.
"It has been a special year for me. I'm taking it as a long journey. I'm going to be here awhile with Coach Dave and just take this program to the next level."
Augmon's passion for teaching the game is obvious, and he has occasionally played with the scout team in practices. After Monday's practice at the Mendenhall Center, he and associate head coach Justin Hutson worked overtime with freshman Khem Birch, a redshirt transfer from Pittsburgh.
"These kids are willing to learn," Augmon said. "Their eyes are open and their ears are open, and when I say something, they are very attentive."
Tim Grgurich, a 12-year assistant under Jerry Tarkanian and UNLV's head coach for seven games in 1994-95, even stopped by practice. Grgurich, an unofficial adviser to Rice and his staff, assists the Dallas Mavericks.
Augmon's relationship with Grgurich has stayed strong through the years, and Rice praised Augmon's ability to relate to players and aid their development.
"I think Stacey is very much liking what he's doing," Rice said. "He likes being back at his alma mater, and he likes feeling the difference he can make with college guys, both on and off the court. He has told me a number of times how much he enjoys being back at UNLV."
The Rebels have hit high points, such as a victory over then-No. 1 North Carolina in November, and lows, specifically a 2-5 road record in the Mountain West Conference, including blown double-digit second-half leads in losses at Colorado State and Texas Christian. It's all part of a bigger picture, Augmon said, for the coaches and players.
"You see it slipping away, you call timeout, and you try to figure out why it's going that way," Augmon said. "I'm not surprised, and the reason why I say that is that when things are going wrong, that's going to be a learning process for this program.
"We have to know how to come back. We have to know how to dig in on the road and make shots on the road. It's just our first year here, so it's going to take a minute."
UNLV is a team that relies heavily on 3-point shooting, and Augmon said players need to break that habit to develop toughness on the road.
"We shoot well at home, and we don't shoot well on the road," Augmon said. "What we've tried to do is preach to them to go to the hole a little more and get closer shots and put teams on their heels. It demoralizes the defense. We're kind of letting teams off the hook.
"I always thought it's a different mentality on the road. You have to take it to the team. If the shots are not going in, it's time to take it to the hole, and we haven't had the ability to do that. It's just a mentality that we're trying to instill."
Hitting the road has also been an adjustment for Augmon. Unlike in the NBA, there are few chartered trips at the college level, and an early February bus trip through the snow reminded him of that.
"I got spoiled," he said. "But you know what, I got real humble after the first couple of road trips. I've seen enough of the countryside in Wyoming."
Contact reporter Matt Youmans at myoumans@reviewjournal.com or 702-387-2907.
REBELS DROP TO 23RD IN FINAL POLL OF SEASON
UNLV, which lost to New Mexico in the semifinals of the Mountain West Conference tournament, was ranked 23rd Monday in The Associated Press' final college basketball poll of the season.
The Rebels (26-8) dropped three spots from last week. New Mexico (27-6) finished 21st and San Diego State (26-7) 22nd.
Kentucky (32-2) and Syracuse (31-2), who both lost in their conference tournaments, were ranked Nos. 1 and 2 for a seventh straight week. Missouri (30-4) was third, followed by North Carolina (29-5) and Michigan State (27-7)
This was the eighth time the Wildcats finished No. 1 in the final poll, and they went on to win the national championship three times — 1949 (the first season there was a poll), 1951 and 1978. The last team ranked No. 1 in the final poll to win the NCAA Tournament was Duke in 2001.
THE ASSOCIATED PRESS