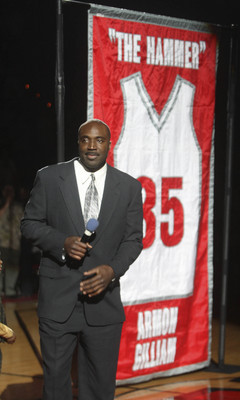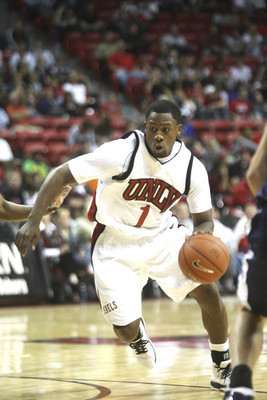 A new-look UNLV team, featuring junior guard Wink Adams and several unfamiliar faces, was unveiled by coach Lon Kruger on Tuesday night.
Adams was joined in the starting lineup by seniors Corey Bailey and Curtis Terry and juniors Joe Darger and Emmanuel Adeife.
For the first 20 minutes of an exhibition game, it seemed as if Kruger had turned back the clock and put Armon Gilliam, Freddie Banks, Sidney Green, Gerald Paddio and Moses Scurry on the floor.
Those five and 40 other former Rebels were at the Thomas & Mack Center to play in an alumni game and to honor Gilliam, whose jersey No. 35 was retired in a halftime ceremony.
"It's definitely good to see the legacy those guys left behind, and we're doing our best to duplicate their style of play," Terry said. "We were trying to go out there and put on a show."
UNLV ran out to leads of 17-0, 23-2 and 33-4 en route to a 77-47 victory over Division II Washburn.
But it was tough to judge the Rebels' performance because the Ichabods offered up maybe the easiest test Kruger's team will see this season.
Darger scored 19 points to lead UNLV, which opens the regular season Friday at home against Montana State.
The Rebels' dress rehearsal was a sideshow on a night that will be remembered for Gilliam, who was greeted with chants of "Hammer" from the crowd of 7,811 as he spoke at halftime.
Gilliam, who played 13 years in the NBA, starred at UNLV from 1984 to 1987 and is the school's sixth all-time leading scorer.
Terry hit a jumper to start the scoring avalanche, and the Rebels held the Ichabods without a point for the first eight minutes.
Adams made his first jumper with 10:04 remaining to make it 23-2, and UNLV built a 38-9 halftime advantage.
Washburn missed its first 11 shots and was 4-for-26 in the first half.
Kruger used all 10 players he had available. Freshman guards Troy Cage and Kendall Wallace were out with injuries, and sophomore guard Marcus Lawrence was held out for academic reasons.
"He knows what's expected and didn't take care of it," Kruger said of Lawrence, who might not play Friday.
Darger was the Rebels' most effective player. He had eight rebounds and made 2 of 4 3-pointers in 27 minutes.
Adams, the only returning starter from last season's 30-7 team that reached the NCAA Tournament's Sweet 16, struggled with his shot. He made 3 of 12 from the field, missed all five of his 3-point attempts and finished with nine points.
"Obviously, Wink will shoot the ball better than he did tonight," Kruger said. "We didn't shoot it particularly well. We can make progress in that area."
Bailey finished with 12 points and seven rebounds, and the 6-foot-10-inch Adeife had seven points and nine rebounds.
"In the second half, I think we kind of let up," Bailey said. "I don't think we're at a good point right now. We can do better. We have to step up our defensive intensity."
UNLV appeared strong on the defensive end — the Ichabods shot just 29.5 percent from the field — but everything had to be kept in perspective when facing such a weak opponent.
Washburn, from Topeka, Kan., finished 8-19 last season. Darnell Kimble scored 14 points to lead the Ichabods, who open their regular season Nov. 15 at Kansas.
The Rebels shot poorly from 3-point range (4-for-23) and eased up in the second half, outscoring Washburn only 39-38.
"For the first time out, some guys might be a little nervous," said Terry, who scored seven points. "Guys will adjust and we'll shoot the ball better."
Contact reporter Matt Youmans at myoumans@reviewjournal.com or at 387-2907.
UNLV Basketball
UNLV — 77 WASHBURN — 47 KEY: Junior forward Joe Darger scored 19 points to lead the Rebels to an exhibition victory. NEXT: Montana State at UNLV, 7:30 p.m. Friday, KBAD-AM (920)