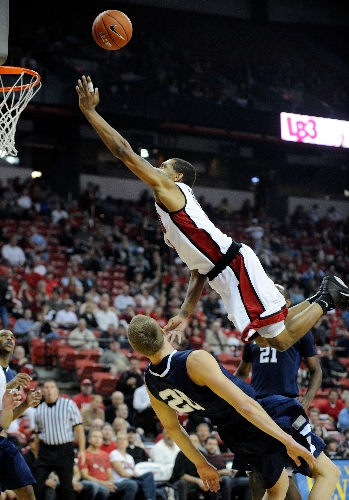 Until junior guard Anthony Marshall showed up in the second half, UNLV was staging an exhibition in offensive futility Tuesday night.
A team built to run was having trouble walking and shooting at the same time. But hearing was not an issue.
"You could sense the crowd getting a little antsy. You could hear the little noises and groans," Marshall said. "We knew that wasn't the way we wanted to play basketball."
After an opening act that Marshall described as "very bad," he sparked some offense and led the Rebels to a 58-50 exhibition victory over Washburn at the Thomas & Mack Center.
Marshall, a junior guard from Mojave High School, scored 12 of his 14 points after halftime. He also finished with 11 rebounds, four assists and four steals.
"Anthony was terrific with the energy he brought," said Dave Rice, UNLV's first-year coach.
Rice's debut was anything but memorable, especially after a miserable first half in which the Rebels shot 4-for-23 from the field and trailed the Ichabods, a Division II team from Topeka, Kan., 21-20.
"We've really tried to put in an offensive transition game, and in the first half, we struggled to make a shot," Rice said. "Sometimes when you struggle to make shots, a little panic sets in. But we really believe this is a team that can flourish in transition. We're a work in progress.
"We found a way tonight. We know we're going to play better teams down the road, and we know we've got to get better. We'll be better when we get out there next time."
Exhibition games are not expected to resemble masterpieces, and Rice has time to iron out some of the flaws. UNLV opens the regular season Nov. 11 against Grand Canyon, a Division II team from Phoenix.
The Rebels were without senior forward Chace Stanback, the team's top returning scorer and rebounder. In September, Stanback pleaded guilty in Las Vegas Justice Court to driving under the influence of marijuana. He was suspended for the exhibition and one regular-season game.
Sophomore forward Mike Moser, a transfer from UCLA, filled Stanback's role and admitted to "butterflies" in his first action in a UNLV uniform. He shot 4-for-13 and had 14 points and nine rebounds.
Moser and Marshall were in the starting lineup with senior guard Oscar Bellfield, junior guard Justin Hawkins and senior center Brice Massamba. Rice experimented with rotations and found significant minutes for eight players.
No combination Rice tried worked for the Rebels in the first 20 minutes.
"I don't expect us to go 4-for-23 in the first half ever again," Moser said. "It will definitely start clicking real soon."
UNLV missed its first 10 3-point attempts before Marshall finally sank one with 17:30 remaining. His breakaway dunk put the Rebels in front 39-37 with 9:45 to go.
Marshall and Bellfield alternated at the point, but Marshall asserted himself midway through the second half with aggressive drives to the basket.
His assist to Carlos Lopez for a dunk put UNLV up 49-47 with 4:25 to go. Lopez, a sophomore forward, was the most effective post player with 11 points.
The Rebels shot 2-for-18 from 3-point range and committed 19 turnovers. They won largely because they hit 26 of 36 free throws, compared with Washburn's 4 of 8.
Ichabods guard William McNeill scored 21 points, but he took a hard fall late and needed oxygen at courtside after the game.
UNLV blew out Washburn 88-53 in last year's exhibition.
"We know we have a long way to go," Rice said, "but I really believe this group is going to get there."
Contact reporter Matt Youmans at myoumans@reviewjournal.com or 702-387-2907.
UNLV — 58
WASHBURN — 50
KEY: Anthony Marshall scored 12 of his 14 points in the second half to trigger the Rebels' offense.
NEXT: UNLV vs. Grand Canyon, Nov. 11, Thomas & Mack Center, KWWN-AM (1100)