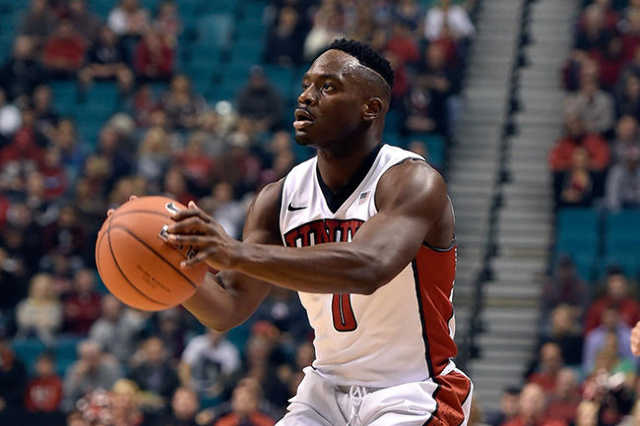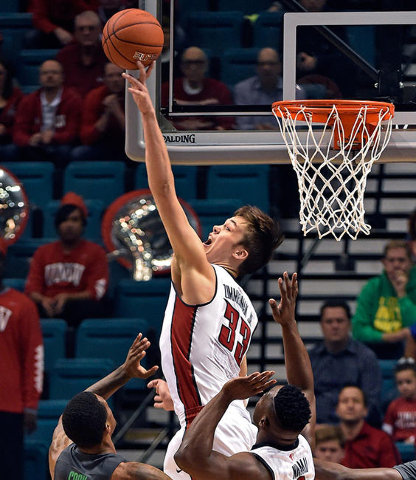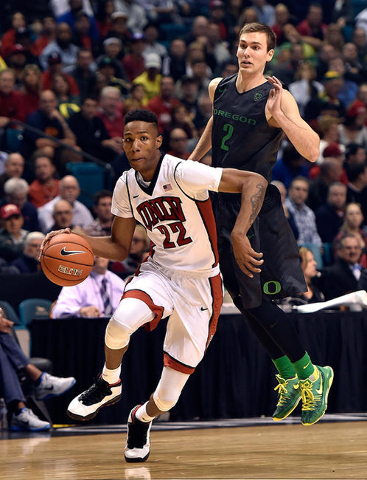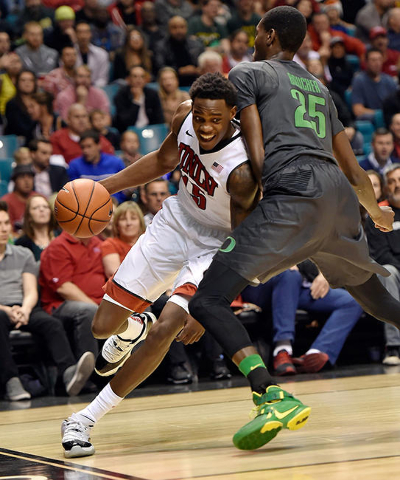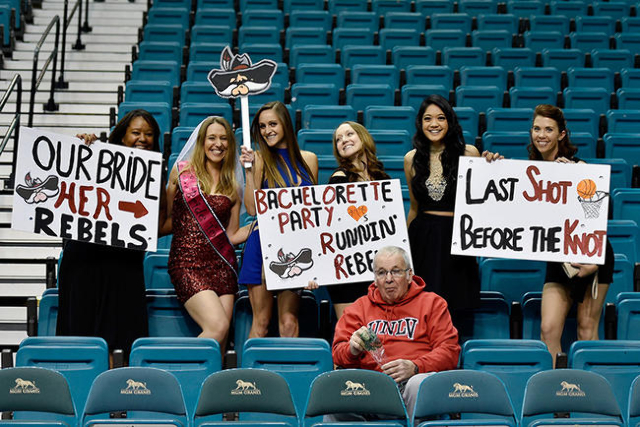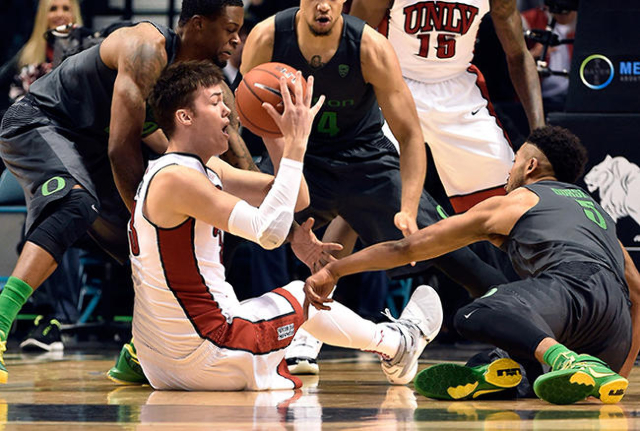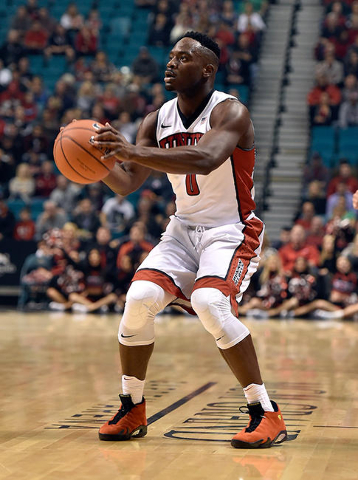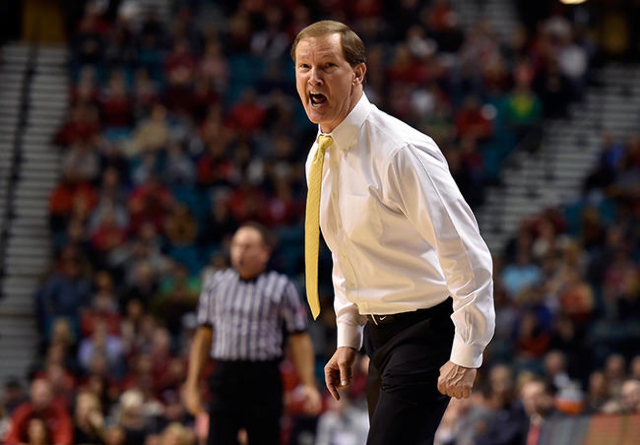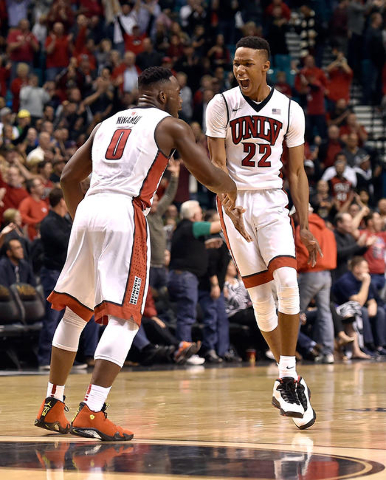 Hot shooting by Ike Nwamu helped stake UNLV to a big lead. When the margin for error got small, he finished what he started.
"My shot kind of felt good in pregame," he said.
It stayed that way all night. Nwamu nailed five 3-pointers and scored a season-high 19 points to lift the Rebels to an 80-69 victory over No. 16 Oregon on Friday at the MGM Grand Garden.
It was not all about Nwamu. Jerome Seagears finished with 16 points, Patrick McCaw had 14 and Stephen Zimmerman Jr. totaled 12 points and 12 rebounds for UNLV (7-1).
The Rebels beat a ranked team for the second time in 10 days, after upsetting Indiana in the Maui Invitational on Nov. 25.
Dwayne Benjamin scored 21 points as the Ducks (6-1) stumbled in the MGM Grand Showcase, their first game away from home.
Junior forward Ben Carter, who transferred from Oregon after two seasons, sparked UNLV off the bench with his hustle and finished with 10 points and six rebounds.
"It definitely added a little bit more incentive playing against my old team and my old coaching staff," Carter said. "The win was special for me but also special for this team."
Ducks coach Dana Altman, who recruited Carter out of Bishop Gorman High School, was complimentary of his effort.
"He's a good player, a good young man and he had a nice game," Altman said.
The Rebels let most of a 20-point second-half lead slip away, but Nwamu sealed it by sinking a deep 3 from the top with 1:25 remaining.
"It's the kind of thing you dream of when you play college basketball," the senior guard said. "It all doesn't come together without great teammates instilling confidence in me."
Tyler Dorsey scored 13 points for Oregon despite being helped to the locker room with a leg injury with 9½ minutes to play. Although it appeared he might be done for the night, he checked back in at the 5:05 mark.
UNLV's lead dwindled to 71-66 when Benjamin drove baseline for a layup with 4:14 to play. But on the other end, Carter soared for an offensive rebound, turned and found Zimmerman, who banked in a short jumper. Dillon Brooks' 3 trimmed the Rebels' lead to 73-69 with 3:33 to go.
Still, UNLV was stronger inside for most of the night. Zimmerman spun to his left in the low post and dropped in a layup, and Seagears sank two free throws as the Rebels went up 77-69 with 2:38 remaining.
Zimmerman made two free throws to give UNLV its largest lead, 55-35, with 16:15 remaining. Dorsey banked in a short jumper as Oregon responded with a 9-0 run to reel in the Rebels and get back into the game.
"Our defense wasn't what it needed to be at all," Altman said. "We got ourselves in a big hole."
Everything was turning against UNLV, which went more than 10 minutes without a field goal. Benjamin banked in a 3-pointer from wing and hit a mid-range jumper to cut the Ducks' deficit to 59-54.
"Basketball is a game of runs, and that was their run," said Nwamu, who made 5 of 7 3s.
But Zimmerman put a stop to the drought by sinking a 15-foot jumper — the Rebels' first field goal since the 19:04 mark — with 8:44 to play. McCaw followed with a steal and layup.
"We got off to a fantastic start," UNLV coach Dave Rice said. "Ike got us going. The maturity level Ike brings is huge. One of the best things he does is score the basketball."
McCaw pulled up at the top of the key and knocked down a 3 to put UNLV up 37-25 with 4:33 to go. Nwamu's fourth 3-pointer and a fast-break layup by McCaw stretched the lead to 42-28.
The Rebels shot 48.6 percent from the field and made 8 of 16 3s en route to a 47-33 halftime lead. Carter and McCaw scored eight points apiece to back up Nwamu's hot perimeter shooting.
Brooks and Dorsey each had nine points for the Ducks, who shot poorly from 3-point range (2 of 8) and the free-throw line (9 of 16).
The teams' shooting trends reversed in the second half.
If there was a good time to get the Ducks, this was it. Starting point guard Dylan Ennis and forward Jordan Bell still are sidelined with foot injuries.
"Once again this season, our depth won out," Rice said.
The Rebels' free-throw shooting (18 of 21) helped, too.
— Contact reporter Matt Youmans at myoumans@reviewjournal.com or 702-387-2907. Follow him: @mattyoumans247
Check our GameDay page for full coverage of the UNLV-Oregon game.